Want even MORE info about how to use copywriting to grow your business? Grab your spot in this FREE course to learn about the tools and strategies you (and your business) have been missing out on.
___________
If you spend even a day researching internet marketing strategies, you may be left wondering, "what is a webinar useful for?"
They may seem complicated, but they're pretty straightforward.
Unfortunately, many business owners aren't using webinars because they don't understand what they are and how to use them.
So, I'm going to cover what webinars are, how your business can benefit from them, what types of webinars you can run, and the tools you'll need to run your very first webinar. 
Let's get started by discussing just what a webinar is in the first place.
What Is A Webinar?
A webinar is a live conference run on the internet where the speaker is able to reach people from all around the world to discuss a particular topic.
You can think of it like a seminar you've attended with a speaker on the stage and the audience watching, and possibly even engaging with, the speaker. A webinar is essentially the same thing, only the audience isn't there in person.
Instead, they're tuned in on the internet.
Just like a traditional seminar, the audience members sign up in advance. They're then given a time and place (online) to show up. The webinar may have a limit for attendance, especially if the webinar is interactive or has a "Q & A" portion.
Now that you know what exactly a webinar is, why would you want to use one?
What Is A Webinar Useful For?
So, what exactly is a webinar useful for?
Webinars are excellent tools for entrepreneurs for several reasons:
#1. Brand Awareness
Even if there aren't any direct sales during the webinar, webinars can help with sales later on through brand awareness. There are a lot of companies out there in any niche, so it's up to you to get your brand's name out there.
For example, look at this ad Anik ran on Facebook: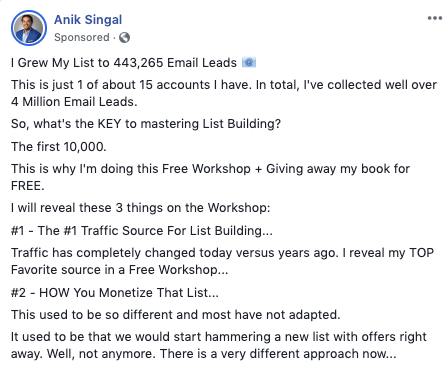 Someone who's never heard of Anik or Lurn before will see this ad in their Facebook feed and be introduced to both his personal brand and Lurn.
And people will sign up because the webinar provides value.
A high-quality webinar will help capture the attention of customers. It will make them more likely to choose the business owner's services when it comes time to make a purchase decision.
#2. Build Expertise
Customers want to purchase from experts. 
They want to know they're getting an excellent product or service, and webinars are a great way to show people that you know what you're talking about.
Take this copywriting webinar Anik did as an example.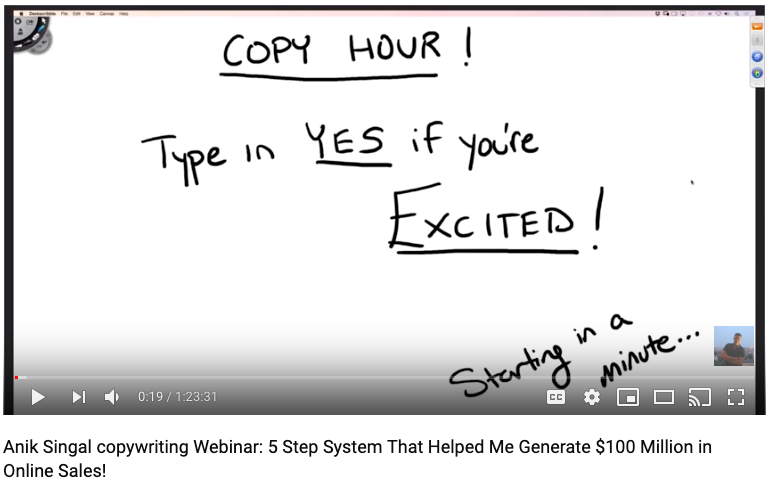 When someone gets on that webinar and sees how much he knows about copywriting, they're less hesitant to purchase a copywriting product from him because he's demonstrating how much he knows.
#3. Pre-Sell
Webinars, at the end of the day, are a sales tool. The webinar serves to pre-sell the customer.
In this webinar, there's going to be a lot of value for the audience, but it's also serving as an introduction to other products that we have in our funnel.

After a great webinar, customers should be primed to purchase—or at least take the next action that leads to a purchase.
If you're in business for yourself, you can't be afraid of selling.
Types of Webinars
There are different types of webinars that entrepreneurs can choose from.
Below are five types of webinars that capture the attention and lead customers down a journey toward a sale.
#1. Lead Generation
Webinars are an excellent lead generation tool.
On a webinar, you can provide a customer with a ton of valuable content while also collecting data that you can use later on for marketing. 
A lead generation webinar involves a customer providing their information (name, email, phone #, etc.) to gain access to a webinar.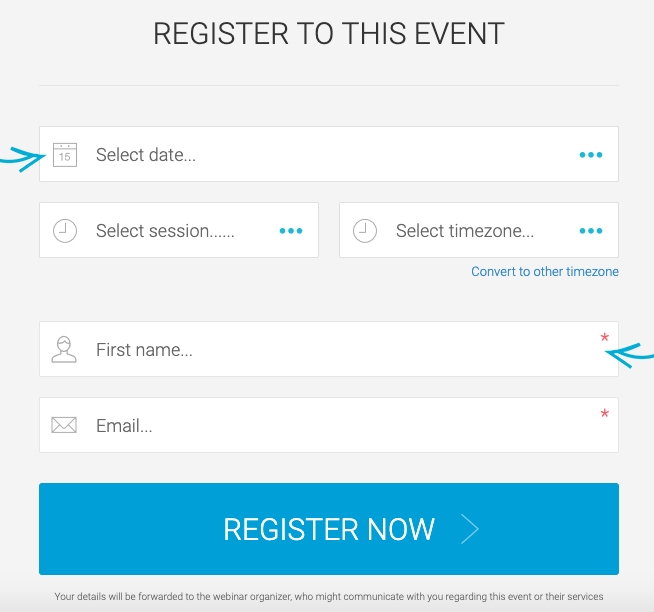 This information can then be used for an email marketing campaign.
Just remember that you have to provide immense value in the webinar itself or you're going to lose them.
While they may not be paying you in cash for the webinar, they're exchanging their personal information and valuable time to be at your webinar.
Both of those are forms of currency.
#2. Training
Training webinars are a great tool to engage customers and build more expertise.
For example, we use training webinars at Lurn for people who are students in certain classes.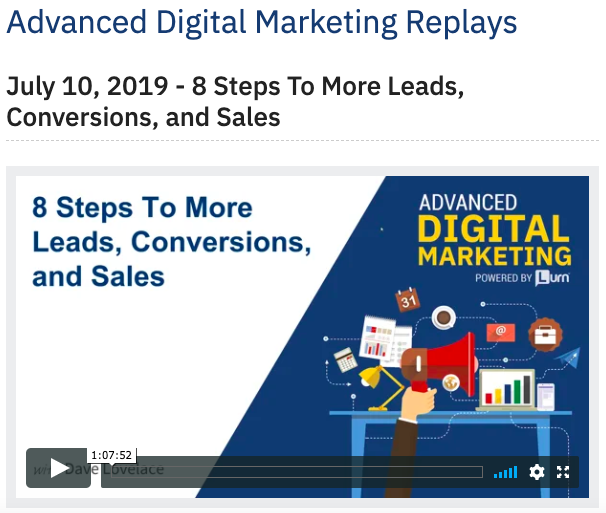 Each week, a different expert does an hour long webinar on a topic they're knowledgeable about to provide our students with extra value.
Training webinars are great for creating ongoing value. 
#3. Member's Content
Members content webinars are also focused around providing quality content to existing customers.
Members content may be "free" content included in a membership. Or it may be content that is only available for members to purchase. For example, we offer extra Q&A sessions for students in certain classes almost every day of the week.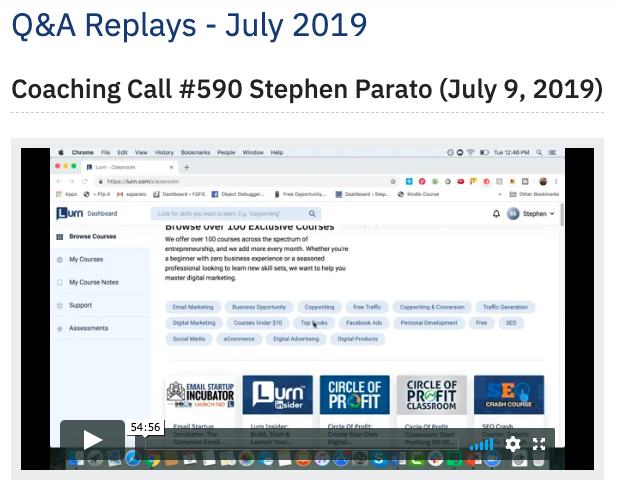 These sessions are available to students at no extra cost and are a way to help them better understand our products while also providing ongoing value.
Members content webinars help to increase retention and drive additional sales.
#4. Product Demonstration
If you have a physical product or a platform that's a bit more intensive, a product demonstration serves as a very useful tool.
Not only does a product demonstration help to inform customers on how to use your product, but it also allows them to see your product in action!
For example, many of our students use an autoresponder called Sendlane.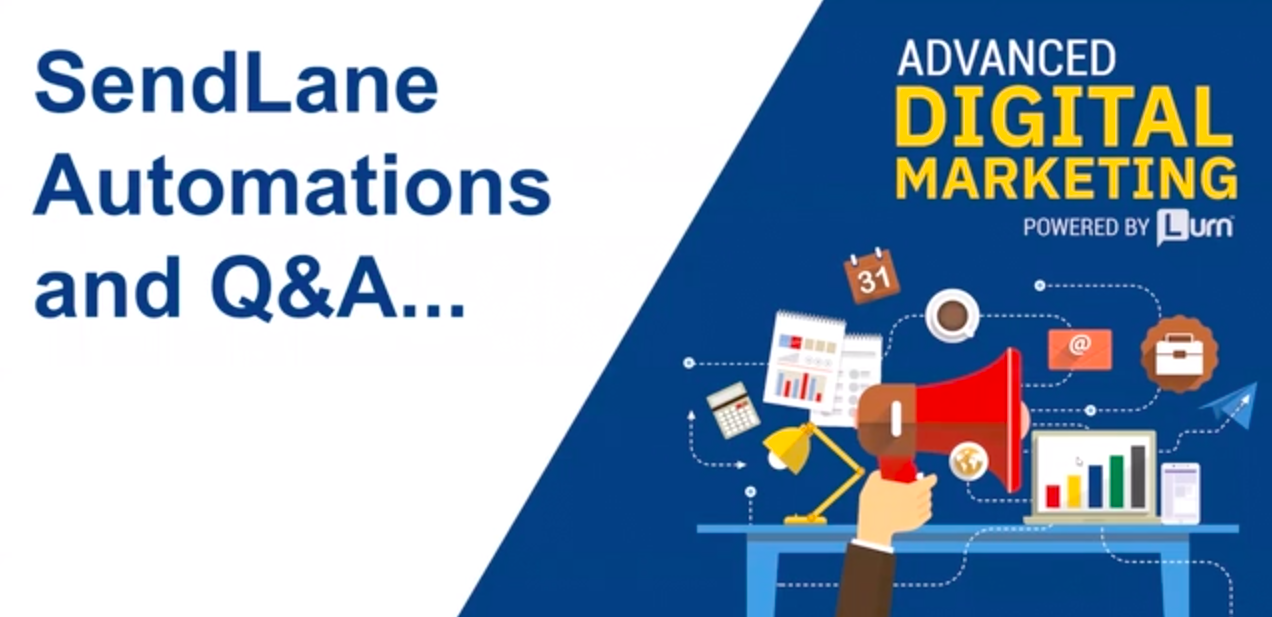 Sendlane can be difficult to understand at first, so we sometimes do webinars deomonstrating how to use various features. Webinars are a great way to do tutorials, answer questions and address potential objections to your product.
#5. Customer Retention And Refreshers
Webinars don't only need to be used as a sales tool; you can use webinars for customer retention as well! Webinars are great to give your customers updates on your product, additional information, and other retention tactics.
Our Q&A sessions are an example of a members-only webinar, but they're also good for providing customer service and to addressing frequently asked questions or concerns. 
Additionally, these refresher webinars can be used to update people on recent developments inside the company.
(RELATED: How To Sell The Sizzle, Not The Steak (It's Simple))
Tools You'll Need To Run A Webinar
To run a webinar, there are a few basic tools that you'll need.
While some of these may be optional, going with the optional tools helps marketers appear more professional.
Professionalism encourages potential customers to purchase.
Below are some basic tools anyone looking to create a webinar (or a series of webinars) will want to consider:
#1. Hardware Tools
While most computers have a webcam and microphone built-in, most of these webcams and microphones are terrible quality. 
Even with more advanced technology, microphones and cameras are often an afterthought for computer and laptop manufacturers. To look professional, I would suggest purchasing a better quality microphone and webcam.
One popular option that's relatively affordable is the Blue Yeti.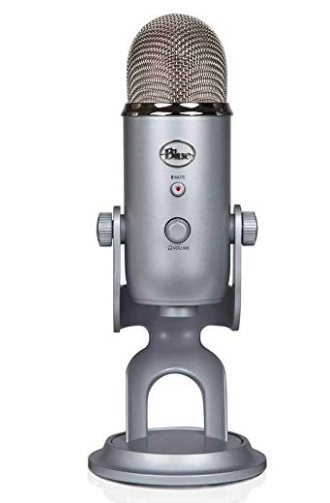 It's under $150, provides strong audio quality, and looks good on camera if you decide to do video. For a beginner, stay in that $150 range and you'll find something good enogh for what you're doing.
Trust me—it's worth the investment!
#2. Hosting Services
This is the most important part of a webinar! Without a hosting service, the customer has nowhere to go—which means no webinar.
There are a few different webinar hosting services out there, including:
We've used both Zoom and GoToWebinar here at Lurn, and they're both solid services. However, it's up to you to do your research to see which one best fits your needs.
#3. PowerPoint (Or Something Similar)
A lot of great webinars are built around slideshows.
These slideshows help keep attendees engaged while also summing up points and building excitement through images.
We use PowerPoints in our webinars here at Lurn all the time.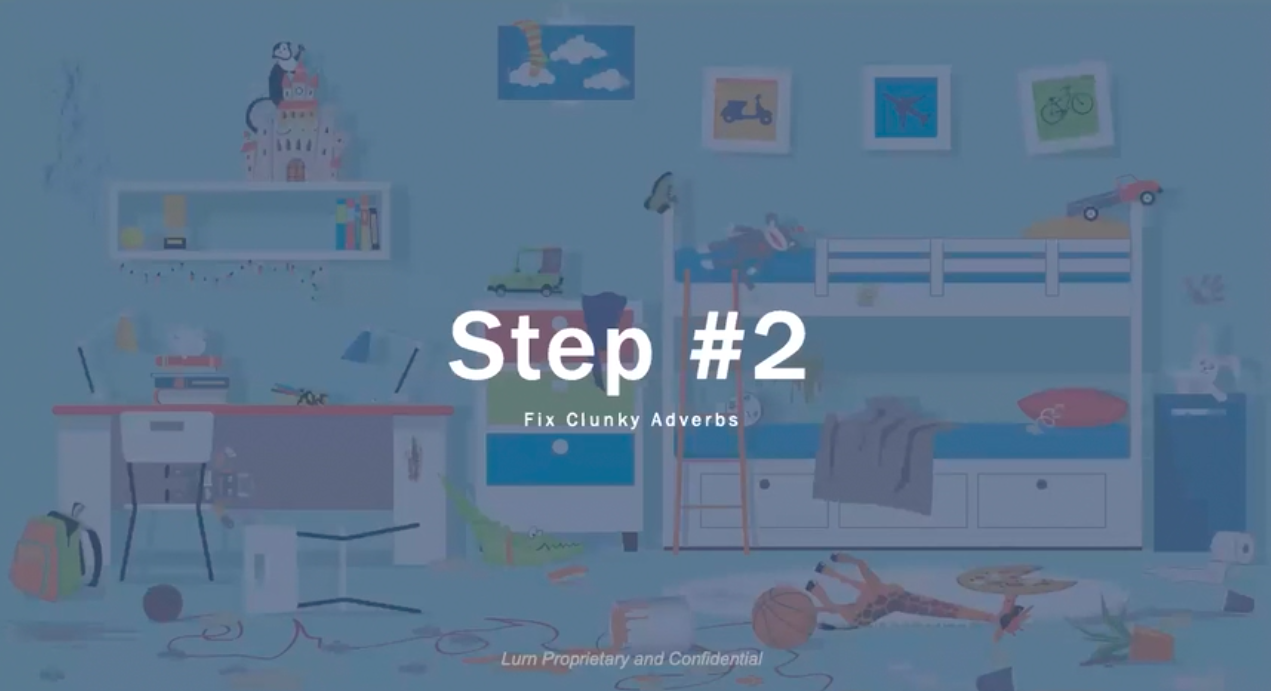 When you're giving a webinar, slides make it easier for you to remember what you're talking about. The slides also help your attendees know what the most important points are to take away from the webinar. 
Slideshow webinars also make great content, and can be used as lead magnets.
#4. Stock Images
If you're putting together a slideshow webinar, it's important to have some excellent stock images for your customers to look at. Sure, some of your images will be product related, but other images will simply communicate how your product will increase their quality of life and solve the problems that they are having.
Some websites you can check out for free stock photos are:
When you're looking for photos, make sure you DON'T steal photos from the internet! You can get sued for using copyrighted photos. There are plenty of stock photo websites to choose from, as well as FREE stock photo websites.
Make your slideshow pop with colorful images!
#5. Great Copy!
If you want people to show up and stick around for your entire webinar, you need to write great copy. This includes the sales copy that gets them to sign up, the script content and the pitch for any direct response you may have at the end of the webinar.
Fortunately, you can follow our simple five-step copywriting system to write your first webinar script:
Introduction

Story

Content

Transition

Pitch
We've used this system hundreds of times here at Lurn on our webinars, and anyone can follow it. 
(RELATED: Learn How To Copywrite With Our (Simple) 5-Step Copywriting Formula)
Create Your First Webinar
It doesn't matter what type of business you run, you can use webinars to better reach and serve your customers. 
Whether you're an offline and online business, they're useful.
And they don't have to be intimidating.
Once you have the right hardware and software, there are simple formulas you can follow to create webinars that convert and provide value for your audience.
So, start working on getting your webinar up and running TODAY.
(Note: Want even MORE info about how to use copywriting to grow your business? Grab your spot in this FREE course to learn about the tools and strategies you (and your business) have been missing out on.)