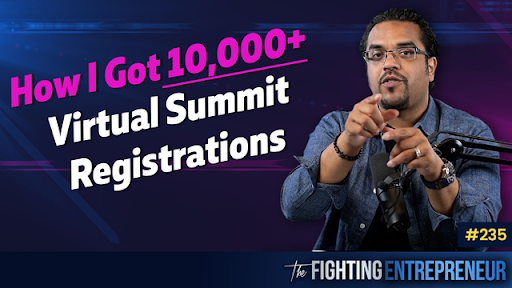 It's a big week here at Lurn. Anik's newest event, The Copy & Funnels Summit is underway and off to a crazy start. 
And in this week's episode of The Fighting Entrepreneur, Anik details exactly how he got more than 10,000 registrations for this virtual summit. 
Right off the bat, Anik addressed what most people were probably thinking. "It's easy for you to get registrations, you have a big email list."
Yes, he does have a strong list. But he estimates only 40%-50% of registrations actually came from his list.
That means he and his team brought in more than 5,000-6,000 registrations from outside his normal list!
And getting THOSE registrations is the strategy he's sharing...
Anik's Road to 10K+ Registrations
Outside of email the two places Anik turned to bring in more registrations was ads and affiliates.
With ads, Anik targeted Facebook, YouTube and LinkedIn. Those are the 3 platforms we use the most heavily at Lurn, because they continue to work.
Here's where Anik surprised people though... 
The average cost per acquisition from these ads was hovering between $10-$15. Most people hear that and think it's INSANELY high.
But here's the thing. Because this is more of a "niche" event tailored to marketers with some experience, the cost is WORTH IT. Spending more on qualified leads means the engagement rate on the event will be much higher!
Plus, Anik gets to add all these registrations to his email list. 
Don't get caught up in the price of acquisition. Sometimes spending more is worth it…
The final piece of his acquisition plan was affiliates. Anik and the team ran a CPA campaign, where they paid for every lead given to them by their affiliates.
It's a win/win scenario where the affiliate gets paid for helping, and Anik boosts his number of conversions.
And this affiliate strategy was a big breakthrough for Anik. As he says it, this hasn't been a huge priority for him in the past.
But since it worked so well, it will be part of his strategy going forward.
Now, that's just the beginning of this week's episode of The Fighting Entrepreneur.
He also went on to explain…
How he got over 10,000 eager registrants even with a very niche topic

Where to find the important "3 buckets" of prospective attendees he targeted

How this summit could generate revenue for months - if not years - to come

What exciting event qualified attendees will get an invitation to next

One major tactic he used that all internet marketers should try in 2022
You can listen to the full episode right here.
And if you're interested in Anik's Copy & Funnels Summit, there is still time to sign up. 
Anik and a team of 17 TOP marketers will reveal their closely guarded, modern-day copywriting and sales funnel secrets. Combined, these have generated over $1 BILLION in sales.
They'll be giving you over 10 hours of copy and funnel secrets, completely free of charge…
Plus, The tactics and strategies you'll discover at The Copy & Funnels Summit can be implemented right away - even the very same day!