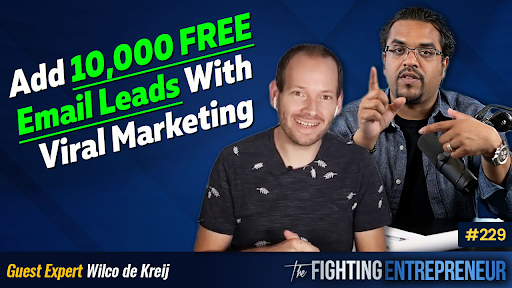 One of the best ways to get traffic and email leads without spending on advertising is through viral marketing.
But it's something Anik hasn't spent a ton of time doing in his career.
That's something he's trying to change…
To learn more about viral marketing, Anik welcomed an expert in the space onto this week's episode of The Fighting Entrepreneur.
His name is Wilco de Kreij and he's been in the viral marketing game for years.
During their conversation, Wilco explained his strategy for how he's been able to bring in more than 10,000 email leads without spending a dime on advertising.
Here are his viral marketing secrets…
The Secrets of Viral Marketing
Wilco made one thing clear as soon as he started talking with Anik. 
"Going viral" is not about luck. Like most things in marketing, it's a numbers game. 
If you want to go viral with your marketing, it all comes down to shares (or referrals). You need every person that views your content to share it with (on average) more than 1 person. 
If it's shared on average by less than one person, the campaign will fizzle out. When it's over 1 person (on average), the viral content spreads.
That's the simple math viral marketing relies on. 
According to Wilco, the best way to hit that number is with incentives. 
Wilco has a 2-page system set up. The first one is a simple landing page where people can enter their name and email address if they're interested.
The second page is where the incentive comes in. 
Wilco tells people they can only access the free gift (or whatever is being offered) by sharing the message on another platform like Facebook or Whatsapp. 
Basically, he has incentivized people to share and made it easier for the content to go viral. 
Of course, not every single attempt at this process works right away. That's just not how viral marketing works.
Again, it's about the numbers.
After you see how the first campaign works, it's important to optimize your approach and see what works best. Maybe you change the incentive. Or change where people share. 
This was music to Anik's ears. Of course, he's always telling marketers to follow the data. The data you get from that initial campaign is invaluable. 
Now, that was just the first thing Wilco explained during his conversation with Anik.
He went into very-specific detail on...
Scaling your viral marketing campaigns...

Getting QUALITY leads only...

Monetizing your viral marketing…

Creating evergreen content that goes viral…

Making campaigns QUICKLY...
The best thing about this episode is that the tactics Wilco shared can work for all types of businesses and side-hustles.
Listen to the full episode right here to learn ALL of Wilco's viral marketing secrets...