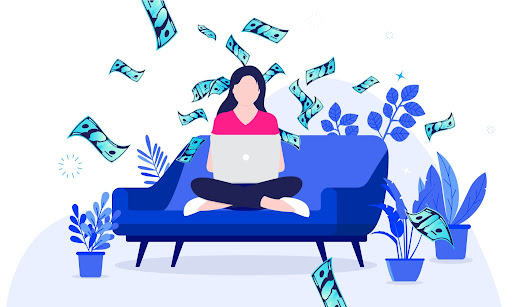 There are hundreds of different side hustles for entrepreneurs to start these days. 
Many of them are well-known like affiliate marketing. But many others go completely under-the-radar.
That's a shame, because some of these can generate significant income. 
And in many instances, this income can be passive. Meaning you don't need to toil for hours to earn extra. These can be "set it and forget it" style businesses. 
Today we're sharing 5 "hidden" side hustles that most entrepreneurs overlook. 
Here they are…
#5 - Product Testing
This is a great side hustle because it requires very little work on your part. 
There are tons of brands out there that need customer feedback, especially before they launch big products.
Here's an example from Adidas. 
After you sign up and qualify, the company sends you whatever product they need feedback on.
You test the product for whatever time frame the company sets, and you ship the product back once you're done.
Once the test is over, you fill out an online questionnaire before getting paid for your participation.
That's it!
There are hundreds of brands that do this kind of research and are happy to pay for participants.
#4 - Researcher
Researching can be time consuming if you're running a business. That's why so many people outsource it to freelancers! 
A lot of companies have the knowledge, but they may not have time to update that information regularly.
There are also companies that need a bunch of information on something but don't want to waste resources digging up that information.
Now that many people around the world have Internet access, a side-hustle as a "researcher" is something most people can do.
You won't get the "credit" since the firm will use the research as their own, but you'll still get paid.
That's why this side hustle often goes unnoticed...
#3 - Rent Storage Space
This one is perfect if you're looking for passive income.
If you have extra space in your home or on your property, you can charge for rental space. 
People are often looking to keep their things in more secure spaces than storage facilities. 
That's where you come in. 
This is especially great if you have a garage or large property where people can store cars, RVs, or other vehicles. Storage for these types of items is usually very expensive. 
So you can undercut the big companies on price and everyone wins!
#2 - Selling Domain Names
There are literally millions of domain names out there. Obviously, some of them are more popular than others.
For those able to stay ahead of the trends and jump on domain names that lapse, serious money can be made.
The great thing about purchasing domain names is that it only requires a small up-front cost.
Once these domain names become in-demand, you can turn around and sell them for a major profit!
#1 -  Ghostwriting
It's easy to see why this one goes "under the radar." 
A ghostwriter essentially writes for other people. However, the client puts their name on the project.
For example, ghostwriters will often write books and allow the "author" to put their name on it.
It's amazing how common this is, although most people don't realize it. There are tons of books, blogs, and emails ghostwritten every single day.
While you don't get the credit, you still paid!
Start Right Now
Instead of relying on a JOB for their income, millions of Americans are freelancers. That means working on their terms, setting their own hours, and not answering to a boss.
I've put together 52 side hustle ideas you can start today. Get them in this new FREE book & training here.