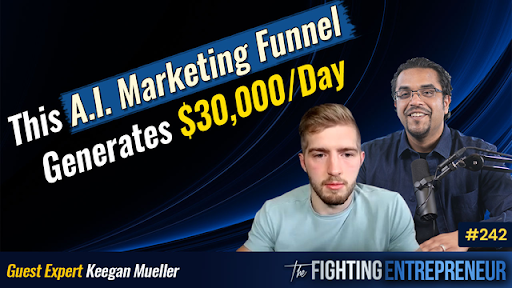 Just two years ago, Keegan Mueller was working as an engineer. But when he learned about the program he shared on today's episode of The Fighting Entrepreneur, he left his job to pursue something new, full time.  
And it has brought him incredible success.
In fact, he's averaging revenue of over $30,000 a DAY thanks to an AI-generated sales funnel system. 
Best of all, he doesn't even sell his own products!
Here's how it works…
The AI-Generated System Making Him Thousands a Day
With this system, Keegan sells other people's products using an affiliate model.
He started using the system on Facebook, but he wanted to change things up. So he took the same strategies and has applied them to YouTube. 
And that's where he's found the biggest success.
With the system, the AI helps him generate ads that push people to a landing page he's created. Every time he makes a sale, he collects a commission. 
Here's what's really crazy, he's not even collecting email addresses. He's pushing cold ad traffic to these landing pages and in some cases getting over a 200% ROI.
He finds most of the affiliates he promotes on Clickbank, and he's done really well with supplements.
But you can pick any niche or industry you like! 
Since he's advertising on YouTube, he can advertise anything he thinks people watching videos will be interested in. And since YouTube is the second-largest search engine in the world, there is a ton of data on what is trending.
Here's the crazy part, you don't even have to write the ads!
The AI system has templates and AI script generators that write the ads and read the copy on the videos. Keegan doesn't even use his own voice.
He's not on camera either. He just puts together clips that go over the AI-generated audio!
If you want to learn more about this system, and how Keegan has been able to scale it to make $30,000 a day in revenue, listen to the full episode now!
It could be the perfect system to get you started in 2022…