Ready to explore how to actually start some of these businesses? Check out the FREE #LurnNation platform to access our exclusive entrepreneurial content that makes starting a business online accessible to anyone.
___________
Here's a BIG myth that needs to be busted.
It's impossible to legitimately make money online.
That just isn't true.
While 20-30 years ago you may have only seen a bunch of scammy ads talking about how you can make money online, the reality today is that there are a bunch of legitimate ways to start a profitable online business. 
For many of these ideas, you don't even need to have inventory.
All it really takes is the willingness to read, learn and hustle your way into success. 
So, let's go through how to start an online business in addition to several profitable online business ideas to see which one is right for you.
Step #1: Choose A Profitable Online Business Model
These business ideas are ones that people all over the world are currently using to make money online.
You don't need to make things complicated. 
Just chose one that makes sense for you and start taking action.
1. Affiliate Marketing
Affiliate marketing is perhaps the easiest, quickest and best way to start a profitable online business.
So, what is it?
Affiliate marketing is basically selling other people's products and getting a commission for every sale.
It's one of my personal favorite ways for people to get started.
In fact, the first $100 I made online was promoting an affiliate offer, and I went on to build my current business on the back of affiliate marketing.
2. Digital Publishing
Digital publishing is another very powerful online business.
In fact, this is the largest part of what Lurn does!
Digital publishing is developing and selling information products. These products include things like eBooks, videos, audio recordings, membership programs and live events.
Like affiliate marketing, it's open to any niche. 
In the past, it used to take massive effort to find a published and get your book shipped out and on shelves. Today, selling 1,000 products requires no more effort or resources than selling one product.
3. eCommerce
It's also easy to sell physical products online, which is precisely what an eCommerce business does.
Just think of Amazon and Ebay.
They're the largest examples of eCommerce out there. In fact, during the last quarter of 2016, Amazon generated over $47 billion in revenue!
Just think about that.
4. Coaching 
Think back to when you were younger and wanted to learn a skill, a sport, or an activity. 
To do that, you likely had a coach. 
Whether it was your softball coach, basketball coach, English teacher or piano instructor, they were all types of coaches. 
People need coaches to learn new skills and get to where they want to go in life, and you can be that person.
5. Consulting
Consulting is similar to coaching in that you're leveraging a specific skill that you have.
However, consulting is less about teaching and more about implementing your knowledge for someone to help them grow their business. 
6. Blogging
Blogging is one of the most fun types of businesses to start, and it's also one of the easiest (and cheapest) ways to get started. 
Bloggers typically start out making money with ads and affiliate marketing, but you can grow into product development (through eCom, digital publishing or both) as you figure out what types of product your audience likes to purchase. 
7. Amazon Kindle
It's SO easy to self-publish a book thanks to Amazon! Amazon Kindle is the largest eBook marketplace in the world.
In fact, it's so big that today Amazon sells more eBooks than physical books.
8. Freelance Writing
If you're a good writer and are looking to put your skills to use, consider becoming a freelance writer.
Freelance writers come in all shapes and sizes, but generally you'll either be writing copy or content.
Copy is more on the sales and business side, while content can include a wide array of different things—from blogs to reports!
9. Photo Editing
While some people purchase stock photos for their websites and social media, not everyone wants to use stock images. With that said, not everyone is a great photographer, nor are they amazing with photoshop.
If you have a good handle on photo editing software and a good eye, you can become a freelance photo editor.
10. Accounting
As companies make more and more money, they can easily lose track of that money.
At a certain point, everyone needs an accountant!
As a freelance accountant, you can determine your own workload and create your own client base. As long as you're a skilled and qualified accountant, there will always be work for you.
11. Web Development
These days, everyone needs a website.
Even with modern tools that help users to build websites, many people aren't tech-savvy enough to build a proper website.
Others don't have the time.
Whether you're using the tools provided by WordPress or you're building a website from scratch, you can make a good deal of money helping others build their websites.
12. Editing
Along with writers, people are in need of editors.
While writing and editing go hand-in-hand, not everyone is a great editor. Even professional writers need someone to look over what they've written. 
If you have a great eye for grammar and can help others in the writing process, being a freelance editor may be right for you.
13. Ghostwriting
A ghostwriter essentially writes for other people. However, the client puts their name on the project.
Consider a book, for example.
Ghostwriters will often write books and allow the "author" to put their name on it.
While you don't get the credit, you still get the cash!
14. Logo Design
Everyone needs a good logo!
Logos are an important part of branding, but not everyone knows how to design a logo. Even those that can technically do it may not be artistic enough to create a good logo.
If you're an artist and understand branding, logo design may be right up your alley.
15. Ebay/Craigslist
Ever heard of flipping?
Selling physical goods on Ebay or Craiglist is another great profitable online business model.
It's technically under the umbrella of eCommerce, but it has some key differences from the eCommerce model discussed above.
16. Virtual Live Events
You can create a virtual live event for people to attend.
This is much cheaper and easier to create than an in-person event and could be a great place to start.
We have a virtual workshop here at Lurn called Lurn Platinum.
During this live virtual workshop, we help students build their own online business in just three days!
Live events definitely make for a great online business model.
17. YouTube Personality
Online video has grown massively in recent years, and experts are predicting that it's only going to become more and more popular over the coming years. 
Although YouTube doesn't pay quite as well as it once did, there's definitely still a lot of opportunity out there for people who are comfortable on camera. 
There are personalities out there making millions of dollars per year on YouTube, so even making a fraction of that can set you up with a nice life.
18. Twitch Streamer
What if I told you that playing video games could be a profitable online business?
Your parents might have called you crazy when you were younger if that was your dream, but it's now a reality for a lot of people.
Twitch is basically like YouTube for gamers, and you can actually make money by streaming yourself as you play your game of choice. There are a lot of different ways to earn money as a streamer on Twitch, so don't let old attitudes convince you not to give something a try.
19. Email Marketing
Email marketing is pretty much how Lurn got its start.
It's really easy to get started, and here are just a few ways that we use email marketing:
Build relationships

Sell affiliate products

Sell digital information products 

Drive traffic to our blog

Sell coaching and consulting services

Generate sales on Amazon Kindle

Sell physical products
Email marketing is a versatile business model that can stand alone, or you can use to complement any other business that you choose.
20. Game Development
If you love games and want to do something other than streaming, developing your own games and selling them in an app store is a viable option to earn good money. 
Although you once had to know how to program games yourself (still helpful if you know how), there are options out there now that allow you to develop games without any programming knowledge. 
Some of those tools are:
There's a ton of opportunity out there right now for game developers.
21. App Development
Just like games, there's quite a bit of money in the app market.
You no longer have to know how to code to develop apps (again, more knowledge is better!). Some tools you can use to develop apps without needing to know how to code are:
Using these tools is a great way to get a minimum viable product to get you to the point that you can bring people onto your team to start scaling.
22. Digital Music Distribution
You no longer have to hold out hope that you'll be signed to a major record label to start making money with your music. Today, there are plenty of resources available to you that allow you to sell your music to people online without being on a label. 
You can check out places like:
If you have the drive to make it happen, there are resources to turn your love for music into a profitable online business.
23. Digital Movie Distribution
Just like with music, you no longer have to hope that a major production company picks up your movie or documentary to start earning money.
You can use platforms like:
There's no longer any excuse for you to not turn your talent and passion for movies into a full-time business.
24. Podcaster
Podcasts are hot right now, and anyone can start one. 
Although I definitely recommend that you have some high-quality audio gear before you set off on your podcasting journey, it's really as simple as recording yourself and uploading it. 
Some people podcast full-time, while others use it as a content marketing tool for another business they've grown. 
We even have our own podcast here at Lurn called The Fighting Entrepreneur.
25. Influencer
The idea of an influencer is confusing for some people because it's a relatively new business opportunity.
Being an influencer basically just means using your reputation to promote other companies and brands via a social media platform (or IRL).
You can learn more bout building an influencer company in our article about how to build an influencer marketing agency.
26. Selling Crafts
Millions of peoples out there create crafts as a hobby, but what if I told you can easily monetize that passion of yours? Etsy is the most popular platform right now for selling crafts and you can sell anything from blankets to hats to wedding gifts. 
The opportunities are pretty limitless on Etsy, and it's a great profitable online business idea for creatives.
27. Translation Services
Being bilingual (or even trilingual) can be a massive advantage in all areas of life—including starting a profitable online business!
Many people are in need of translators for documents, paperwork, scripts and more.
28. Legal Counsel
While you may not be able to represent a client in court from a location hundreds of miles away, you can still do things like interpret contracts.
There are people that are in need of a variety of different legal services, but they may not want to bother with finding a local attorney (as it may be more expensive and time consuming).
If you're able to read, write and interpret contracts for clients, you can do so online.
29. Brand Developer
While a lot of people understand how to start a business and sell things, not everyone knows how to properly develop a brand. Having the right brand can mean the difference between a business succeeding and failing.
Because of this, every business needs to set themselves apart—which is where branding becomes particularly important.
If you know how to identify, focus and communicate a brand identity, you can sell this service for a premium amount.
30. Virtual Assistant (VA)
Once a business gets big enough, it isn't wise for an entrepreneur to spend their entire day completing administrative tasks. Most entrepreneurs also don't want to spend a bunch of time setting appointments.
That's why just about every business owner has an assistant.
For a lot of businesses (especially online businesses), an in-person assistant is unnecessary.
That's where virtual assistants come into play.
A virtual assistant is able to help clients take care of their administrative duties—allowing them to focus on growing their business.
31. Domain Name Sales
There are literally millions of combinations for domain names out there, but some of them are more popular than others.
For those able to stay ahead of the trends and jump on domain names that lapse, serious money can be made!
The great thing about purchasing domain names is that it costs a small amount of money to do so if you know what to look for. Once these domain names become in-demand, you can turn around and sell them for a major profit!
32. Social Media Manager
While everyone knows they should have a presence on social media, many businesses and entrepreneurs have no idea what this should actually look like.
A social media manager is an expert at running various forms of social media and getting results for their clients.
This doesn't just involve posting on Facebook every once in a while, though.
A social media manager should understand how to encourage engagement, build a following, drive traffic and more.
If you have a knack for building up businesses on social media, this is the perfect business for you!
33. WordPress Theme Developer
WordPress themes can be a very profitable online business.
While many people take the themes available on WordPress for granted, someone is in the background developing those themes.
If you're good at HTML, CSS, Javacript and design, you may want to focus your efforts on becoming a WordPress theme developer.
Once you develop themes, sell them on different theme marketplaces and start making some passive income.
34. Digital Advertising Expert
Digital advertising is a beast in and of itself.
A lot of old-school marketers have tried their hand in digital advertising, but many of them have failed.
While the principles of marketing have essentially stayed the same, the vehicle has changed.
This means new tactics are needed to succeed.
If you know digital advertising inside and out, you'll want to consider becoming a digital advertising expert. You can sell your expertise to businesses that need help with not just running their social media, but running successful ad campaigns.
35. Researcher
Research is hard and time-consuming.
A lot of companies have knowledge in what they're doing and an audience, but they may not have time to update that information regularly.
There are also companies that need a bunch of information on something but don't want to waste resources digging up that information.
36. Stock Photographer
Have you ever seen the same photo being used in different places?
If so, you've seen stock photos before.
Stock photos are simply photos of subjects in just about every category imaginable.
Businesses purchase stock photos and use them in lieu of shooting their own photos.
 If you're a great photographer, snap some photos of different subjects and start selling those photos through stock photo websites!
It's a profitable online business and can become passive income.
37. Cryptocurrency Trader
While cryptocurrency has had its ups and downs, it's in no way finished and can definitely be a profitable online business.
There are still lots of successful cryptocurrencies out there, and there seems to always be more cropping up.
If you have a knack for investing and noticing trends, consider becoming a cryptocurrency trader.
38. Lead Generator
Salespeople are always looking for new leads, and spending the time researching those leads can be exhausting. Most salespeople want to be out there selling—not searching the internet for new people and companies to sell to.
As a lead generator, you put together lists of valuable leads for salespeople.
They then purchase those lists from you and sell to the people or companies on those lists.
The great thing is, you don't actually have to sell anything to the people on the lists!
You just have to sell the lists to the salespeople! 
With good leads, salespeople will come back to you again and again!
39. Artist (Commissions)
If you're an artist, you've likely heard of "commissioned" artwork.
If you haven't, a commission is simply when someone pays for a specific piece of art to be created.
Many people want artwork commissions—whether it be a portrait of their dog or a full comic book.
 If you're a talented artist, consider creating some art on commission.
While it may not always be your favorite subject matter, it can definitely be a profitable online business - allowing you to fund your own artistic projects!
40. Headhunter/Staffer
Have you ever been contacted by someone that wants to connect you with a business that's looking for someone with your skillset?
If so, you've spoken with a headhunter!
A "headhunter" is essentially a staffer that goes out and finds potential employees for businesses. They then take a commission once the employee has been hired (and sometimes after they've been with the business for a set amount of time).
41. Data Analysis
With the amount of data businesses are faced with, it can be overwhelming.
If you understand how to visualize and analyze data to provide actionable insight for businesses, there's no question you can turn it into a profitable online business.
42. Search Engine Optimization (SEO)
Companies will always need qualified leads.
Targeted organic search engine traffic is some of the most valuable traffic out there, and many people will be happy to pay for someone who knows how to get it for them.
43. Trip Planning
People love to take vacation, but they hate to plan.
While there are plenty of free resources out there with travel-related information, people are always willing to pay for convenience.
If you love to travel and plan, this is a great option for you.
44. Information Technology (IT)
In the past, companies needed an in-house IT team because the technology was so new and digital communication wasn't so easy.
Now, companies hire IT agencies from all over the world.
If you know tech and can build a team, IT can definitely be a profitable online business.
45. Customer Service
Every business in the world has to do customer service, and many of them aren't very good at it.
If you and your team are experts in a niche, you can build a business out of providing customer service for businesses.
46. Tutoring
Learning is no longer limited to the physical classroom.
There are plenty of companies providing tutoring lessons online and you can too if you know a subject well.
You can even turn it into your own company where you employ other teachers.
47. Search Engine Marketing (SEM)
When you Google something, you've probably noticed the ads at the top and bottom of search results.
If you know how to create and optimize these ads, you can provide a valuable service to businesses.
48. Transcription
With the range of podcasts, videos and other forms of audio-related content out there today, people need a lot of things transcribed.
While this can be done with software, the software often doesn't produce great results.
There's certainly still demand for humans.
49. Cybersecurity
Cyber-security is one of the top priorities for companies.
They won't have much to work with if a hacker ruins their site or leaks private data.
Those who understand cybersecurity have a bright future ahead of them.
50. Video Editing
While you can't actually be there to film for people around the world, they can send you their files for you to edit.
Although you'll likely need a strong internet connection, there's a lot of potential for a video editing company.
(NOTE: Ready to explore how to actually start some of these businesses? Check out the FREE #LurnNation platform to access our exclusive entrepreneurial content that makes starting a business online accessible to anyone.)
Step #2: Choose Your Niche
Once you know what type of business you want to run, you need to choose your niche within that industry.
What a niche is is a specialized subsection of an industry. 
A few examples would be:
Gluten-free diets

Cryptocurrency

Fitness

Fitness for retired people

Digital marketing

Entrepreneurship

Fashion

Male Fashion

Female Fashion

Sports
The ideal scenario for you when you're choosing a niche is for you to be a big fish in a little pond rather than a little fish in a big pond. You want to be the major player in your niche and you want that niche to be one where people are actually spending their money.
For example, choosing a niche related to doing things on a budget means you're marketing to people who are trying to save money rather than spend it.
On the other hand, people marketing products that wealthy people purchase are going to have an easier time convincing their customers to spend money.
The mistake that many people make is they think they can be everything to everyone.
That's a mistake.
Choosing a niche allows you to:
Focus

Gain traction

Establish authority

Resonate with your audience

Develop a detailed marketing plan

Form an identity
While you can get away with playing around with your niche a little bit in the beginning, you want to find your niche sooner rather than later to give your business direction.
Once you have your business model and niche, you can create your first funnel.
Step #3: Create Your First Funnel
So, you have your business model and your niche.
Now you need to build out your first funnel so you can start making money.
But what the heck is a funnel?
A sales funnel is the path that people follow from finding out about you or your brand to making a purchase from you.
Check out this visual for a better idea of what I mean.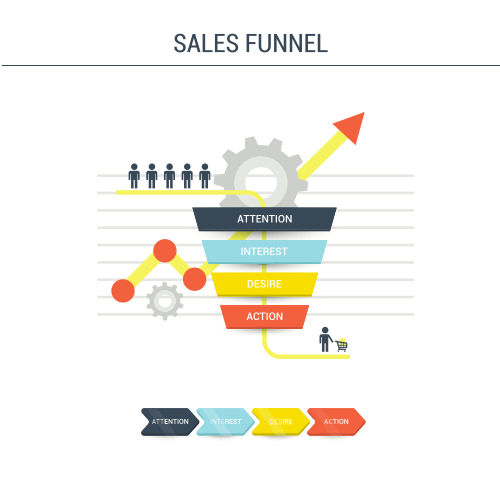 To give you an example that just about everyone can relate to, let's think about McDonald's:
You see an ad or get a coupon in the mail

You see a McDonald's on your drive

You go into the restaurant to get your discounted cheeseburger

The cashier gives you an upsell - fries, drink or a combo meal?
Very rarely do people go into McDonald's and just get their single cheeseburger. McDonald's makes their money on their upsells when you buy friends or a soda. 
That's the basis of a sales funnel.
What that looks like in the online world is something like:
You run a Facebook ad

People click from your ad to a landing page with a free report

You email them your free report and then offer them an eBook for $10 a week or two later

They buy the book and you offer them a course 

They buy the course and you offer them a live event or consulting
Sales funnels aren't that complicated - they just seem that way in the beginning.
You can read more about launching your first funnel here.
Learn How To Start An Online Business Today
The world of digital entrepreneurship is still relatively new.
However, it's much more legitimate today than it ever was in the past and there are a ton of opportunities out there for you.
The great thing about these opportunities is that many of them can actually be combined. For example, you could start out with email marketing but eventually grow into digital publishing, coaching and consulting or eCom. 
You have a ton of opportunities out there to make money online, so there's no excuse to not get started with one of these profitable online business ideas today.
(NOTE: Ready to explore how to actually start some of these businesses? Check out the FREE #LurnNation platform to access our exclusive entrepreneurial content that makes starting a business online accessible to anyone.)