Want to get ALL the tips that Josue shared with us on the go? Check out the entire podcast episode to learn how to how to make money on Instagram.
___________
Anik recently spoke with Josue Pena, an expert in driving Instagram traffic and making literally millions of dollars online through the platform.
He shared a ton of great stuff, so we wanted to share the knowledge picked up from this conversation with YOU.
Josue Pena has helped major brands to build their businesses, and these 32 tips are what helped Josue to make $2 million from FREE (and low-cost) Instagram traffic.
1. Use Instagram As A TRAFFIC SOURCE
People new to Instagram often make the mistake of thinking they need to earn money from Instagram itself, so it's important to shift your mindset away from this.
The money made through Instagram isn't made on Instagram…it's made on other platforms! Because of this, you need to drive traffic to where you can convert these followers into paid traffic.

Whether it's to your website, email list or funnel, focus on getting people off of Instagram and to a place where you can close a deal.
2. Use Instagram As A Brand Awareness Tool
Instagram is great for connecting to people on a personal level - especially when using videos - because people can get a sense of who you are.
So, while you can use Instagram as a tool to increase your revenue, it's also important to think of it as a tool to help people get to know you more to increase trust.
Use Instagram to connect and build your brand.
3. Shoot For 5-10% Of Your Total Followers Watching Your Stories
If you can get your viewership to 5-10%, you're golden!
While this seems like a small goal, getting much higher than this is extremely rare. Trust me…5-10% is more than enough to drive traffic and start making money.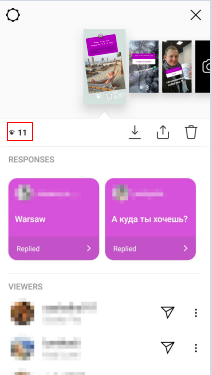 The engagement rate on your stories is the number of people who viewed your story (the number next to the eyeball) divided by how many total followers you have.
Obviously, as your account grows these numbers may change, but for a small- to mid-sized business account, this is what you should shoot for.
4. 5-10% Of Your Followers Should Follow Your Call-to-Action
Remember - the goal here isn't just to get people to follow you and enjoy your content - you're also trying to get people to engage with you (and eventually convert into paying customers).
So, you should always have a call-to-action in your posts.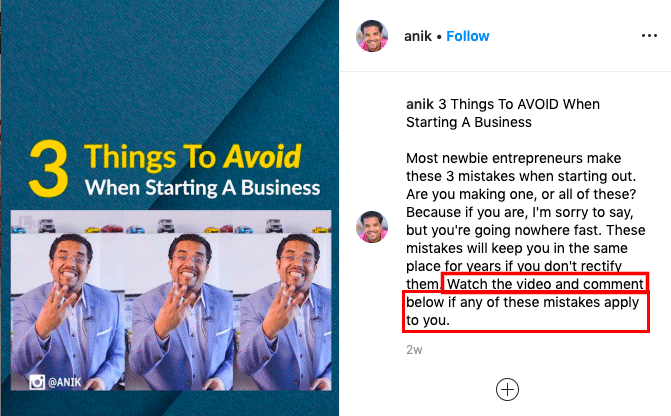 With that call-to-action, you're aiming to get 5%-10% of your followers to take your desired action. Whether that's the swipe up, comment, direct message you, or whatever else, you want them to TAKE ACTION.
This is the only way you'll turn an Instagram following into revenue.
5. Give Value Through Your Stories
People are much more likely to follow you if you provide value. One of the best ways to provide value is through your Instagram stories.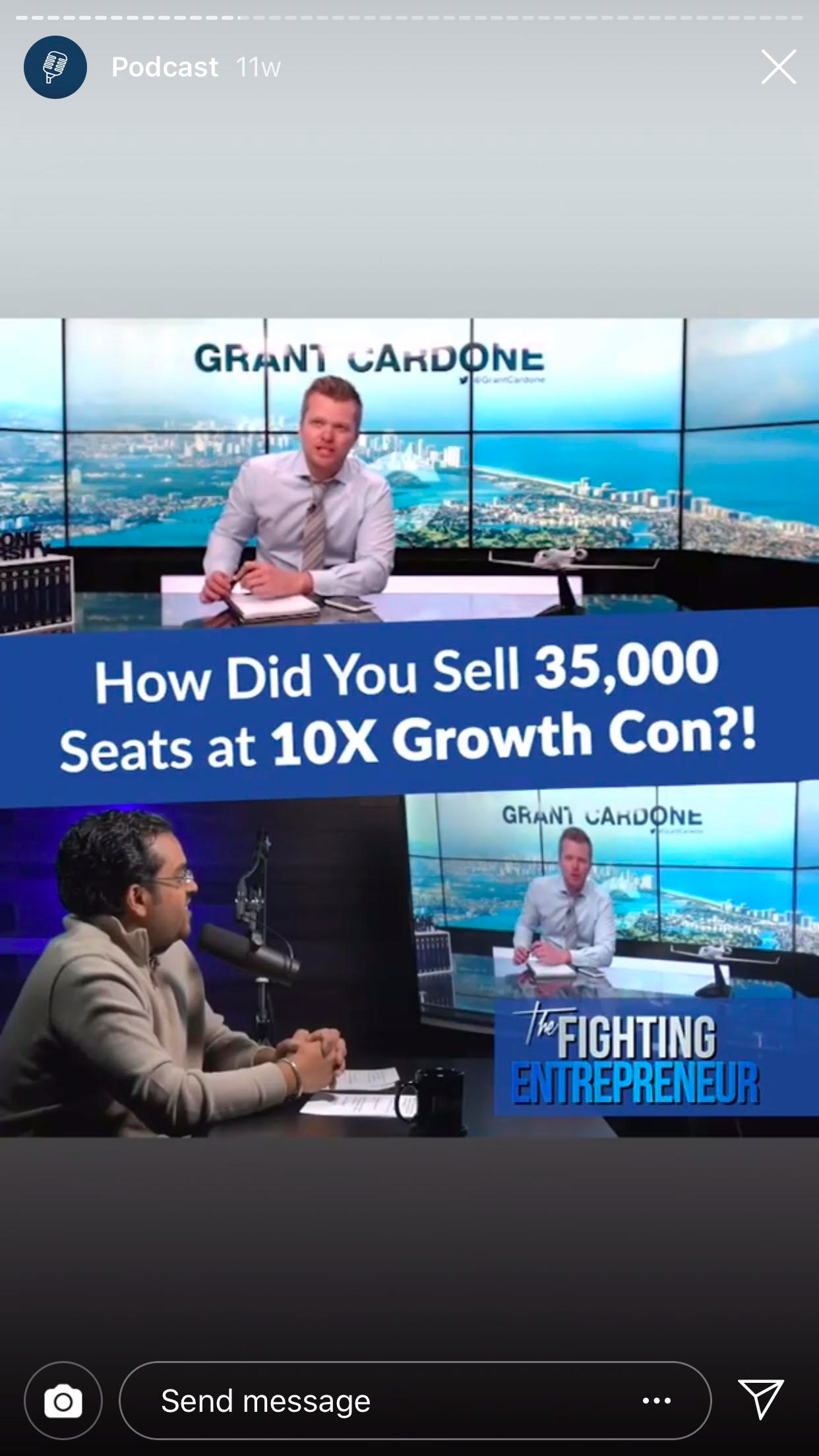 Tie in your stories with your expertise, and give your followers more of what they're looking for. Doing so will keep them coming back repeatedly.
6. Keep Attention For More Attention
Instagram rewards accounts that help keep users on the platform. This makes sense because Instagram's end goal is to make sure users stay active and enjoy their experience.
Provide great content to ensure that more people watch your videos.
By keeping people's attention, Instagram will likely send more viewers your way!
7. Focus Your Efforts
Don't try to do too much at once.
It's easy to get distracted by other opportunities that cross your path, but don't let yourself stray off course!
Focus your efforts on your main business.
8. Network With Other Influencers
A lot of business deals are a result of networking.
Build up reciprocal relationships with other influencers, and help send traffic to them. In return, see if they can send traffic your way as well.
Also, get to better know these influencers and see where your goals can best meet.
If those influencers provide excellent content, your followers will be happy you sent them!
9. Create A Content Calendar
With as much as you'll be doing with your content creation and distribution, you'll need to find ways to ensure that everything runs smoothly. That's where a content calendar comes in handy.
Make sure you take some time to put together your content, and schedule times in your content calendar to post it.
Josue suggests picking three days to put aside to create content, then schedule out that content.
10. Create A BUNCH Of Videos
Volume will help you to get noticed.
Some of the best content creators out there put out daily content - sometimes even multiple times per day!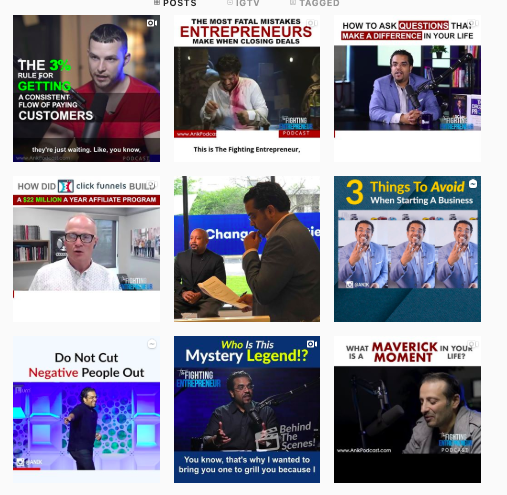 Make sure your videos have white bars at the top and bottom and a clickbait-y title.
Also, always include subtitles in your videos.
11. Short Titles
Keep your video titles short and sweet. People have short attention spans - even when it comes to reading a title!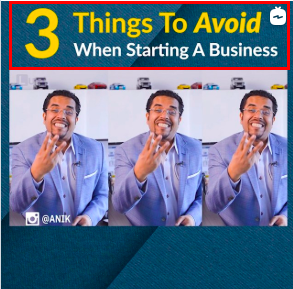 Grab your viewers' attention with a snappy title, and let the video do the rest. You'll notice a lot more views - and much better results!
12. Design A Cover
Covers get clicks!
Design a cover for your video, and then put the cover in the first few frames to make sure it shows up as a "thumbnail."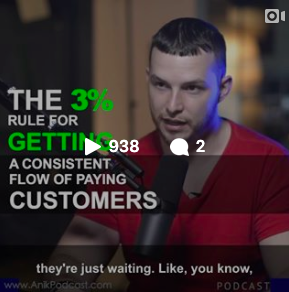 With a catchy title, you can significantly increase your views, which will increase your overall traffic. 
13. Post Frequently
The more you post, the more you grow!
A lot of people make the mistake of neglecting their Instagram (or only posting when they have something "truly important" to say).
Don't wait around for content - make content!
Post at least one picture or video each day.
14. Post At The Same Time
People are creatures of habit.
Even if they don't realize it, they're often waiting for content creators to release content at a certain time during the day. That's why you need to post at the same time each day.
Posting at the same time each day also forces you to create more content - which gets more views and clicks.
Post at the same time each day to get yourself (and your followers) used to this habit.
15. Get Followers To Turn Notifications On
You want your followers to see your content immediately when you post, so encourage your followers to turn notifications on.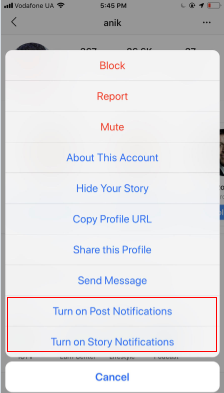 Once they have notifications on, your Instagram account becomes more like a mailing list.
When you post, followers get a notification on their phone.
16. Ask For Action For A Giveaway
People love free stuff! That's why giveaways work so well.
If customers know that you give away free things, they're more likely to follow you.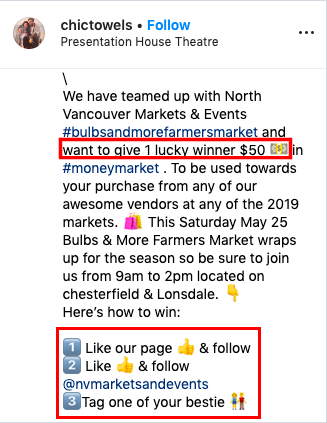 An example of this is telling followers that if they post within the first 10 minutes of your videos, they'll be entered into a giveaway.
17. Give Value For Engagement
Make sure you provide value for engagement.
Giveaways are a good example of this! You want to train your customers to interact with you and with your content.
By providing value, you encourage people to continue following you and interacting with your posts - which lets Instagram know that your account is valuable and increases overall sales.
18. Ask People To Engage With A #Hashtag
Like many other forms of social media, Instagram thrives on hashtags because people use them to find the content they're looking for. 
So, encourage your followers to use hashtags to help give you a boost.
You can also reward followers that use hashtags. The more followers use popular hashtags, the more likely you'll show up in searches.
19. Provide Giveaways To Create New Customers
Giveaways are nice to get followers, but they can also serve a bigger purpose.
Customers will be more likely to enter your ecosystem if they've been given something for free. Once they're in, you can work on converting them into paying customers.
Use giveaways to create new customers.
20. Use Growth Hacking
Growth hacking is finding ways (outside of the norm) to grow your account and your business.
For example, Dropbox offered free storage as an incentive to get people to sign up with their company, and Uber offered discounted rides to convince people to trust them.
The idea is to find ways to grow on Instagram outside of what everyone else is doing. The more Instagram sees your account (and your posts) as valuable, the more they'll reward you.
The goal here is to get your post to trigger the Instagram algorithm to help your post to go viral.
21. Do Market Research
Market research is a staple part of marketing, and it's necessary to succeed with your Instagram marketing campaign.
Visit your competitors' pages and go to influencers' pages in your niche to see what they're up to to get ideas for how you can replicate that success.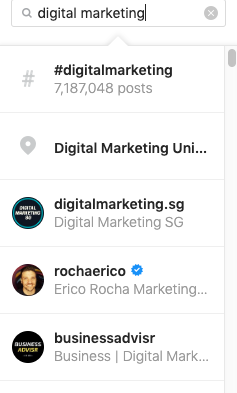 Your competitors are a FREE resource that allow you to build a marketing campaign around concepts that have already been tested and proven to be effective.
However, don't get that confused with copying. 
Always put your own twist one whatever other people are doing to make it your own.
22. Check The Competitions Best Performing Post (BPP)
As part of your market research, check what posts are working for your competitors so you can use that information to your advantage.
To start, look at their BPP.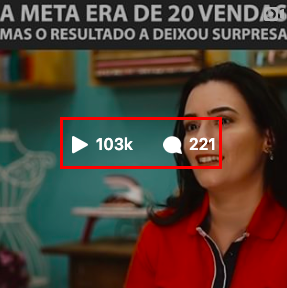 Save that post, and either create a similar post of your own or repost it and tag the original content creator.
23. See What Hashtags Influencers Are Using
Your more successful competitors likely understand how to use hashtags.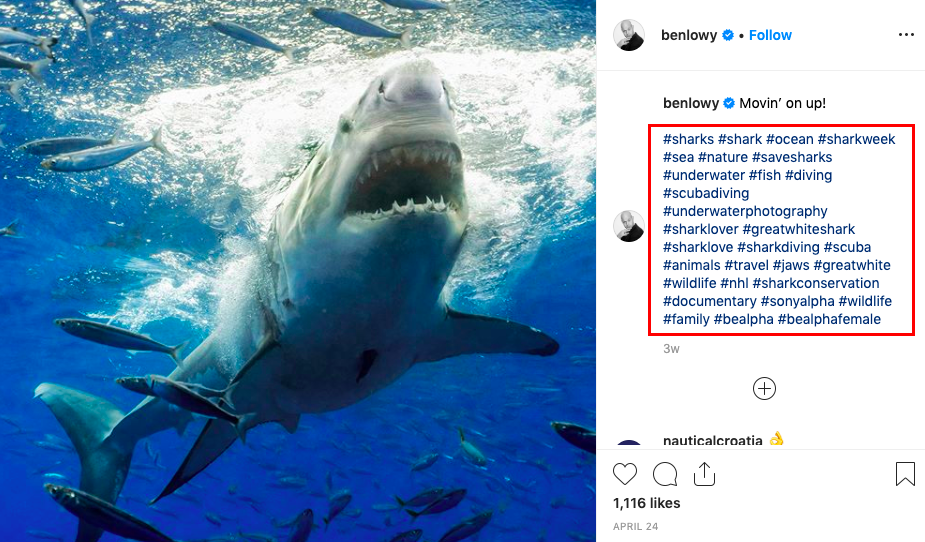 If you can model your hashtags off of your competitors', you're more likely to get the same traffic.
You don't have to reinvent the wheel - just use the hashtags that are already working.
24. Use Influencer Marketing
Influencer marketing can be cost-effective, and it can provide you with AMAZING results.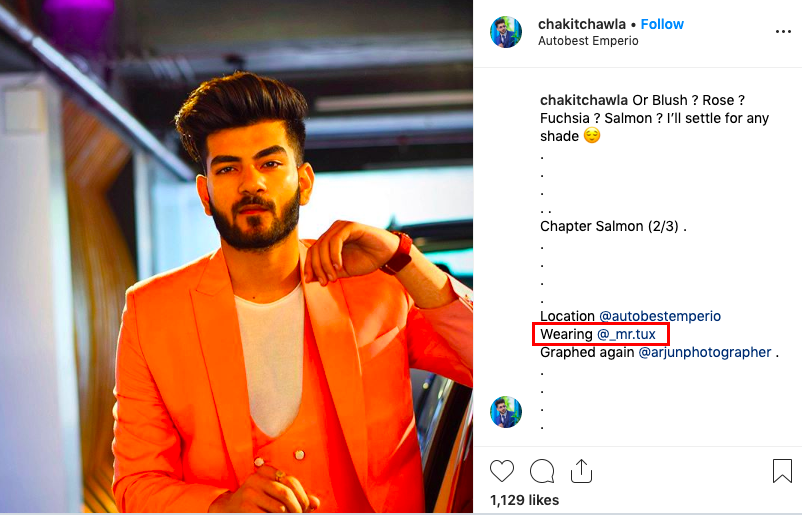 All you have to do is find successful influencers in your field, and then reach out to them. If they like your product (and you can agree on a price), you can use their list to boost your business.
25. Have A Call-to-Action In Your Influencer Campaign
People like being told what to do.
If you don't take their hand and lead the way, you often won't get the reactions you're looking for.
Because of that, your influencer marketing campaigns should always have a call-to-action to get new followers to your Instagram page and/or your website.
A simple "swipe up" or "click here" can mean the difference between getting sales and missing out on opportunities.
26. Run Ads On Instagram Stories
With Instagram Story Ads, you can create a "swipe up", which is otherwise only available to users that have 10,000 followers or more!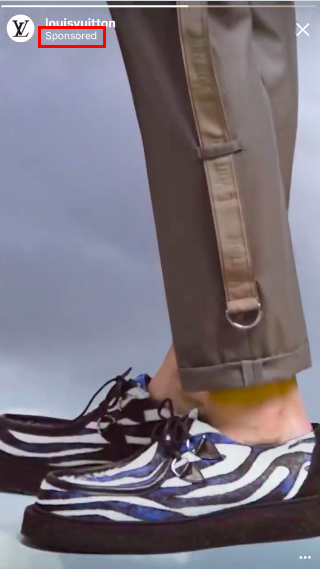 Instagram stories are an excellent way to grab your followers' attention, and from there it's much easier to get a click.
27. Build A Carousel
Instagram only allows you to post 15-second videos. With a carousel, though, you can post multiple 15-second videos.
If you have something that you want to say that won't fit in the 15-second window that you're given, build a carousel to get your message across.  
28. Retarget Instagram Followers For Story Ads
Your current followers are already used to seeing your Instagram stories, so they're "warm" customers. They already know you provide excellent value so they will be more likely to click!
Make sure you retarget customers to get the attention of people that you know are already interested in what you have to offer.
29. DON'T Buy Followers!
Don't EVER buy followers!
Not only are you wasting your money, but you also risk throwing off your engagement/follower ratio. Bought followers DON'T interact.
Buying followers can tank your marketing efforts. Don't give in to the temptation it's simply not worth it.
30. Go To Quora And BuzzSumo And Search Top Topics
Sites like Quora and BuzzSumo are excellent resources to find what the everyday person is looking for online.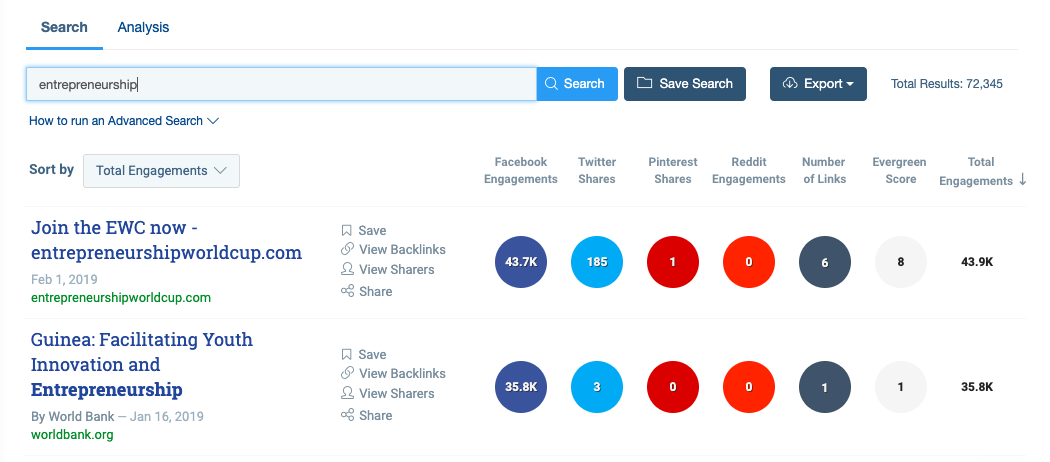 See what people are asking for, and make videos about those things.
31. Use Inshot, Vont, Phonto, Lightroom And Similar Apps For Video And Editing
Video and editing tools can be extremely expensive, and will often have a bit of a learning curve. Luckily, there are plenty of tools out there for people that aren't as tech savvy, and don't have a massive budget.
If you can't afford a professional editor, these apps are excellent tools.
32. Use Multiple Tools
Your toolbox should be filled with different tools for different occasions. That's why you'll want to become proficient at a variety of different tools to help you to achieve your editing goals.
Don't just use one of the tools outlined above. Make sure you are using all of these tools to build success!
How Will You Make Money On Instagram?
Remember, Josue Pena didn't have any experience at all on Instagram before he started building his agency. 
All he wanted to do was market himself as an athlete?
He's taught himself everything that he knows, and he's built up a business that's doing seven-figures in revenue per year. 
With these 32 tips, you're taking the right first step in following in his footsteps.
(Note: Want to get ALL the tips that Josue shared with us on the go? Check out the entire podcast episode to learn how to how to make money on Instagram.)