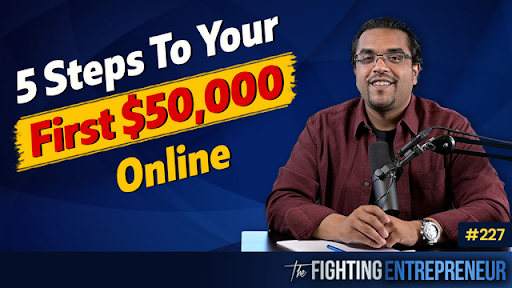 In our opinion, information marketing is still the #1 business model in the world…
And it isn't particularly close.
In the last year, the industry has grown to more than $400 billion. And it shows no signs of slowing down whatsoever. By 2027, it's projected to be worth $1 TRILLION.
There are so many more benefits besides just industry growth…
You can start a business QUICKLY

The margins are insanely high

You can work from anywhere

There is a global audience
So today, Anik is sharing his 5 steps to making your first $50,000 online with information marketing…
Step #1: Solve a $5,000 Problem 
Think of a problem that's so big, someone would pay you $5,000 for a solution. 
A lot of people scoff when they hear $5,000. They think it's too large an amount of money. Well if the problem is big enough, people will gladly pay you that amount.
So think about what problem you're going to solve.
Not what course you're going to create. Not what product you're going to sell…
Focus only on the problem for now.
Anik says the best places to look are in the health, wealth, or relationship niches. Those are the areas where people are willing to spend the most.
Step #2: Focus on Margin
When you're looking to make your first $50,000, margins are everything. 
You don't want to have to invest $30,000 before earning your first dollar. Then you're starting out in the negative.
You want to find products you sell for $5,000, but you're keeping $4,900 of every sale. 
It may sound crazy, but that's the type of business model Anik has been working with for over 19 years.
With information marketing, everything is digitally delivered. That cuts down on costs dramatically…
Step #3: Rethink the Value Ladder
If you've tried to start a business or side hustle before, you've probably heard of the "value ladder."
It usually involves a free item, low-ticket offer, mid-ticket offer, high-ticket offer, and super-ticket offer.
But there's one small problem. If you're starting from scratch, building an entire ladder like that is time-consuming and can be expensive. 
With Anik's process, he starts with the top of the funnel, not the bottom. He starts with the super-ticket offer and works his way down. 
That way, you can start making large sales immediately, and then you can invest your time in the other parts of the ladder. 
It's also why he tells you to find that $5,000 problem right off the bat.
Now, those are just the first 3 steps of Anik's process.
To see the last 2 steps, watch this week's episode of The Fighting Entrepreneur Podcast on YouTube...
How one simple 74-word email brought in $500+ per month
What if one simple 74-word email had businesses literally lining up wanting to give you money?
Students of ours are doing exactly this & netting $500 per month contracts.
The text in this 74-word email netted $500 per month for one simple thing.