Want to learn more about how to start & scale an Amazon business from Dave Kettner himself? Check out his FREE course, Amazon Bootcamp, inside #LurnNation here.
___________
Dave Kettner has been a friend to the Lurn family for around 5-7 years now, and it happened completely by chance.
Both Anik and Dave were attending an event and happened to run into each other in an elevator. Afterward, Dave's name kept coming up time and time again anytime Anik brought up Amazon.
When Andrea, Anik's wife, wanted to start an Amazon business, Dave was the first person he called.
Dave's done over $8 million in sales since 2009, he regularly turns over 35% in profit on the sales that he makes and he's taught thousands of people the system that he uses.
While his system is relatively simple, success didn't happen for him overnight.
However, Dave was kind enough to share a lot of what he's learned over those 10 years doing business on Amazon so that you don't have to spend 10 years figuring out what to do.
Instead, you can take Dave's five-step system and start applying it today.
How To Start And Scale An Amazon Business
While there are several ways to sell on Amazon, the foundation of Dave's business is the private labeling model.
For those who don't know, private label products are products that are manufactured by one company but sold under the brand of another company.
Take Amazon itself, for example.
Amazon, as we all know it, is an eCom marketplace where people come to sell their products. However, Amazon also has several private label products that it sells on Amazon.
One of those is Goodthreads.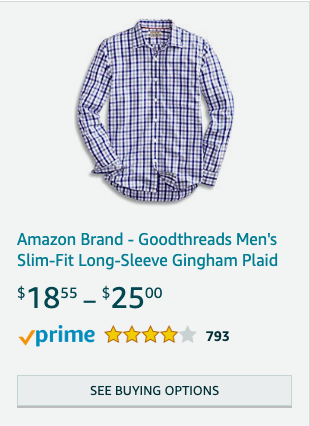 Goodthreads is a brand of clothing products manufactured by one company but sold under a different brand.
And anyone can do this.
You simply identify a product, source a manufacturer, create your brand and use Amazon's customer base to sell your product.
Dave actually has several recommendations for finding good products:
Avoid well-branded products: Toilet paper, for example, is very brand-driven.
Aim for small products: Things like appliances are way too big and cost too much to ship.
Aim for lightweight and minimal variations: For example, jewelry is small and lightweight, but there are a ton of variations on jewelry.
Avoid products with complications: For example, products that require electricity or are fragile (computers are bad, but computer accessories could be good).
Look for products that you can duplicate: A bunch of pacifiers that are the same color is easy to replicate.
Keep it affordable: You don't want to spend a ton of money upfront on inventory.
While it requires some research to find the right kinds of products, there are several benefits to using private label rather than other options once you've nailed down the process we're going to cover:
You own the product

You own (and can build) your brand

You can leverage Amazon's users

You can keep startup expenses low ($1,000-$2,000)
With other methods of selling on Amazon (dropshipping, for example), you don't actually own your brand.
Once you stop ordering products, your brand disappears.
All you have to do is follow this simple 5-step process to build your own business on Amazon.
(Note: Want to learn more about how to start & scale an Amazon business from Dave Kettner himself? Check out his FREE course, Amazon Bootcamp, inside #LurnNation here.)
5 Steps To Building The Business
While looking at starting a business on Amazon is intimidating for a lot of people, it's much easier to digest when you break the process down into a system.
This 5-step system has worked great for Dave, so there's no need to re-invent the wheel.
You can make your own adjustments once you've mastered these five steps:
Find the product
Source the product
Build the brand assets 
Launch the product
Scale the business
Now that you have a better idea of what the private label model is all about, and the five steps to take to get it started, let's dive deeper into how to make each of these five steps happen.
Step #1: Find The Product
Without a product, you don't have a business.
To find a product that you can sell, you need to first go to Amazon to see what types of products are selling well.
First, type a keyword in and see what results come up. 

The ones that come up first are the products that are selling well, but you want to avoid the sponsored ads.
Organic results are much more important to you when you're looking for products.
As you click through the results, you want to look specifically at the Best Seller Rank (BSR) of each product, which is an indicator of how well the product is selling on Amazon.
You find it by clicking into the product and then scrolling down on the product page.

You can even click into the category to see which ones are selling the best.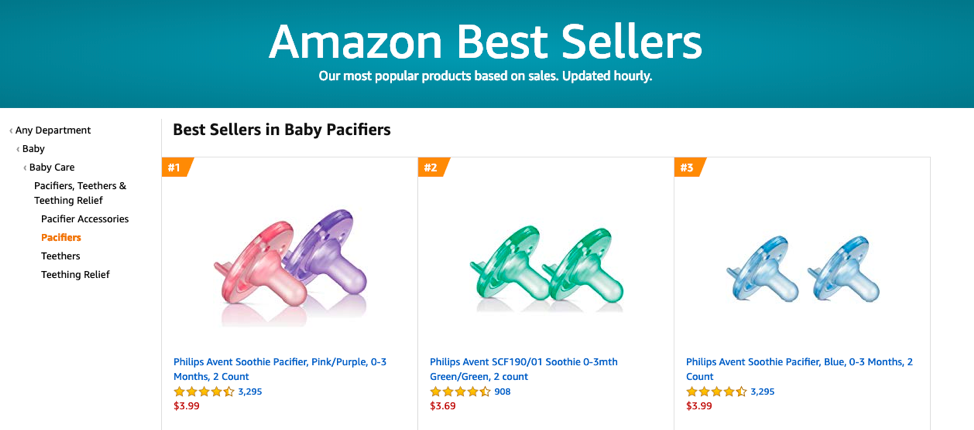 The higher the BSR, the more products that person is selling. A few things that will help guide you:
DS Amazon Chrome Plugin: Makes finding the BSR quicker and easier.
Stay away from the top 1,000 BSR per category: Try to live in the 1,000-10,000 range (for example, that pacifier is 4,550 in Baby - not bad).
Helium 10: A good tool to find products (

you can get Dave's discount on 

this page

).
Price range of around $20-$50: That will help you keep your startup capital low.
Aim to 3x-5x your landed cost: Landed cost is the total cost of getting products to your door (for example, if it costs you $3 to get your product, sell it for $9-$15).
Weigh two pounds or less: Stay out of the oversize category.
If it's easy to break, stay away from it: Fragile products will have a lot of returns.
If you follow those simple guidelines when looking for your first product, you can't go wrong.
Step #2: Source The Product
Once you have your product in mind, you'll need to find someone who can manufacturer the product and send it out to you. While most experts don't work with Alibaba for their products, it's a good place for beginners to start. 
Most of the products on there will come from China, but you can still get great quality products as long as you look for a few qualifications:
Verified supplier check: You want gold suppliers.
Assessed supplier: Someone has gone to the factory to check their standards.
Trade assurance: Alibaba backs these suppliers and guarantees your order.
Good communication: If they aren't very responsive, you're likely going to have a lot of issues with them throughout the process.
Aside from Alibaba, you can search on Google to find suppliers by typing in 'product + supplier or manufacturer or wholesale'.
The reason I typed in United States here is that you need to source products from the United States if you're going to sell anything that goes in or on someone's body (i.e. supplements, pacifiers, etc.).
Legally, that puts you in a better position because you know the products will be properly tested.
You can also find U.S. suppliers on Alibaba.
In terms of estimating your landed cost, you aren't going to know exactly what the product is going to cost to get to you until you have a conversation with the supplier. You'll have to take into account costs like packaging, shipping and storage.
However, you shouldn't pay more than $1 per piece depending on the size of the item.
For example, if the product is $4, you should be able to get it to the United States for $5.
(Note: Want to learn more about how to start & scale an Amazon business from Dave Kettner himself? Check out his FREE course, Amazon Bootcamp, inside #LurnNation here.)
Step #3: Create Brand Assets
Once you know what your product is going to be and where it's going to come from, you need to start building out your brand assets.
Again your brand assets are everything that goes into building a brand.
To organize yourself, these are the primary things you'll need:
Brand name

Packaging

Logo

Copy

Emails

Ad creatives

Product photos
When thinking of a brand name, there are two important things to keep in mind:
The name can't already be trademarked

It ideally has the keyword built-in for search optimization purposes
It's better if the .com domain name is also available, but that isn't necessarily a deal-breaker since there are so many different domains available now.
Once you've come up with a name and checked it for trademark (you can use a tool like this), you need to trademark your name so that nobody else can take it if they get on Amazon and see that your product is selling well. 
Dave uses a trademark lawyer that costs around $900, but you can do it for around $400-$500 on your own if you're willing to spend the time.
You don't have to do this step right off the bat, but you definitely need to do it ASAP if your products begins to sell well.
After coming up with your brand name, you need to get some design and photos done. Upwork, 99Designs, and Fiverr are all great places to find freelancers for design work, but remember that if you pay crap, you're probably going to get crap back.
In terms of product images, these are super important because they convey the quality of your product.
You can get professional photos done for around $75-$100.
If you decide to do it yourself, use the best quality of camera that you have, find a white background, and then send the photos to an editor to have them remove the background.
Step #4: Launch Your Product
"Build it and they will come."
Unfortunately, this mentality 100% does not apply to selling products on Amazon. While that may have been the case back in 2009 when there were less sellers, the Amazon marketplace is now much more crowded.
So, you have to do what it takes to get your product in front of customers.
With no sales or reviews, that's going to be difficult.
There's no social proof and no BSR rating for people to base their decision off of.
For that reason, you'll have to offer discounts, maybe even up to 100% discounts, to get people to test out your product and leave reviews.
Now, with that said, Amazon values sales at discounts less than when you sell it at full price, so selling at a discount on Amazon won't help you nearly as much as a normal sale.
To get around that, there are a couple of websites you can use to offer discounts on your product while also getting recognized for a full sale on Amazon:
With these websites, customers go to your product on Amazon and purchase it at full price so that you get recognized for the sale. After they make the purchase, you then send them their discount in the form of a rebate.
All that Amazon sees is that you made a sale.
In terms of advertising, Amazon ads are actually fairly easy and not quite as expensive of other platforms (Facebook ads, for example).
They even track your ROI for you.
You should expect around 10% of your total costs to be your ad budget, and it should either match, or be less than, your inventory budget. If you spend $1,000 on your inventory, you shouldn't spend more than $1,000 on advertising.
Step #5: Scale Your Business
Like most people, you'll likely want to scale your business up once you find a successful product so that you can earn more money.
The best way to do so is to simply rinse and repeat the process that worked in the first place. Once you find success with one product, just repeat the process over and over and over again to make more money.
You can also scale to other countries.
If you're only selling in the United States in the beginning, you could look into the United Kingdom next.
You can also scale to other platforms like Walmart or eBay to increase the amount of people who see your product. Sometimes it's more efficient to simply move on from a product once you feel that it won't scale any further, but that takes time to learn.
Are You Ready To Start And Scale An Amazon Business?
The opportunity on Amazon is incredible.
While it's not quite as easy as it was 10 years ago, there's still plenty of money to be made.
Amazon is now responsible for nearly 50% of all eCom transactions in the United States (that number is expected to increase), and they're around 5% of all retail transactions.
For perspective, their next-closest competitor, eBay, sits at just 6.6% of eCom transactions in the U.S.
There are people out there building private label businesses with 30-50 employees doing $20 million-$50 million a year in revenue. Simply put, it's the best way to run a business on Amazon, and just about anyone can do it with this simple 5-step strategy.
All you have to do is take action and get started.
(Note: Want to learn more about how to start & scale an Amazon business from Dave Kettner himself? Check out his FREE course, Amazon Bootcamp, inside #LurnNation here.)