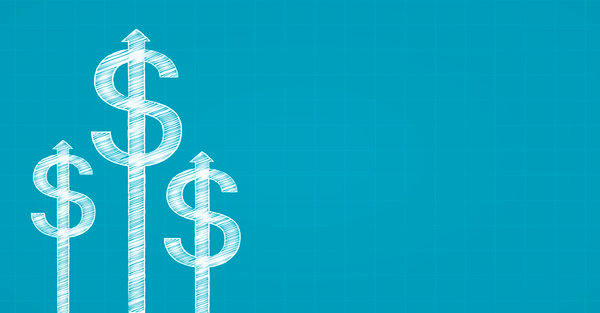 Want even MORE info about how to use copywriting to grow your business? Grab your spot in this FREE course to learn about the tools and strategies you (and your business) have been missing out on.
___________
How much do copywriters make?
It's a fair question for anyone thinking about getting into copywriting or making a career switch. The good news is that copywriting is a well-paying field that doesn't require a ton of training and expensive certificates.
You don't need to go to university or get any certificates to become a copywriter - all you need is the desire to learn and the willpower to practice.
But how much can you actually earn as a copywriter?
Let's take a look.
What Do Copywriters Do?
Before I dive into how much money you can earn as a copywriter, you need to know the different paths that you can take because how much you earn depends on which road you choose.
In terms of your options as a copywriter, you have three choices:
In-house (or agency) copywriter (employed)

Freelance copywriter (self-employed)

Agency owner (entrepreneur)
Each path has its own pros and cons, and you may find yourself in all three of these paths at different points in your career.
In-House (Or Agency) Pros
Probably the most popular way for people to work as copywriters is working for a company.
Here, you'll either be doing the copywriting for the company you work for or for an agency who does copywriting for other companies.
Some of the biggest pros of working for a company are:
People to learn from

Access to mentors

Plenty of networking opportunities

A steady salary

A steady lifestyle

Don't have to worry about client acquisition
With the right company, you can earn a good salary and have nice work life balance working for a company or agency.
In-House (Or Agency) Cons
While there are a bunch of benefits to working as a copywriter for someone else's company, there are definitely some downsides:
You're working for someone else

No matter how much you work, you earn the same amount of money

Office politics

Little say over the types of projects you work on

Dependent on someone else for advancement

Company may not speak to your personal mission statement
A lot of people get their start in a company or agency and then branch out from there.
Freelancer Pros
For many, working as a freelancer is a logical next step after working because there are benefits that companies can't give you:
Work for yourself

Earn more the more you work

Ownership over your projects

Create your own schedule

Decide who you work with

Work from anywhere

Low startup costs
Freelancing is also a great option for those looking to make a career switch to copywriting. It allows you to gain experience that you can then leverage in several ways.
Freelancer Cons
While the image of working as a freelancer from a beach or from home in your pajamas is what captures many people's imagination, the reality often isn't as great.
Some of what you'll experience is:
Hustling for clients

Wearing all the hats of a business owner

Varying level of income

No monetary benefits (i.e. paid vacation)

No co-workers to bounce ideas off of
Although freelancing can be rewarding (both personally and financially), it isn't for everyone.
Agency Owner (Pros)
The next logical step for freelancers who want to grow their business and earn more money is to start their own agency.
While difficult, there are some great benefits:
Scalable business opportunity

Chance to build a brand

Make a name for yourself in the industry

Potentially more money

Manage more than write

You're the boss

Personal satisfaction
If you're a freelancer who's bored with what they're working on or want to scale your business, starting an agency is a good option.
Agency Owner (Cons)
While there's potentially more money in being the owner of an agency, it does come with a new set of headaches:
Manage instead of write

Your mistakes are amplified

Every part of the business (and the employees) rely on you

Longer hours

A lot of new skills to learn

More stress
If you decide to go the agency route, prepare yourself for a bumpy road.
How Much Do Copywriters Make Per Year?
As I mentioned, how much you can expect to earn per as a copywriter depends on several factors.
One of the more important factors is the industry in which you work.
According to Glassdoor, the average yearly salary for a copywriter in the United States is $60, 296. However, that changes based on several factors.
Let's take a look at how it varies across industry:
Accounting & Legal: $60,845

Aerospace & Defense: $62,276

Architecture & Civil Engineering: $60,596

Arts & Entertainment: $52,813

Automotive: $54,271

Banking & Financial Services: $58,459

Beauty & Fitness: $52,459

Biotech & Pharmaceuticals: $62,212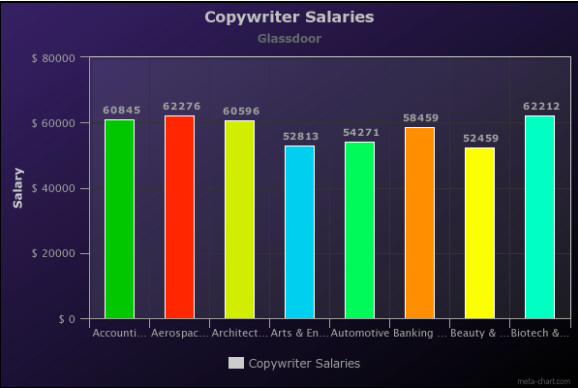 By looking at the salaries by industry, it tells you a lot about what niches you may want to look into if you're new to copywriting. Clearly, it isn't as profitable (on average) to be in an art or entertainment-related niche as it is to be in a more STEM-related niche.
Now, let's look at how it varies by company size:
0-50 Employees: $52,263

51-200 Employees: $56,091

201-500 Employees: $57,355

501-1,000 Employees: $58,730

1,001-5,000 Employees: $60,062

5,001+ Employees: $62,574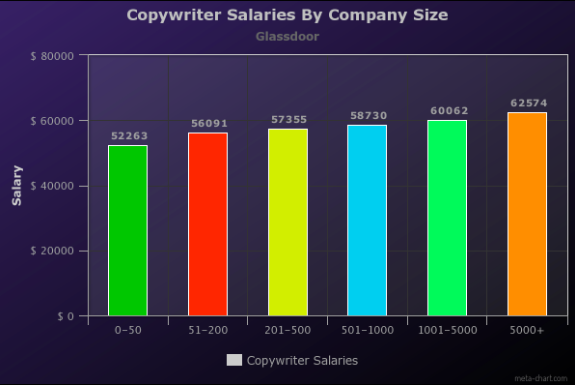 If you decide to work for a company, there's a $10,000/year difference between working for a corporation and working for a small business or startup.
Finally, we can break salaries down by years of experience:
0-1 years: $47,763

1-3 years: $51,508

4-6 years: $60,323

7-9 years: $64,081

10-14 years: $65,800

15+ years: $67,536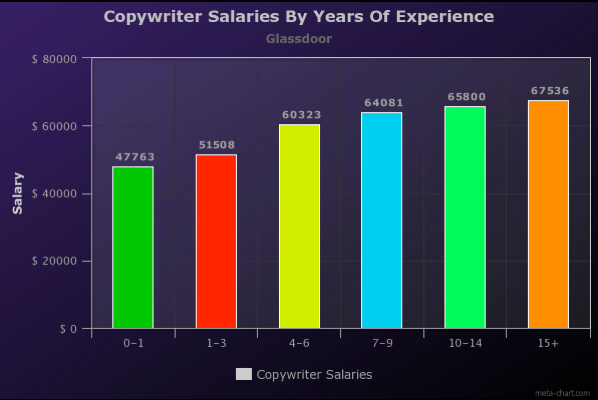 In other words, it pays to have experience.
But then it gets more interesting if you break down the title of copywriter into 'Junior Copywriter' and 'Senior Copywriter'.
For Junior Copywriter, the average salary is $53,095. Here's what the data looks like by years of experience with that job title.
0-1 Years: $42,192

1-3 Years: $45,297

4-6 Years: $53,030

7-9 Years: $56,308

10-14 Years: $57,785

15+ Years: $59,261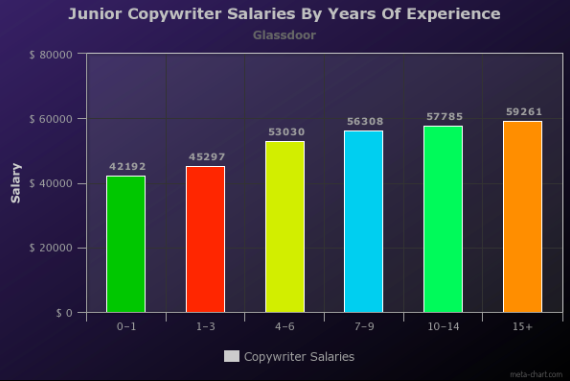 As for Senior Copywriters, the average salary is $83,892 per year. Here's what the data looks like by years of experience with that job title:
0-1 Years: $64,975

1-3 Years: $70,258

4-6 Years: $83,821

7-9 Years: $89,734

10-14 Years: $92,454

15+ Years: $95,159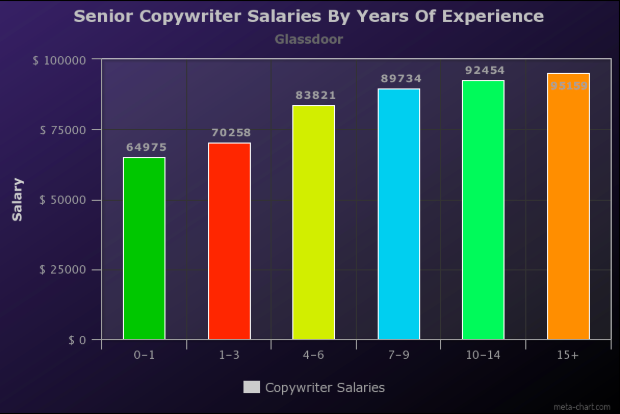 So, someone with the job title of Senior Copywriter earns around $5,000/year more than someone with 15+ years of experience but holding the Junior Copywriter title.
How Do Copywriters Charge?
One thing to note about copywriters is that there isn't just one single way to charge for your services.
Copywriters charge clients in several ways:
Hourly/Daily

Per project

Per word

Retainer

Commission
In a 2018 study put together by ProCopywriters, the United Kingdom's largest association of copywriters, they found that:
50% of copywriters charge by project 

47% charge a daily or hourly rate

6% charge per word
However, the copywriters also reported on how they WANT to get paid, and that data is a little bit different:
63% want to charge by project

36% want to charge a daily or hourly rate

1% want to charge by word
How you charge will largely come down to personal preference, but one difficult part about pricing your work by the hour is thinking about how many hours a project will take you when putting together a quote.
What's A Normal Hourly Rate For A Copywriter?
If you decide to charge hourly for your work, you'll need an idea of what range to expect. Unfortunately, like many creative fields, there's no set hourly rate that a copywriter earns.
It would be like a painter trying to calculate their hourly rate.
However, there are some rough guidelines of what you should expect to be able to earn per hour as a copywriter.
It will depend on several factors:
Where you live

How much experience you have

What you specialize in

How much demand there is for your service

How comfortable you are with negotiation
In the United States, the average hourly rate for copywriters according to Salary.com is:
With that said, your hourly rate needs to adjust if you're a freelancer because you don't have access to the benefits that people get when they work for a company.
Things like:
Paid vacation 

Healthcare

401(k) contributions

Work computer & tools
Because of that, you need to charge more than that $27 per hour if you're in the U.S. so that you can cover those expenses.
However, in the UK, many people responded saying that they charge by day, reporting that they earned an average of:
£342 (between $400-$500 depending on the exchange rate) per day
As for the international respondents, which was a small sample size, they reported that they earned an average of:
£496 (between $600-$700 depending on the exchange rate) per day
Something to keep in mind is that, if you do decide to charge by the hour, you may actually make less money as you become better at what you do. You'll become more efficient, which means that you'll complete your projects in fewer hours.
The incentives here can get a little mixed up.
Per Word
Most copywriters, as you saw in the study I mentioned, will tell you they don't love charging by word. If you do decide to charge per word, there's an easy way to calculate what you should charge.
But it requires some experience to get the most accurate price.
First, calculate how long it takes you to write 500 words. If it takes 1 hour, you charge an amount per word that equals your hourly rate.
If your hourly rate is $50/hour, you would charge $0.10/word.
Per Project
Charging per project can be a win-win for both the writer and client as long as you know how to accurately price projects.
When you price yourself per project, you're charging based on the value that you're providing rather than the amount of words you write or hours you work.
However, what you charge depends on several factors:
How much copy the client needs (i.e. 500 words takes less time than 2,000)

How complex of a project it is

How much research you'll have to do

How much creativity is involved

The expected turnaround time
It isn't really possible to tell you exactly what you should charge someone since there are so many variables, but I can give you some information to help contextualize what we're talking about.
Let's start with a video sales letter (VSL).
Take a look at this job posting on Upwork as an example.

This is a company looking for an expert-level copywriter to write a VSL for them for $5,000.
Looking at the copywriter who won that job, her profile has her rate listed at $45/hour.
Here's another VSL project that she completed.

Here, you can see she charged $1,665 for 37 hours worth of worth on a VSL script.
In terms of writing copy for websites, we can go over to an agency called The Content Factory to get an idea of what they're charging.
Here's what they have to say:
"Our landing pages are usually around 250-500 words and most clients need five pages of content written, which means that the average 5-7 page website content project costs around $2,000 – $4,000, including all edits."
Let's look at an Amazon product listing next.
This is a project from another experienced copywriter on Upwork.

Let's look at webinars next.
For webinar scripts, I'm looking at a copywriter on Upwork who has earned over $70,000 on the platform.

While we don't know the length of the webinar or the industry, we can get a rough idea of what an experienced copywriter is charging for a webinar script.
As for sales letters, here's another project from an experienced copywriter on Upwork.

While everyone's situation is different in terms of experience, niche, and location, this should give you a better idea of what to expect.
Some of these rates may even be on the low end of what you can charge once you have some experience under your belt.
Retainer
A copywriting retainer fee is a fee that clients pay upfront to secure your services.
You can think of it kind of like a down payment that the client makes to ensure that they have access to you and your services as they need you.
For example, a lawyer may charge a retainer fee of $1,000. If their hourly rate is $200 per hour, the client has secured a minimum of 5 hours of service from the lawyer.
Any additional service past that is charged at the lawyer's hourly rate.
It works much in the same way for copywriters.
While some people find that retainers are often more trouble than they're worth due to the fluctuating needs of clients, they're a way for freelancers to have steady income month-to-month.
However, it's important to already have a good relationship in place with the client so that both sides are clear on money and deliverables.  
Commissions
If you want to make serious money as a copywriter, working with commissions is the way to go.
Although not every client will be willing to pay you commissions on their sales, more will be willing than you might expect once you have experience and results under your belt.
The way this works is that you get paid a percentage of the client's sales (minus refunds). That percentage is usually in the 2%-5% range (higher for the best copywriters).
So, say for example, that your client does $100,000 in sales from your sales letter.
Your resulting commission from that promotion would then be $3,000 if you agreed to 3% commission.
Many copywriters will charge their fee in addition to this.
In that example, you could charge your $2,000 (or whatever your fee is for your sales letter), and then you would collect commissions on top of that.
How To Make Six Figures As A Copywriter
While you don't have to clear six figures to be a successful copywriter, I know a lot of people have that goal and like to have that benchmark to measure themselves by.
If your goal is to make six figures as a copywriter, you essentially have two options:
Become a senior copywriter

Scale your freelancing/agency business
If you go the senior copywriter route, you'll need to work at a high-end company or agency, likely in a STEM field, if you want to push into the six-figure range based on the data we went through from Glassdoor.
If you decide to scale your freelancing/agency business, you'll need to do more than $100,000 in revenue if you want to take home six-figures worth of pay. At that level of income, you'll typically need to run advertising and maybe even hire an employee or contractor to do some work for you.
So, you'll need to calculate for after you pay your overhead if you want to earn over six figures.
However, there are some things to keep in mind that you need to do if you want to hit that six-figure mark.
Spread The Word:

Every single person you know should know you're a copywriter, and everyone you meet should quickly find out that you're a copywriter. Always be looking for opportunities.

Network Like Crazy:

You need to be connecting with other people in your industry constantly, and you need to attend live events with other copywriters. Commit to personal development and don't stop.

Educate Yourself:

You can't ever stop learning. Enroll in courses, attend seminars, and find mentors. You'll need all of it.

Be Willing To Invest:

If you aren't willing to spend money to make money, it's going to be a long road to $100k.

Get Ready To Work:

You won't make $100k as a copywriter by taking two or three months off out of the year. You'll either get the freedom or the money, but you usually don't get both. If you want to hit $100k, get ready to put in the time.
To get to that $100k mark, you'll have to be at the top of the top in terms of the copywriting game.
You can definitely do it, but you'll need to put in the time for sure.
Are You Ready To Become A Copywriter?
Copywriting is one of the most valuable skills in marketing right now, and there's good money to be made.
While it's going to take you some time to build your skills and connections up to the point where you're making that good of money, it's worth it.
If you haven't already checked it out, head over to How To Become A Copywriter In 10 Easy Steps to see how to you can start taking steps today.
(Note: Want even MORE info about how to use copywriting to grow your business? Grab your spot in this FREE course to learn about the tools and strategies you (and your business) have been missing out on.)