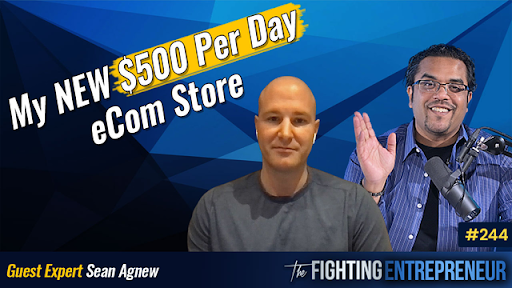 Anik's excited…
Last week on The Fighting Entrepreneur, he welcomed Sean Agnew onto the podcast and they created a new eCom store for Anik completely from scratch.
The store is live and already bringing in sales.
In fact, it's averaging $500 a day already!
On today's issue, Sean returned and they discussed how they picked the products they're selling in the store.
Here's the full scoop…
How Sean Picks the Best eCom Products
On the very first day their store went live, Anik and Sean brought in $449. That momentum continued through the week and they averaged $500 a day when all was said and done.
They didn't spend a dime on advertising either. They did it all with FREE traffic!
The key to these sales is THE PRODUCT.
So how do they find the right products to sell? Afterall, there are literally MILLIONS of different products you can buy and sell online. Almost anything you can think of can go into an eCom store.
But they are NOT all created equal.
According to Sean, most people really overthink the process of finding products. They get bogged down by the sheer number of things there are to sell.
But it all boils down to finding products that fit a specific set of criteria…
First, Sean highly recommends finding products that sell for between $50 and $150. Of course, you can sell products of any price range, but that's what he calls the "sweet spot."
From there, you want the COST of those profits to be less than half of that sale price. That way you maintain a healthy margin.
So if you sell something for $100, you really don't want to spend more than $50 sourcing it. 
Right off the bat you're already profiting $50 for sale.
The second step is finding products with a solid MARKET.
Sean's team uses a very simple tool to gauge the demand for products. It's also FREE. The Google Keyword Planner!
It's been around for over a decade, and it's one of the easiest free tools you can use. With the Keyword Planner you can instantly see global search traffic for any keyword imaginable.
With just those 2 steps, you've significantly narrowed down your search for products.
Now, those are just the first 2 steps. To learn Sean's entire process for finding products, check out the full podcast episode, right here…
And as we mentioned last week, Sean is spending the month of January helping Anik build his entire eCommerce business from scratch. 
As Anik mentioned, there are a few conditions:
He's NOT going to spend a lot…

He WILL be using free traffic…

He's NOT going to buy and store inventory…

He's NOT going to package or ship a single thing…
Best of all, he's going to show you how to do the EXACT same thing…
Make sure to watch this week's episode of The Fighting Entrepreneur to hear more about finding the perfect products for YOUR eCom store.