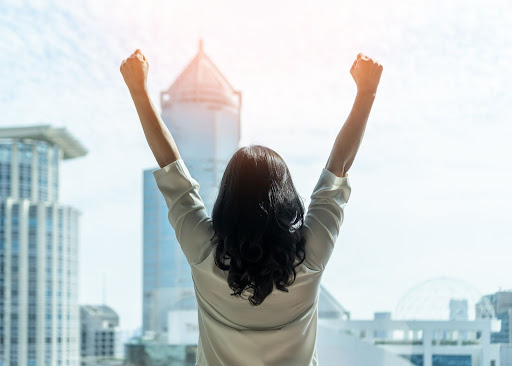 In August 2021, a whopping 4.3 million Americans quit their jobs.
Of the 1,000+ people surveyed recently by Indeed who voluntarily resigned from their jobs, 92% said "the pandemic made them feel life is too short to stay in a job they weren't passionate about." 
If you've already quit your job or have been considering it for a BETTER opportunity in the new year, then you've come to the right place.
The Great Resignation is giving millions the chance and determination to hit the 'reset' button on their career paths. 
YOU can be one of them!
This is a better-job REVOLUTION – an awakening to better opportunities and options, with the freedom to do what you love and make money based on your terms and your time. 
That's what being an entrepreneur is all about… 
Thanks to the Great Reshuffling, the business formation has surged.
In fact, over 400,000 new business applications were filed in November 2021, according to the U.S. Census Bureau.
Below, we're sharing these 3 steps that'll help you finally get started doing the job you've always wanted to do… 
Step #1: Look At Popular Business Trends
Intuit's 2021 New Business Insights report predicts that 17 million new small businesses will be formed in 2022.
This is a third consecutive record year for entrepreneurship. 
The jump people have made from working at big businesses to launching their own is the result of the pandemic and its impact on the way people want to work.
It makes 2022 the perfect setting to be an entrepreneur. 
And that's why it's so important to keep an eye on popular business trends in the new year. 
Here are a few examples… 
HR and the hiring and management of remote teams

Contactless technology and transactions

Social media and email marketing

Networking

Flexible service delivery and product development
Keeping up to date with growing trends will help you determine which of these trends best fit with your goals and how you can successfully implement one or a few of them into your own business. 
Plus, it's also a good indicator of where the business and entrepreneur world are headed so you can keep up and stay ahead of the competition. 
Step #2: Protect Your Business and Brand Integrity 
Once you've decided what kind of business to go into, it's important to plan out how to protect it. 
Set time aside to update your customer experience and brand messaging often.
Ensure that there are no ambiguities or discrepancies about where you stand on relevant issues and policies. 
You want to always be aware of the customer journey. 
Place yourself in their shoes and look at your business through their eyes. 
Is your business meeting their needs and successfully offering solutions to their problems with thoughtful marketing strategies?
You don't want your business to suffer the consequences of acting insensitively towards a certain topic or failing to address an important issue.
 A tarnished reputation is oftentimes the nail in the coffin for a new business. 
Step #3: Build Community and Grow Your Business 
Strategic partnerships aren't just for big brands or companies. 
Challenge yourself to form alliances with other businesses or entrepreneurs who may share in your vision or a cause that you're passionate about.
Remember, in a world that's becoming more and more virtual, it's vital to be personal. 
While the saying goes, "It's not personal, it's just business," you should make it your business to be personal in how you do business. 
Next, building community is a major key to success. 
Consider joining and being involved in various entrepreneur communities and online groups. 
You'll not only get the support and encouragement you need to push through in your new business venture, but you'll also learn from the experiences of other entrepreneurs like yourself. 
Plus, there are numerous online courses, resources, and tools to help you succeed in and grow your business. 
That's exactly what we offer here at Lurn! 
More specifically, by signing up for expert Alicia Lyttle's online course, Freelancing Genius, you can…
Start your own freelance business in any field.

Work from home and say goodbye to bosses and office life.

Learn how to get your first freelance "micro gig" using simple skills to build a profitable business and change your financial future.
What's having a business you can run on your terms worth? Not nearly enough.
Alicia Lyttle's mission is to share this incredible opportunity with as many people as possible.
Your wait is over. It's time to finally make that change you've been looking for.
Freedom IS the new wealth. And Freelancing Genius will help you achieve your freedom lifestyle. 
Thanks to the Great Resignation, more and more people are leaving jobs they're unhappy with to pursue their dreams of entrepreneurship to build a business and career they're PASSIONATE about. 
That can be YOU. Don't get left behind… 
There's really no better time than TODAY to join – if you haven't already – and start making 2022 the year your dreams finally become a reality.