Want to get ALL the tips that Mike shared with us on the go? Check out the entire podcast episode to learn how to get 5 high-paying clients for FREE using organic Facebook traffic.
___________
I recently got to speak with Mike Buontempo—a marketing genius—about how he got his first 5 high-paying clients…and I'm going to relay all of the amazing information that he provided me with to YOU.
We're going to go over how you can start an agency and get your first five clients for FREE Using Facebook—no matter what kind of agency you decide to start.
We're also going to cover how you can scale your agency to the point where you're making millions of dollars a year in profits.
First, though, let's take a moment to answer the question you may be asking.
So, Who Is Mike Buontempo?
If you haven't heard of Mike Buotempo, let me give you a quick rundown.
Mike runs paid media ad campaigns for other businesses and has been doing this for years now. 
The reason I wanted to sit down with him (besides the fact that I've known him for years) was to discuss how exactly he got his agency to $100,000 per month in revenue.
So, let's jump into what Mike has learned over the years so you can profit from his expertise!
How Mike Got His First Clients 
Let me tell you the story of how Mike got his first client.
Mike initially made a post on Facebook about how he was able to cut the cost of his booking calls in half by using the Google Tag Manager and custom events to segment people that had seen his offer on his company's webinar.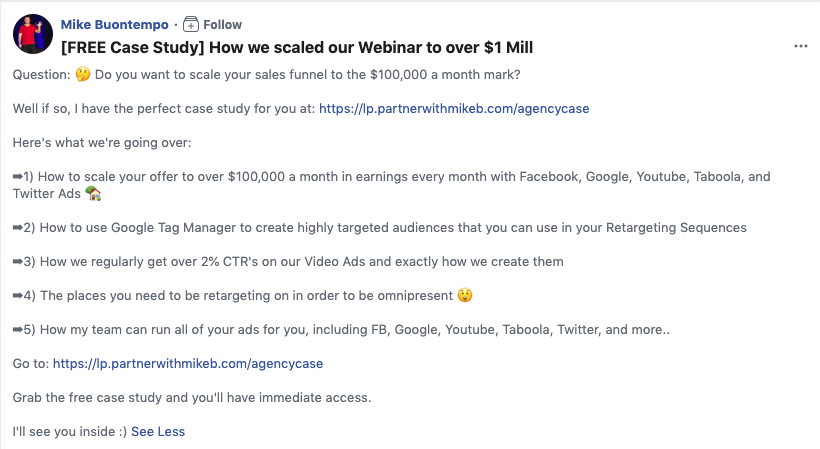 It was a brilliant strategy that saved him a bunch of money on his ads, so that post  provided people with a lot of value. Because the post was valuable, people then reached out to him about how they could cut their costs.
And that's how Mike ended up getting his first client. 
After that, he saw how easy it was to get sales through this method.
Now, here are a few tips to make it work for you.
Tip #1: Build Your Network 
If you're implementing this strategy, you need to build your network so that you have people to advertise to.
To do this, start by looking up business groups on Facebook.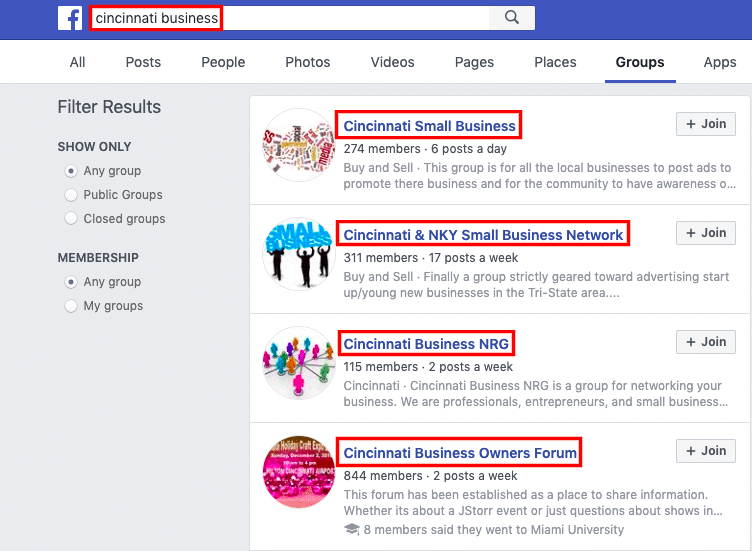 Once you become a member of these groups, start looking for prospects.
When you're looking for prospects, look for people with legitimate businesses that are looking for help with growing their business.
You can then add them on Facebook.
Once they're your friends on Facebook, they can see your posts—which will lead to some curiosity (and possibly an inquiry about services) on their part if you're sharing valuable content.
But don't just jump into it.
Keep in mind that most business groups don't like people coming in and spamming their services. Once you join a Facebook group, you need to provide value.
Not only will providing value solidify you as a member of the group, it will also lead to other people in the group opening up conversations with you and asking how you may be able to help them.
Tip #2: Use The "Reply Strategy"
Another way that Mike got clients through Facebook was by using the "reply strategy."
The reply strategy involves making a post on Facebook asking people if they're interested in you helping them get results for their business.
Having a case study in the post works well because people like to see strategies and results. What this does is it helps you open up conversations with people on Facebook.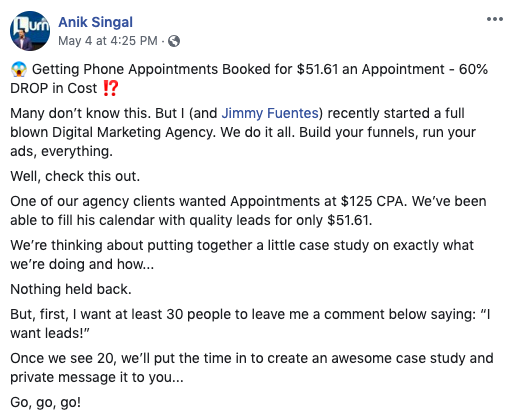 From there, you can like the comments and reply to each person that posted.
When you do this, people get two notifications—one from the like and one from the comment. Adding these interactions makes the post more visible so that more people see it.
But keep in mind that posting once isn't enough.
You'll want to post regularly to increase the chances of your Facebook friends seeing your posts and interacting with them.
The Lessons Mike Has Learned Since Getting Those First Clients
Lesson #1: The Average Client Is Okay at Facebook Ads
Believe it or not, a lot of your clients will know a thing or two about Facebook ads. The issue is, they'll only know a thing or two.
Many people do a little research and then try to run a few Facebook ads and fail miserably. While they know the fundamentals, they may not want to put more time and effort into something they aren't good at.
Instead of spending time coaching clients on how to better run their Facebook ads,  help them get better results by running the campaigns yourself.
That way, you can charge a handsome fee without the hassle of coaching clients.
Lesson #2: Many Clients DON'T WANT to Learn
You may be thinking that helping clients learn to do it themselves seems more altruistic, but the reality is that many clients DON'T WANT to learn how to run their own ad campaigns.
They'd much rather pay for someone else to come in and run their ads for them.
As I mentioned a moment ago, business owners are often too busy running their business to learn new marketing techniques. You'd be surprised how many people are willing to pay someone else to run their ads for them (and just how much they're willing to pay).
If you're good at what you do and can make your client money, you're doing them a service. They'll appreciate that you helped them do something they were unable (or unwilling) to do themselves.
Lesson #3: You're Probably Not Charging Enough
When Mike first started, he wasn't sure what he should be charging.
Because of this, his first client was only paying $2,000 a month. If you don't know how much you should charge, that number may seem reasonable.
But he was charging WAY too little.
Mike now starts at $4,000 a month for his services, and he only takes clients with a 3-month minimum agreement. Remember, people are willing to pay good money for a service they know is valuable but are unable to do themselves.
If they aren't willing to pay a reasonable price, then they aren't the kind of clients you want to work with anyway.
Start charging the right rates and you'll attract high-quality clients.  
Lesson #4: Get Your Leads on a Call IMMEDIATELY!
You'll kill lots of deals if you aren't immediate about getting the sale.
Once a customer gets excited and is willing to speak with you, strike when the iron is hot. A lot of people make the mistake of setting up a call for later—which gives the lead time to cool off.
This, in turn, makes the sale more difficult.
Don't wait if your lead is ready to go! It doesn't matter if it's 10 o'clock at night—jump on a call and close the deal.
(RELATED: The Pitch Formula)
Lesson #5: Charge To Scale Up
For clients that want to scale, Mike takes 10% of the ad spend.
If a client gets a $10,000 a month package and his team spends $100,000 for that month, they get another $10,000 at the end of the month
This helps to incentive his media buying team by giving them a 15% commission on that 10%. With this incentive, they make more money, which encourages them to do better.
Lesson #6: Hire Sooner
An issue Mike ran into after a while was that he was constantly stuck in a feast or famine cycle. He'd take on as much work as he could handle and then would have to go out and make sales when that work dried up.
A lot of people make this mistake.
This leaves them in a cycle of getting sales, doing the work, then going out for more sales when the work is done.
You can't grow this way.
Mike realized he needed to have enough staff to grow if he wanted to increase his revenue.
As an agency doing around $100,000 per month, Mike's staff consists of:
Three media buyers (4 including Mike) 

One tech guy 

One sales guy
That's a six-person operation to service the 25 clients he currently has.
Lesson #7: Hire Remotely If Necessary
I know it seems like a good idea to find local people to hire, but local talent isn't always the best talent available.
You may find some local people you can hire, but they're often pretty green. This means taking months to get them to the point where they can do their job on their own.
So, be ready to hire remotely if the talent isn't available in your area. This may even mean hiring people that live in a different time zone—or even a different country!
(RELATED: Where To Find Freelancers For Your Business)
Lesson #8: Use Contracts
A lot of people don't use contracts and end up getting screwed because of it.
I've known people that have lost lots of money by working with people that decide they don't want to pay an invoice—and they have no recourse because the client never signed a contract promising to pay anything.
Make sure you put together a contract for your new clients to sign once you make the sale. While there are boilerplate contracts out there you can use, consider having a lawyer write up a custom contract for you. 
Lesson #9: Put All of Your Clients on Slack
Communicating with multiple clients is a hassle, so consider using a communication tool like Slack for communicating both with your clients and with your team.
Email, Facebook and texts get really annoying and hard to keep up with, so use a platform that's built for business communications.
Lesson #10: Use The Right Tools
I asked Mike about some tools he uses for his agency, and these are the tools that he suggested:
Make sure you're using these tools to build your agency and communicate better with your clients.
(RELATED: Reach Peak Performance With These 10 Apps & Tools I Use To Run My Business)
Lesson #12: Don't Give Up!
One thing Mike wanted to drive home was to not give up, no matter what.
A lot of people will make one post on Facebook and give up because it isn't providing the results that they're looking for.
This is silly.
If you want to succeed, keep posting.
Do it over and over again and be diligent. Repeat the process until you see the results you're looking for.
Also, keep in mind that people aren't always going to see your posts.
The right person may not have checked their phone that day or they may not see a lot of your posts. By posting often, you increase the chances of the right people seeing your posts—and then replying to them.
Eventually, you'll find what works for you and for your leads.
Now That You Know How To Get Clients
Now that we've gone over just how YOU can get 5 high-paying clients for FREE using Facebook, it's time to take what you've learned and put it into action.
I want you to do a quick case study right now, then start posting about it. Once people reply, make sure you interact with that reply to let them know you saw it—and to boost the overall interaction in the post.
From there, make sure you schedule calls immediately and close those sales!
If you do all this, you'll get your first 5 high-paying clients in no time!
(Note: Want to get ALL the tips that Mike shared with us on the go? Check out the entire podcast episode to learn how to get 5 high-paying clients for FREE using organic Facebook traffic.)