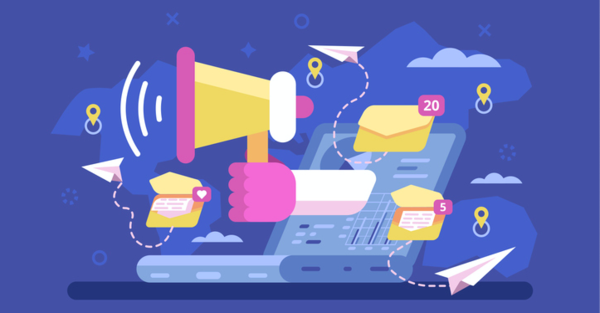 Want even MORE info about how to use copywriting to grow your business? Grab your spot in this FREE course to learn about the tools and strategies you (and your business) have been missing out on.
___________
"Every successful business person must be able to sell through the art of the written word."
- Justin Ford
It doesn't matter what industry or niche you're in, there's no escaping the fact that you have to be able to sell through the written word.
Whether through email, sales pages, or ads, written words are at the core of sales today.
Because of that, talented copywriters are in high demand since not every business owner has the time or skills necessary to write persuasive copy that turns visitors into leads and leads into sales. 
So, if you're interested in starting an online business, becoming a freelance copywriter is one of the best options right now. 
This 13-step guide will help set you off on your path to doing just that.
Step #1: Understand The Business Of Copywriting
Demand for good copywriters is strong. 
If you think about how businesses, both online and offline, make money, you'll see that it all essentially comes down to the written word. 
Businesses advertise in several ways:
Opt-in pages

Email

Written sales letters

Video sales letters

Webinars

Ads
And the core of all of these? Good copywriting. 
Even video sales letters, video ads, and commercials need good copywriters because there has to be someone behind the video writing the script. 
If you want to make money, you have to either know how to write or how to hire a good writer. 
That's what makes copywriting such a secure profession.
While many people will tell you to never study writing or choose it as a profession due to the lack of money, good copywriters actually make great money. You can easily charge $1,000-$2,000 for written sales copy, and the best copywriters won't even talk to you for less than $10,000.
The reason is that there's a severe shortage of people in the world who can write well.
So, as a freelance copywriter, there's an amazing opportunity for you to fill in that market gap with your services. 
Action Step(s): 
Step #2: Understand Direct Marketing Vs. Interactive Marketing
As a copywriter, it's important for you to understand trends in advertising since that'll be your job.
To start, let's look at the difference between direct marketing and interactive marketing.
In the past, marketers used what we direct marketing.
You can think of direct marketing as being very broad in nature. Direct marketers used things like billboards, TV commercials, and radio commercials to advertise their products because that's about as targeted as they could get in the past. 
These types of advertising wasted a lot of money because you can only get so targeted (and can only track so much) with something like a billboard.
Today, we've moved well past that stage. 
What marketers are using today is what we call interactive marketing, and it's the future of marketing. The goal of interactive marketing is to interact with your audience as much as possible to build relationships. 
We do this using tools like email, and we can track our ROI on just about every type of advertising now.
Interactive marketing is much more targeted and effective.
Action Step(s):
Step #3: Learn The Difference Between Copywriting & Content Writing
Before actually diving into copywriting, it's important to know the difference between copywriting and content writing. 
Many people use the terms interchangeably, but that isn't accurate. 
With content writing, the goal is to educate, inform, or entertain with things like:
Blog posts

Articles

Stories

Brochures
With copywriting, the goal is to get the audience to take action - typically, you're aiming to persuade someone to provide contact information or to make a purchase. 
As I mentioned earlier, some of the tools copywriters use to make this happen are:
Opt-in pages

Email

Written sales letters

Video sales letters

Webinars

Ads
While content writers may do some copywriting and copywriters may do some content writing, it's two different fields with two different purposes.
Action Step(s):
Step #4: Understand Your Market
Once you're ready to dive into actually becoming a freelance copywriter, it's important to have an idea of your ideal market in mind. While you don't necessarily have to choose a niche right from the beginning, the best copywriters understand their market and have a profitable niche that they market to. 
Few people want to hire generalists. 
To get you started on your path to choosing a niche, you can start by looking within the big three evergreen categories:
Health

Wealth 

Relationships
These three categories will be relevant forever because people will always want to improve their health, accumulate wealth, and build relationships.
Once you choose one that interests you, you can niche down even further. 
For example, you could make an entire career out of doing copywriting for real estate companies (the wealth category).
Action Step(s): 
Do: Select A Niche Of Interest
Step #5: Understand The 5-Step Copywriting Formula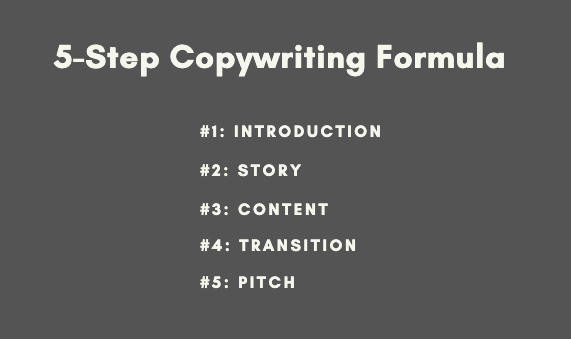 At Lurn, we follow a 5-step copywriting formula that can be used in many of the different types of copywriting that you'll do in your career. 
Those five steps are:
Step #1: Introduction
In the introduction, you need to answer the question, "What's in it for me?" for your audience.
Whether it's a sales letter or a video sales letter, you have to grab your audience's attention by making it clear why they should stick around for the rest.
Step #2: Story
The story section is your chance to make yourself relatable to your audience.
However, rather than positioning yourself as Batman (the hero), position yourself as Robin, the one who happens to have a great solution (the product) to a problem.
Step #3: Content 
Today, you have to provide valuable content throughout the sales process to convince anyone to do business with you.
After going through your story, provide value through content. 
In this stage, you give the "what" but not the "how."
If you tell people exactly how to solve the problem on their own, they have no incentive to do business with you.
Step #4: Transition 
In this stage, you address the elephant in the room: the sale. 
With your transition, you're essentially answering the most common objection, "Why do you need to ask for money?"
Your answer can be as simple as telling people that earning money from your work is what keeps you in business.
Step #5: Pitch
Rather than asking for the sale at this stage, you're confirming the sale.
People made their decision whether or not to buy from you all the way back in the content stage, so you're just confirming the sale for those who are interested in buying from you.
These five steps will carry you in the beginning of your freelance copywriting career, and you can build other systems on top of this for different types of copywriting.
Now that you know them, let's dive into the specific types of writing you'll need to learn.
Action Step(s):
Step #6: Learn About Opt-In Pages
Opt-in pages are pages meant to collect email addresses - typically in exchange for something.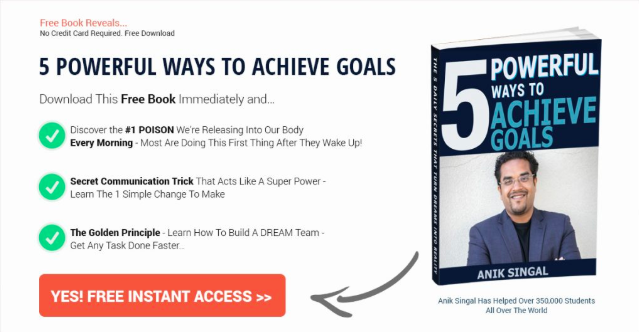 Opt-in pages are simple and have just five key elements:
Headline

Bullet points

Free gift

Image of gift

Button
You'll need to learn how to create opt-in pages that convert if you want to be a copywriter. 
Action Step(s):
Do: Create and write your own sample opt-in page
Step #7: Learn How To Write Emails
Most companies are using email marketing in some capacity today. 
Because most business owners don't have time to do their email marketing themselves, they almost always hire someone good run their email marketing campaigns for them once they have the revenue.
That's why learning how to write email sequences that nurture and convert people is going to be one of the most useful skills that you develop.
To master email marketing, you'll need to learn how to write three types of emails:
#1: Story
Story emails are all about building relationships.
By sharing stories about yourself or your client, your audience gets a better sense of who you are and what you stand for. 
Those who have closer connections with their audience will have an easier time making sales.
#2: Content
Content emails are all about building credibility through value.
People on your list want to see that you know what you're talking about, and valuable content is the best way to do that. 
Just remember, you need to tell them things they don't already know.
If you're recycling the same information that's been around forever, your audience will quickly lose interest.
#3: Pitch
Every business needs money to survive, so you can't feel bad about sending out pitch emails.
In a pitch email, you need to do three things:
Edify

Create Excitement

Get the click
While you shouldn't send out too many pitch emails, you owe it to your subscribers to share your products with them if you really believe what you're selling can change their lives.
If you master these three types of emails, you'll build relationships, provide value, and convert leads into customers.
Action Step(s):
Do: Write a sample story email, content email, and pitch email
Step #8: Learn How To Write Written Sales Letters
One of the most common forms of sales writing you'll do as a copywriter is written sales letters (WSL).
Sales letters have been around for years, but they used to get sent out by mail.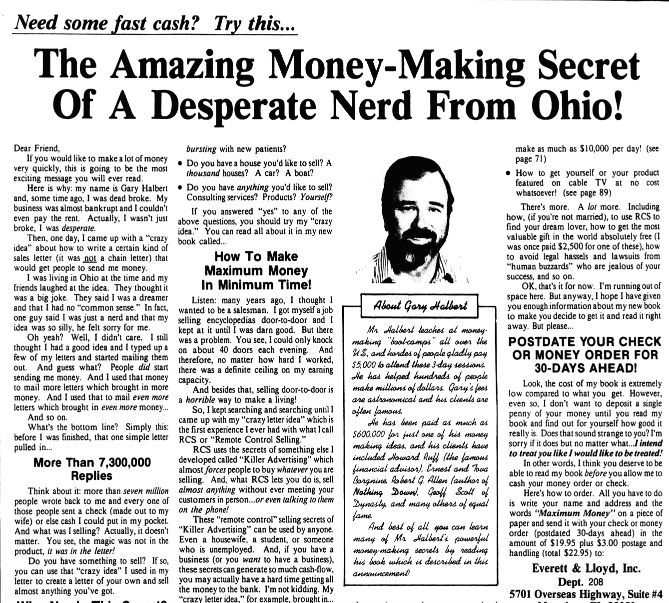 Today, it's all online. 
People will typically use WSLs when they're selling products in the $1-$40 range because you have the least amount of control over how people interact with your copy. 
They can click away or out at any time.
Action Step(s)
Read:

'Sales Letters 101'

Do: Create a sample written sales letter
Step #9: Learn How To Create Video Sales Letters
Video sales letters (VSLs) have effectively replaced the infomercial
People still use infomercials effectively today, but there are some serious limitations:
Infomercials typically run in the early morning or late at night when fewer people are watching TV

You need at least $10,000 to hire a camera crew, someone to write a script, an editor, and personalities
Today, people can run VSLs using automated software, and the audience can consume it from their home whenever and however they want.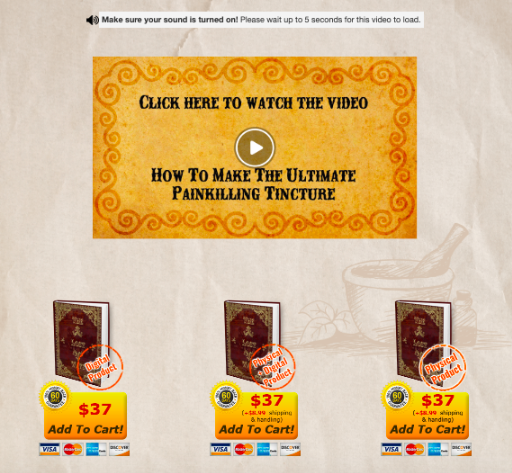 There are three types of VSLs that you'll want to learn about:
#1: Content
Content VSLs are value-based videos where you provide content to your audience to educate them on a particular topic.
For example, you could show your audience how to use your software if you're a SaaS company.
If you're going to do content, you need to nail. 
If you share content in your video that's rehashed or basic, you'll lose your audience immediately.
#2: Documentary
Documentary VSLs are rare because they're expensive and difficult.
They're essentially a more in-depth version of story VSLs where you product and shoot a short movie.
They convert well when done right, but you should save this method for when you're more experienced.
#3: Story
The safest and most popular type of VSL is the story VSL.
In a story VSL, you never risk losing your audience because you aren't giving content - you're telling a story.
The best strategy for a beginner is the story VSL.
In general, VSLs are great for selling products between $40-$100 since people watching them are investing more time.
Action Step(s):
Do: Write a sample video sales letter script and create a sample video sales letter
Step #10: Learn How To Run Webinars
The webinar has essentially replaced seminars since webinars are just more convenient, online versions of seminars. 
Rather than selling from a stage or door-to-door, you can now sell from your own home to people who are in their own homes and have chosen to attend the webinar.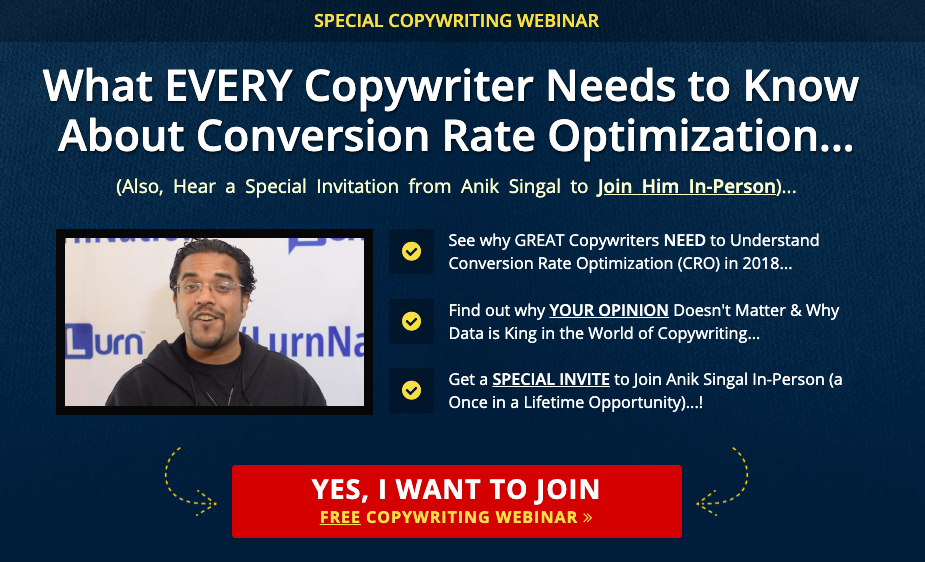 This allows you to do business globally since webinars don't have any borders.
Because of the resources and time involved in producing high-quality webinars, they're better reserved for products that are $300 or more.
Action Step(s):
Do: Write a sample webinar script and record a sample webinar
Step #11: Create A Copywriting Portfolio
The first question any potential client will likely ask you before they hire you is, "Can I see your portfolio?"
So, once you know the different types of copywriting, you need to start creating some samples to put into a portfolio.
Some options to start creating samples are:
Create your own emails, sales letters, etc. for projects that you make up

Work for free for a few clients

Offer your services to a non-profit

Help out your friend's business
Once you have a few samples, you should organize them all in one easily accessible place to serve as your portfolio that you can share with your potential clients.
People want to know that you know what you're doing.
Action Step(s):
Do: Bring the samples you created into a copywriter portfolio
Step #12: Pitch Clients
Once you have some samples and a portfolio, you're ready to start pitching real clients to take on some real work. 
You have a couple of options to find business:
Freelance sites like Upwork and Guru

Local businesses
Upwork is probably the easiest place to get started because there are projects there for all budgets and experience levels. Many people are happy to give newer freelance copywriters a chance so they can save some money.
While it's ok to work at rates a little lower when you first start, quickly raise your rates to what you want to get paid as soon as you have a few projects and reviews under your belt.
Copywriting is a valuable service, so you should be compensated accordingly.
After completing some projects on Upwork, you may want to look into setting up your own funnels to generate business outside of these platforms.
Action Step(s):
Do: Create a profile on Upwork
Do: Send in your first pitch
Step #13: Keep Learning
While many of the principles of good copywriting will stay the same forever, there are several elements that will change based on technology and increasingly innovative platforms.
The best copywriters are also lifelong learners. 
If you want to keep up and reach the top of your field, you need to always either be reading a book or enrolled in a course. 
It's the best way to stay sharp.
Action Step(s):
Get Started On Your Freelance Copywriter Journey Today
The biggest hurdle for new freelance copywriters is actually taking action on what they learn.
Too many people spend hours upon hours reading and learning and not nearly enough time putting what they learn into action. 
Now that you have a clear set of steps, go out and get it done.
(NOTE: Want even MORE info about how to use copywriting to grow your business? Grab your spot in this FREE course to learn about the tools and strategies you (and your business) have been missing out on.)