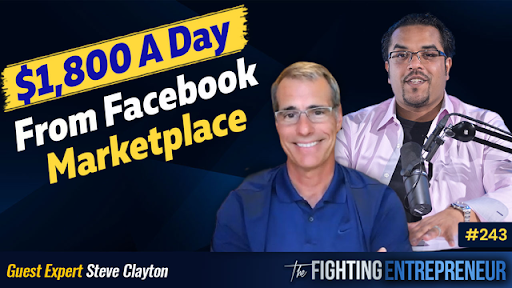 People are buying more things online than ever before. 
Our world was trending that way anyway, and then the Covid Pandemic accelerated the move to eCommerce. If there's one thing we've learned the past 2 years, the rise of eCommerce is here to stay. 
But here's the thing…
If you're starting an eCommerce business today, Amazon may not be your best bet.
That's why Anik brought Steve Clayton onto this week's episode of The Fighting Entrepreneur podcast. 
Steve is an eCommerce genius and has been selling physical products online for years. That's why Anik is relying on Steve to help him create his own eCommerce store.
Here's what Steve had to say about starting an eCommerce store in 2022, and why Amazon is not the best place to start anymore…
Why Facebook Marketplace Is Perfect for 2022
Obviously, Amazon has been the dominant eCommerce player for decades. 
But 2021 was a very different type of year. 
Because of all the global supply chain issues we've faced recently, people were not able to get many of the products delivered from Amazon as quickly as they have become accustomed to.
And that forced users onto all kinds of different eCommerce platforms.
It's truly changed consumer behavior!
When people can't find things on Amazon, they turn to Facebook, Target, Wal-Mart - all kinds of different marketplaces. People are cross-shopping on eCommerce platforms more than ever before.
And that's the key to Steve's strategy. 
Steve has been teaching this system to his students for some time. And there have been so many people from different backgrounds who have had crazy success.
One of his students in particular brought in $1,800 a day on Facebook Marketplace, selling just 2 different products. He used Steve's tools to find the right products, and then source it on multiple platforms with just the click of a few buttons. 
Now, over the next 4 weeks, Anik is going to build his own eCommerce store and business completely from scratch. And he's going to rely on Steve to help.
Now, Anik has a few conditions to this… 
He's NOT going to spend a lot…

He WILL be using free traffic…

He's NOT going to buy and store inventory…

He's NOT going to package or ship a single thing…
He's going to be primarily using Facebook Marketplace to build this business.
Best of all, he's going to show you how to do the EXACT same thing…
Make sure to watch this week's episode of The Fighting Entrepreneur to hear more about Steve's system and how Anik is going to start his own eCommerce business.