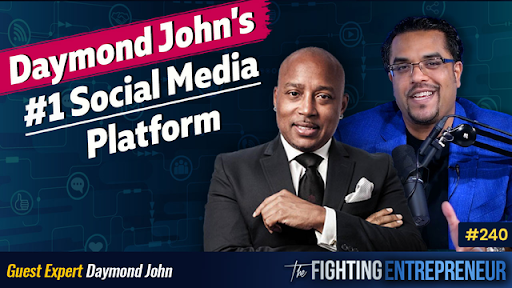 Today's guest on The Fighting Entrepreneur needs absolutely no introduction.
Anik spoke directly with Daymond John.
If you're unfamiliar, Daymond John is known as "The People's Shark" and has been appearing on the show Shark Tank since it premiered in 2009.
He's also the founder of the world-famous clothing brand FUBU, which is valued over $6 billion today.
So when Daymond agrees to talk about business strategies and entrepreneurship, we are all ears. 
And during their conversation, Daymond revealed the #1 social media platform that he uses for his business, and thinks its the best for entrepreneurs today...
Daymond's Top Social Media Strategy
At the end of the day, social media is FREE. 
Of course, you can put money into your social media strategy, but when you're starting out, it's free. And that's a great way for entrepreneurs to start their branding, and discover whether their business or product is sustainable and potentially scalable.
But for Daymond, there is one social media platform he prefers...
LinkedIn.
If you look at Daymond John's brand (as it stands today), it's all about information and learning. He finds that the social media audience that's most interested in his current digital information brand is most active on LinkedIn. 
Because LinkedIn is more professional than other platforms, it lends itself to the type of products he's promoting.
It's really that simple.
And that's also the beauty of social media. 
There are so many different platforms to choose from and find an audience on. What may work best for one entrepreneur, may not be best for you.
The key is finding where your audience is and speaking directly to them in a manner they like.
If most of your audience is on Instagram, you better be working hard to reach them on the platform. It doesn't matter if you "like" that platform or not. That's where they are!
You need to meet your audience where they are.  
Another platform Daymond loves is YouTube.  
No matter what you need to learn, you can find the answer on YouTube. Daymond likens it to today's Encyclopedia. 
Not only can you learn how to do practically anything on the platform, you can also receive a ton of metrics and insights from YouTube. 
That's the type of DATA you can use to build your audience and scale your business.
Like we said, this was an insanely useful conversation for all entrepreneurs. During their discussion, Daymond also touched on...
How to deal with people not believing in you…

How to start a business in your free time…

How he launched his business from 0...

What he looks for in companies he invests in…

The future of social media for entrepreneurs...
We highly recommend checking out this podcast episode for yourself. EVERYONE can learn a thing or two from it.
Listen to the entire podcast episode, right here!