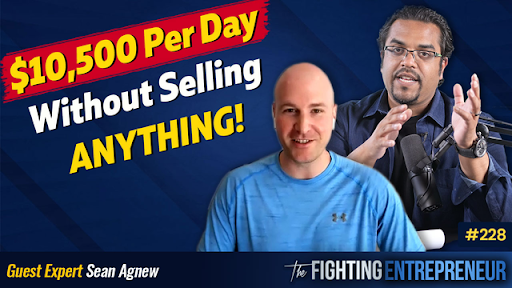 Listen to the Full Episode Now!
On today's episode of The Fighting Entrepreneur, Anik did a deep dive into a topic he actually knows very little about.
CPA marketing. 
It's gotten more popular in the last few years, but it's something most people still know very little about. 
With CPA marketing (cost per action), you essentially get paid when your audience takes a specific action. It could be giving an email address or something even easier like filling out a form or survey.
You get paid a commission for every lead. Without ever having to make a sale.
To learn more about CPA marketing, Anik brought on his good friend Sean Agnew who is a MASTER at this.  
If Anik is ever looking for advice on marketing, business, or generating income - he goes to Sean. 
Here's why Sean loves CPA marketing so much...
The Biggest Benefits of CPA Marketing
Benefit #1 - Wide Client Base
One of the best things about CPA marketing is that it works with literally every niche.
Companies all over the world need help bringing traffic to their pages and offers. They need customers, but don't have the expertise to acquire them online.
That's where affiliates and marketers come in.
You can run a simple ad targeting their audience, and collect a commission every single time someone signs up. You didn't sell a single thing, and you still got paid.
Sean also loves that you can sometimes opt these leads into your own lists, and then monetize them later on with email marketing.
It's that simple!
You don't have to worry about offers, products, or any selling. 
Benefit #2 - Easy Set Up
We talk a lot about opt-in pages here at Lurn, and for good reason…
They're critical for every business. They show your audience the value you'll provide them, and they help you collect their contact information so you can sell to them later on.
The beauty of CPA marketing is that ALL you need is the opt-in page.
Since all you're doing is trying to create one action, you only need one page!
You can make sure the action is completed on the opt-in page, and then redirect people to your client's website via an affiliate link.
Then you'll collect your commission!
Benefit #3 - So Many Offers to Choose From
Another thing we love about CPA marketing is the variety of offers to choose from.
For instance, some offers will pay you to simply get people to submit their zip codes. 
These will pay out less of course (maybe $1 per entry), but you can get tons of submissions because the action is so simple.
Some clients will want to collect phone numbers and email addresses. Because people are more protective of their phone numbers, you will get paid much higher per lead.
It all comes down to the type of targeting you want to perform, or the type of email list you have.
It's 100% your choice!
Now, these are just 3 of the benefits Sean shared in this week's episode of The Fighting Entrepreneur.
It was an info-packed episode.
Sean explained the entire business model, including...
The different types of actions you can monetize

How to get $40-$50 per lead

What type of offer to target

The #1 piece of advice he gives beginners
You can listen to the full episode right here.
By the end of the interview, you'll know exactly how to set up your own CPA business and will be ready to start today.
All The Benefits Of Running A Business Without All The Troubles
Running a business can be rough. It's certainly not for everyone.
But there is a way to get all the benefits of your own business without the troubles. You don't even need a product of your own!
See how in my new book, Commission Blueprint & FREE training here