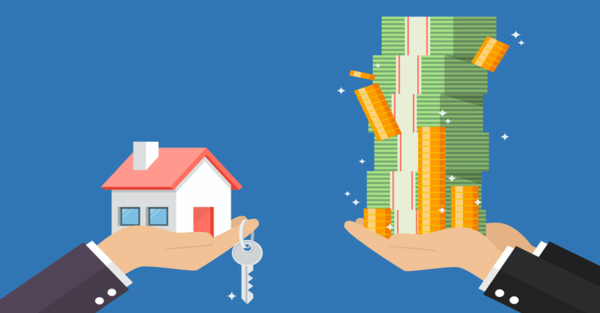 Want even MORE info about how to use copywriting to grow your business? Grab your spot in this FREE course to learn about the tools and strategies you (and your business) have been missing out on.
___________
One of the better offers that I remember was back when I was starting university in 2009. One of the most popular computers for college students back then (and still is today) was the Macbook. 
However, Macbooks are expensive. 
So, what Apple did back then was they not only offered a student discount, but they also offered an iPod and a printer with the laptop as a bundle whenever someone purchased a MacBook. 
For people who were on the fence about buying a MacBook, getting those two extra products with the computer often made it much more appealing to spend the $1,000+ on the computer.
And I'm sure they moved a lot of product because of that.
See, that's what we mean when we talk about creating irresistible offers: something that makes people feel like they HAVE to buy from you. As a copywriter, you have to understand the power of creating great offers if you want to sell your (or your client's) product. 
So, let's dive in and discuss how you can become a better sales writer by creating great marketing offers.
Product Vs. Offer
The biggest mistake I see people and businesses make is that they sell their product instead of an offer.
Let me explain.
If you look at this listing on Amazon, what you have here is a product.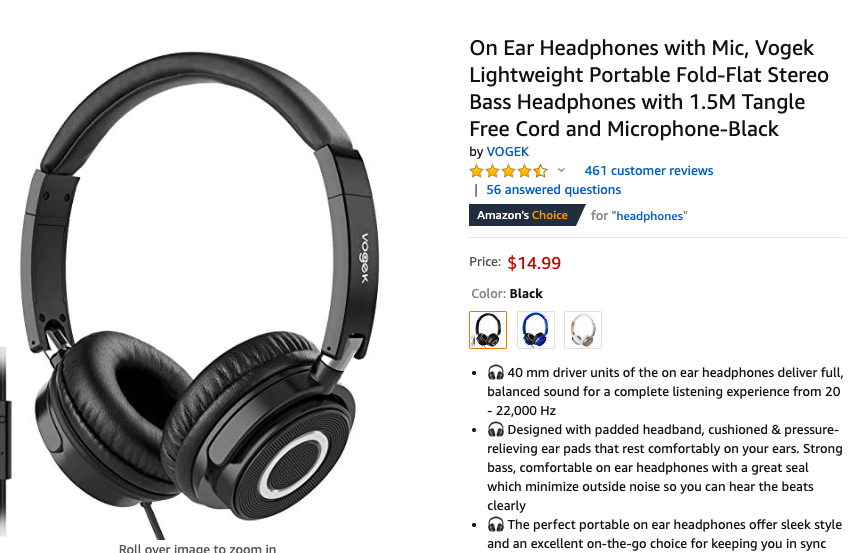 There's a pair of headphones listed with a picture, and that's what you get in exchange for giving them your credit card information. 
There's nothing particularly exciting about this exchange. 
What you want to do instead is get your customers excited about purchasing from you because of the offer that you put together. 
Now, an offer is essentially a bundle that makes purchasing from you irresistible. 
People should feel stupid for NOT purchasing from you! 
To give you a better idea of what I mean, take a look at this offer from Spotify. Their product is a music streaming service, but they recently made an irresistible offer that made people feel crazy for NOT purchasing their premium streaming service.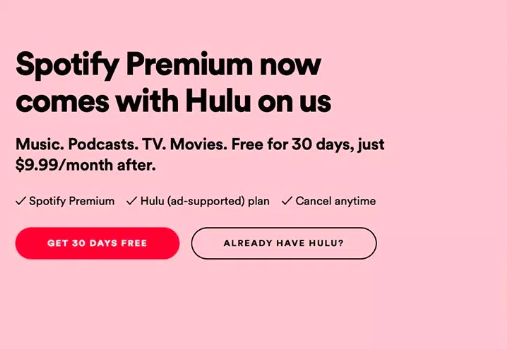 Instead of just offering their product at $9.99 per month, Spotify bundled their service together with Hulu, which is a movie/TV streaming service that also has a monthly fee. 
Now, people felt like they were getting great value because the perceived value of the service is higher than what they were actually charging. 
That's what we call an irresistible offer.
Now, we create a lot of offers every day here at Lurn, and we've boiled that process down into a seven-step system that makes creating offers easy.
(RELATED: How To Sell The Sizzle, Not The Steak)
The Seven Elements Of Creating An Offer
The problem that many people run into when they're selling their product is that they only focus on one or two elements of an offer when there are actually several elements to focus on. 
For example, let's take a quick look at our sales page for Inbox Blueprint, one of our most popular programs here at Lurn.
Step #1: Identify Your Main Product
Your main product is pretty self-explanatory. 
It's the meat on your plate of meat and potatoes; it's the product that you're selling to people.
In this example, it's Inbox Blueprint.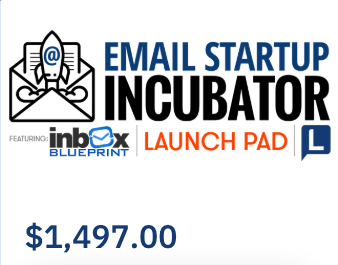 Now, most beginner copywriters would describe the course and its modules and that's where they would stop.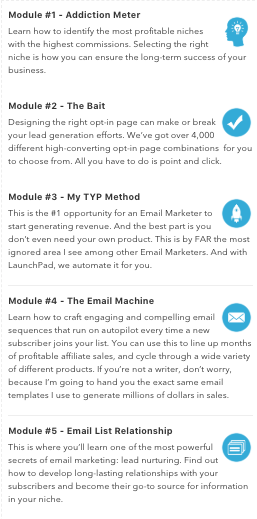 While these modules are valuable and people do want to know what they're going to learn inside the course, focusing on this alone isn't enough to convince most people to buy.
No, people want to know the benefits of going through those modules, and they also want to feel like they're getting more value than what they're paying for the product.
So, many new copywriters would stop here. 
And that's why so many of them struggle with making sales.
While certainly some people would be convinced to buy just because Anik has a lot of experience in email marketing and the features are impressive, we wouldn't be convincing those who are on the fence.
One of the most important things you can learn how to do is sell the benefits of your product.
Step #2: Identify Your Main Benefits
Selling benefits instead of features is one of the oldest, but most effective, copywriting techniques. 
As I mentioned earlier, the features of your product are the technical details. 
In this example, the features of Inbox Blueprint are the modules that are inside the course. To get a better idea of how to identify your benefits, take a look at this feature/benefit matrix.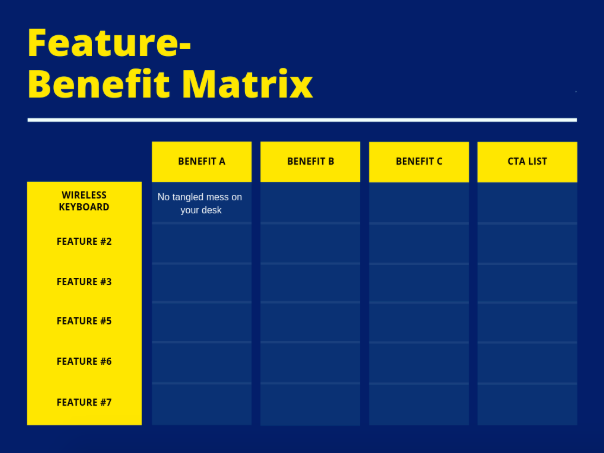 The feature of the keyboard is that it's wireless, while the benefit of a wireless keyboard is not having a tangled mess on your desk.
One of the main benefits of Inbox Blueprint is how easy it is to set up your business.

All you need is an email address and our software to start making money from home with an online business.
So, that's the main benefit. 
You also have what we call the limited benefits of your product.
Step #3: Identify Your Limited Benefits
In addition to your main benefits, you also have smaller limited benefits. 
For example, the main benefits of Inbox Blueprint are that it's easy to start an online business and that you can create financial freedom for yourself from the comfort of your home.
However, there are a bunch of other benefits that we offer in the course as well.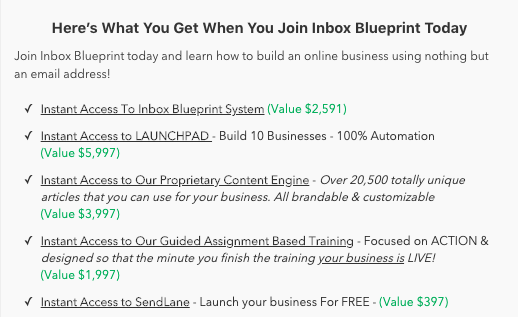 While students may come to the course for the idea of financial freedom in their life, they also want to know what other types of benefits they'll get from signing up to the course.
In this example, there are several limited benefits:
Our Inbox Blueprint system

Access to LaunchPad

Access to quality PLR content

Access to assessments

Access to Sendlane
As you can see, the value continues to add up in our offer with the more benefits that we add. The idea is to make the benefits so overwhelming that people feel like they're taking advantage of us.
That's how you start making your offer irresistible.
Step #4: Offer Support 
When we're selling a course, we're not just selling the modules. 
Most people don't actually care that much about the individual modules in each course that we sell. What they care about is whether there will be a support system in place for them when they're struggling or failing.
So, we make sure to offer a ton of support for our students.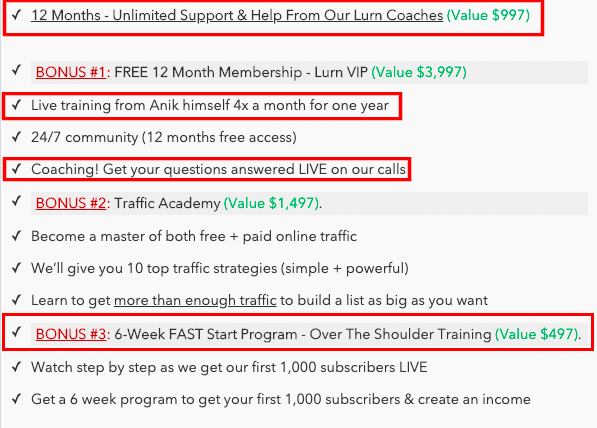 As you can see, we like to offer a lot of support here at Lurn for our students:
12 months of unlimited support

Regular training from Anik 

Live calls with coaches

Over-the-shoulder training
No matter what your product is, you can offer excellent support. 
Step #5: Create Community
One of the most powerful benefits you can offer is a sense of community. 
With educational and digital products specifically, people want to feel as though they have a community of fellow students and mentors around them that they can reach out to when they have a question or want to talk. 
Even with physical products, there are often communities built around the product.
For example, you could find a bunch of online communities based around Apple products. 
In Inbox Blueprint, we offer that community.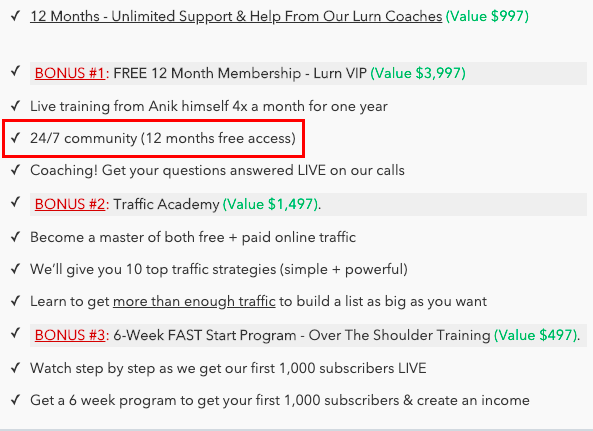 We have a forum built into the class so that students can go and get their questions answered anytime something comes up.
Everyone wants a sense of belonging and support.
Step #6: Highlight Your Experience
Not only are the students getting the benefit of the knowledge in the modules, they're getting the benefit of all of the experience of the instructors, mentors and community members.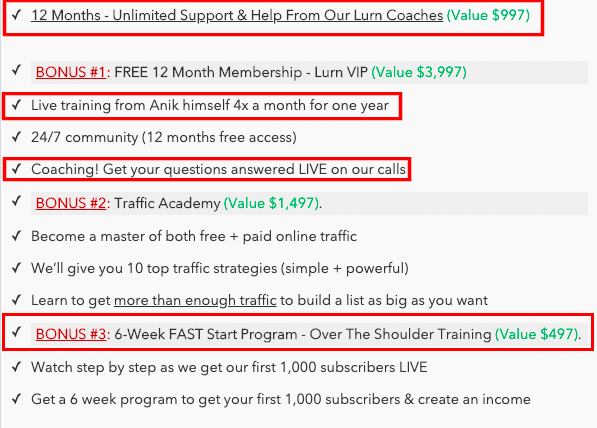 One of the biggest pain points for people new to our programs is a sense of overwhelm.
The best way to help them overcome that is with experienced mentors. 
Most students don't need that much assistance with course content because they're smart people, but having an experienced person reinforce that they're making the right decision is powerful for them.
Whenever you can, highlight the experience you're bringing to the table.
Step #7: Highlight Previous Customers
There's an entire network of students who have taken the course before them (and with them), and that student network is a powerful benefit to the course. 
It's always good to highlight stories of people who have purchased the product previously.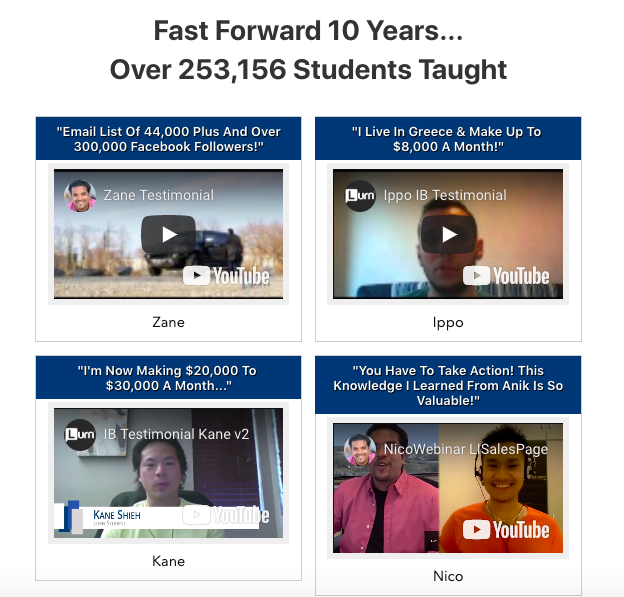 People like to see that they aren't the first one to buy your product. 
Whenever you can highlight people who have purchased your product (especially if it's a good review or testimony), that's going to create trust for you.
(RELATED: 5 Killer Resources To Find The Best Copywriting Books)
Other Examples Of Good Offers
Because not everyone reading this is going to be selling courses or digital products, I want to highlight some more strong offers to give you ideas for how you can structure your own offers. 
Offer #1: Nintendo Switch Pokemon Bundle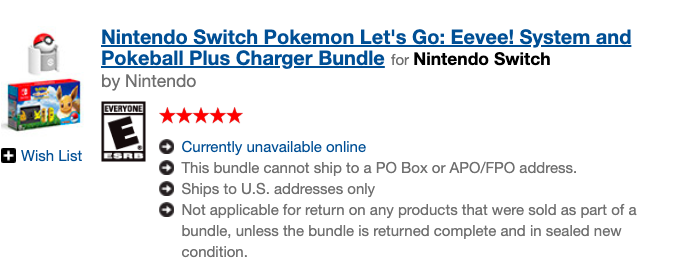 Video game bundles are one of the most popular offers out there. 
And for good reason. 
Nobody wants to buy just a game system because you need a game to play with it for it to be of any use to you. By offering specific bundles like the Pokemon bundle, the offer is much more attractive to anyone who's already interested in Pokemon.
Might as well get this one because it has a bunch of Pokemon-related stuff that comes with it.
Offer #2: EA Sports Bundle

Like I said, the gaming industry is great at creating offers.
For anyone who loves playing sports games, it's a no-brainer to save a few bucks and pick up all the sports games at once. 
And it's great for EA because they sell four games instead of one.
Offer #3: Cable TV Bundle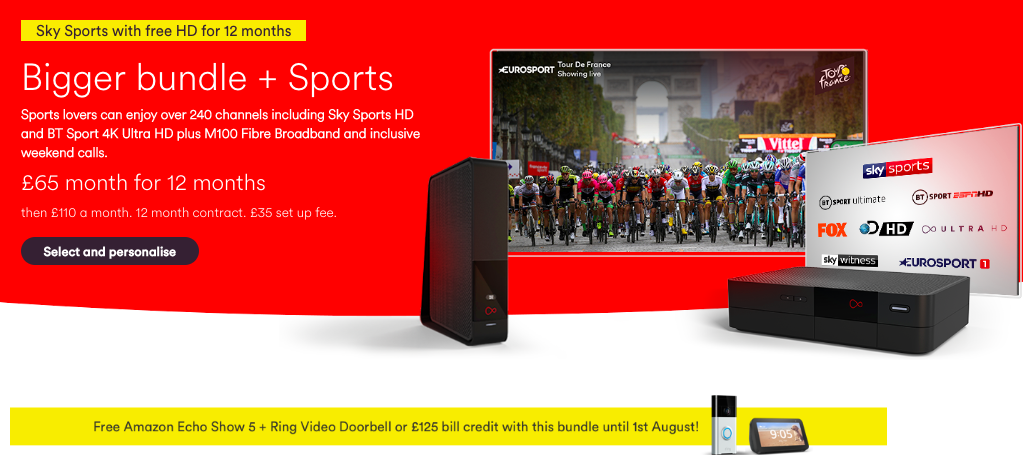 The cable TV industry is another industry notorious for putting together bundles and offers.
Take this one from Virgin Media, for example. Here's everything you get in this package:
240+ channels

The best sports channels

Internet

Phone calls

A lower price for the first year

Free Amazon Echo Show

Free Ring Video Doorbell or $125 bill credit
That's a pretty interesting offer for anyone who's interested in getting cable TV.
Offer #4: Divi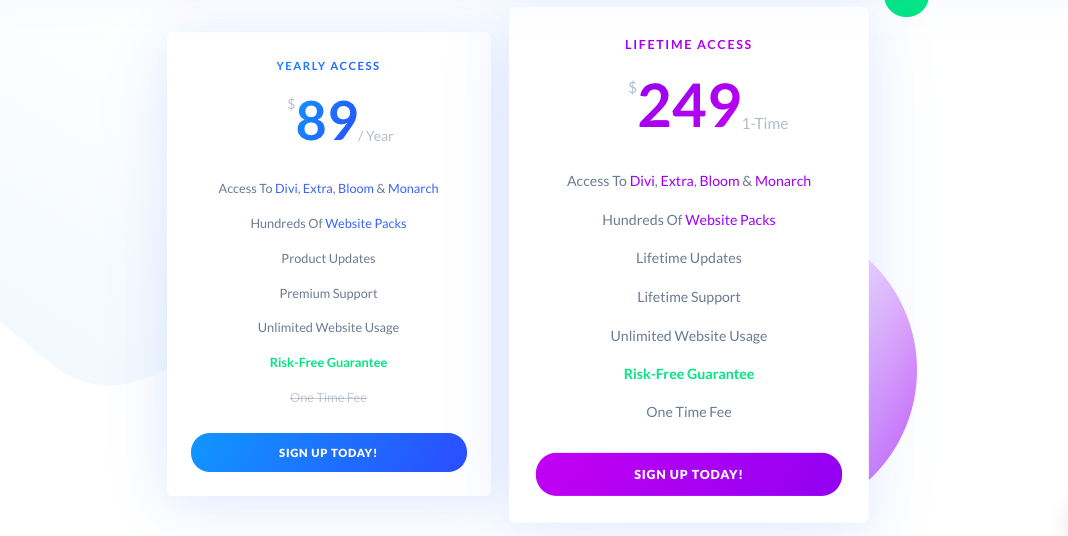 If you don't know what Divi is, it's a website builder that you can use to create your websites on WordPress.
However, they create a compelling offer by offering much more than just a website builder.
When you sign up with Divi, you also get access to multiple plugins, hundreds of website packs, lifetime updates and lifetime support.
This is a strong offer.
(RELATED: Learn How To Copywrite With Our (Simple) 5-Step Copywriting System)
Become A Better Sales Copywriter And Start Creating Irresistible Offers
Listen, there are hundreds of different ways that you create irresistible offers, regardless of what type of product you're selling.
At the core of it all is understanding what your customers need and want.
Once you know that, you can sell your benefits and bundle products together in ways that make it a no-brainer for someone to purchase your product.
When you figure out how to do that, you'll be an unstoppable sales copywriter.
(NOTE: Want even MORE info about how to use copywriting to grow your business? Grab your spot in this FREE course to learn about the tools and strategies you (and your business) have been missing out on.)