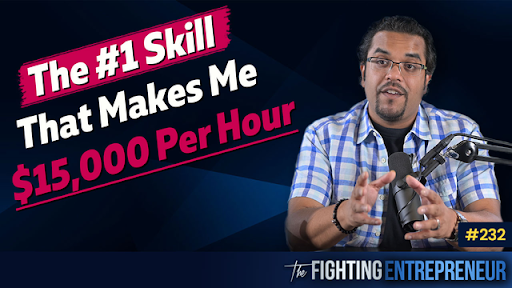 There's a simple truth about the world we live in. 
Your net worth and income are directly tied to the VALUE you provide a company or industries. 
That's why different professions earn different salaries. A person who makes their company $1 million a year will almost always earn more than the person who makes their company $100,000 per year.
And the more DIRECTLY your skills contribute money to a company, the higher your earning potential. 
It's a very simple concept...
That's why it's so surprising that so many people completely ignore two of the skills that have an immediate and direct impact on every company's bottom line.
Anik explained both of these skills, and how he got his start with each of them in this week's episode of The Fighting Entrepreneur.
If you haven't guessed by now, the first skill is COPYWRITING.
Anik knows this better than anyone else. Over the years, he's honed his copywriting skills to the point that he earns $15,000 per hour when copywriting.
And that $15,000 wasn't even his ceiling…
He was making that hourly rate when he was working for other people. When he started copywriting for himself, he started earning so much more!
If you follow along at Lurn Daily, you know how much Anik loves copywriting as a profession.
But it's not the only skill that can help you earn an insane income online…
Earn Money Online With Sales Funnels
The second skill is understanding sales funnels. 
Funnels are the cornerstone of any good marketing and sales campaign. They walk the audience through all of the business's products and explain the benefits of each.
A great sales funnel also demonstrates how the products (or services) can solve the customer's problems. 
They start by creating awareness of the products and eventually walk the customer all the way through to a sale.
In today's episode, Anik explained in great detail exactly how he came to master these two skills. 
As he says, he never would have imagined he'd become a copywriter. But nearly 19 years after starting from square one, he has sold over $300 million worth of products online.
Listen to the full episode, right now!
Anik also announced an upcoming FREE event that's going to be really special. It's called The Copy & Funnels Summit, and it will feature 18 of the World's TOP marketers.
In 2 days, they'll teach you how to explode your income with high-converting copy and funnels. 
Whether you're a veteran copywriter, funnel expert, or a marketer looking to improve your monetization skills, this summit is the PERFECT way to discover how to build, grow & scale an online business.
Plus, it's completely free…
On Day 1 alone, you'll learn how to write…
Opt-in pages

Emails

Written sales pages

Video sales pages

Webinars 
And on Day 2, that team of marketing experts will give a deep dive on every type of sales funnel you can create the most high-converting ones. 
You can learn more about it and reserve your spot TODAY!