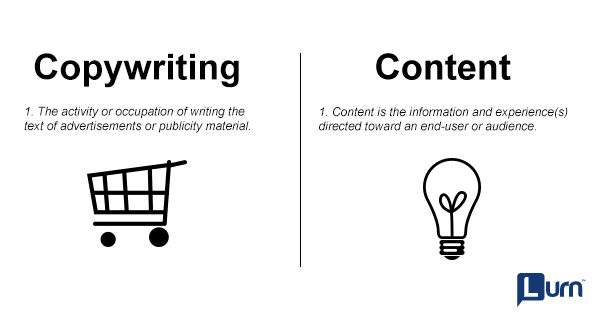 Want even MORE info about how to use copywriting to grow your business? Grab your spot in this FREE course to learn about the tools and strategies you (and your business) have been missing out on.
___________
Do you know the difference between copy and content?
Because most people don't.
Most people, including many people who work in marketing and advertising, often use these terms interchangeably.
Take this example I found in 30 seconds of looking through a popular job board.

They apparently don't know whether they need a copywriter or a content writer!
So, if you want to be a professional copywriter or content writer (or both!), it's important to understand the difference both for your writing and for when you're marketing your services to clients.
So, today we're going to be going through the primary differences between copy and content to give you a better understanding of what each is (and what they're for).
Let's go.
What Is Copywriting?
Definition: The activity or occupation of writing the text of advertisements or publicity material.
The purpose of copy and copywriting is persuasion.
Ultimately, with any piece of copy, your goal is to convince someone to take action. Whether you're selling a product or convincing someone to sign up for your email newsletter, your goal is to convince them to take action.
Some places where you would see copywriting would be:
Written sales letters

Video sales letters

Emails

Ads

Landing pages

Webinars
Basically, anywhere your primary goal is to convince someone to click, download, or purchase, your using copywriting.
So, let's look at an example to give you an idea of what I mean.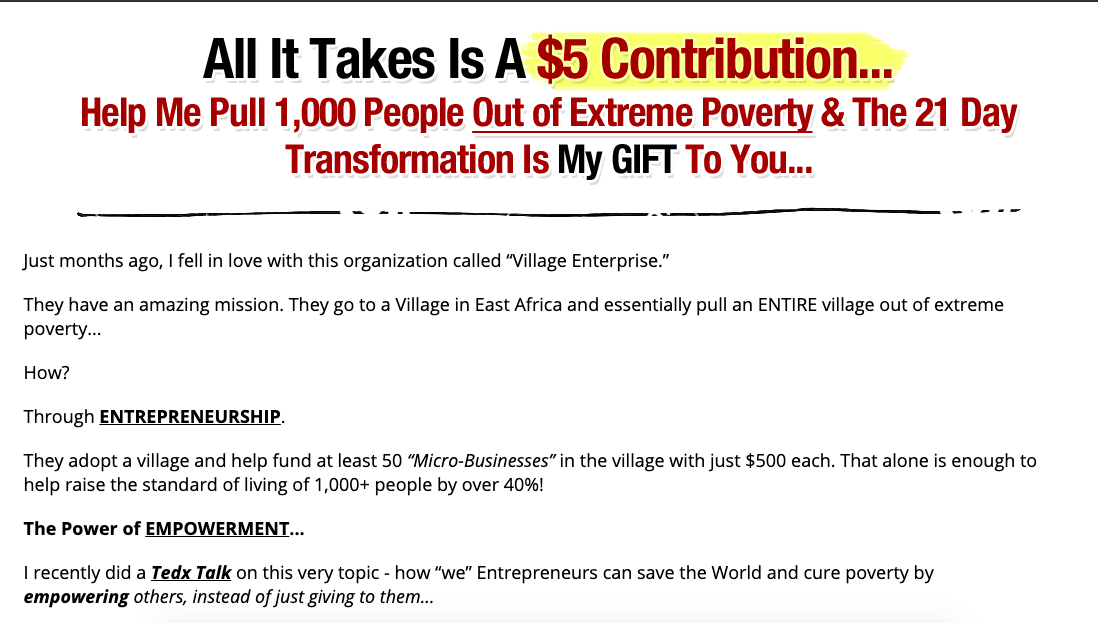 What you're looking at here is a written sales letter.
Do you see the goal of the page?
If you look at the headline of the page, you get the goal immediately: convince someone to make a $5 contribution.
Everything on this page is written to convince you to make that $5 donation.
What about in this one?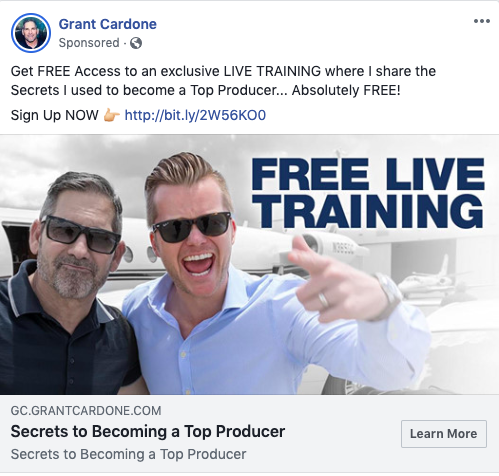 This is simpler and more to the point, but what we're looking at here is still copy.
Why?
Because the primary goal of the words in this ad are to convince someone to give their contact information in exchange for a live training.
The purpose is to persuade.
To better understand what exactly a copywriter is, let's take a look at a job description.
(RELATED: What Is Copywriting? Inside The One Skill Every Marketer Needs)
Copywriter Job Description
The types of work that you'll do and the companies that you'll work for vary widely since just about every industry needs copywriters.
However, a few of the more popular industries right now are:
Healthcare

Pharmaceuticals

Technology

Finance

Startups
Those will be the places where it's easiest to find work, but every industry out there needs people who understand how to sell through the art of the written word.
Some of the different types of writing that you'll do for these companies could be:
Copy for TV

Radio scripts

Posters

Brochures

Press advertisements

Slogans

Jingles

Leaflets

Direct mail
While some of the responsibilities outside of writing could be:
Optimizing conversion rates

Tracking analytics

Meeting with account executives

Creating customer personas

Pitching ideas to the creative team

Editing copy

Communicating with both marketing and design
In terms of work environment, you'll likely be working amongst the creatives within the company. Because of that, the working environment for copywriters is often a bit more relaxed in nature.
However, the work is fast-paced.
You can expect to work a fairly normal 40-hour workweek from Monday-Friday, but that's typically a bit fluid depending on deadlines and job priorities.You may also decide to work as a freelancer since many companies outsource their copywriting work.
As for how much money you can expect to earn as a copywriter, the national average in the United States is $60,296 according to Glassdoor.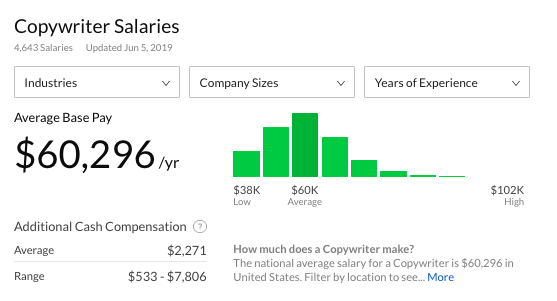 That changes depending on what industry you work for, how many years of experience you have, and how big the company is that you work for.
Freelance copywriters can earn significantly more than that based on their clientele and pricing structures.
(RELATED: How Much Do Copywriters Make? Find Out Here)
Skills, Interests, And How To Get Into Copywriting
If you're interested in becoming a copywriter, it's important to understand the skills you'll need, what you should be interested in, and where to pick up those skills.
Some skills you should consider learning would be:
Creative writing

Editing

Budget management

Analytics

Various advertising platforms
And some interests that you have should include:
Commerce

Sales

Advertising trends and techniques

Consumer psychology
If those sound appealing to you, there are a ton of copywriting books that you can pick up to learn more about copywriting, as well as several copywriting courses that will help you out in your journey.
Some good places for you to start learning about copywriting would be:
Lurn

GoodReads

Various copywriting blogs

Your local university
The good news is that anyone can become a copywriter. You don't need a college degree as long as you have the writing skills necessary to convert people into paying customers.
What Is Content?
Definition: In publishing, art, and communication, content is the information and experience(s) directed toward an end-user or audience. Content is 'something that is to be expressed through some medium, as speech, writing, or any of the various arts.
While there's a bit of overlap between copywriting and content writing, content writing is a bit of a different animal than copywriting.
Remember that copy deals in persuasion.
Content writers, on the other hand, provide people with information, education, entertainment, and instruction.
While content writers may hope to use content as a tool to increase sales, making a sale is not the primary point of content. In a content marketing plan, the goal is for a company to educate its audience on a product or niche to help them along in their decision-making process.
They aren't necessarily looking for a direct response from one piece of content alone.
Some examples of content would be:
Blog posts

eBooks

News

Press releases

Video transcripts
Let's take a look at a couple of examples to give you a better idea of what I mean.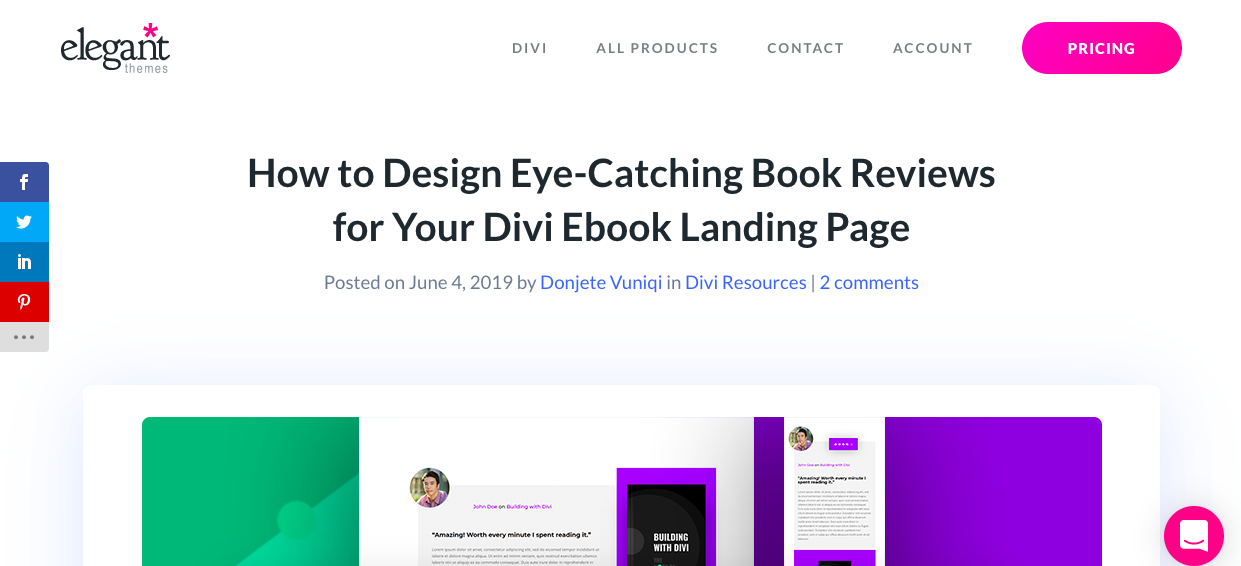 This is an example from a website theme provider by the name of Elegant Themes.
Based on the title of this post, you can tell that the goal of this post isn't necessarily to sell a particular product or theme. Instead they're using their blog to educate people who already own their theme as a way to provide an excellent customer service experience.
It also shows potential customers what they can do with the theme if they do purchase it.
Let's take another look at an example.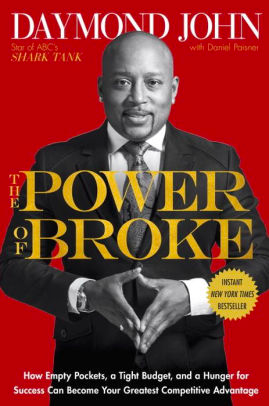 This book from Daymond John is about how he overcame a tight budget and modest background to become the CEO FUBU, a massive fashion brand.
While he isn't selling anything in this book, people will likely come to trust his brand more after reading the book. The idea here is that people will be more likely to purchase another product from him due to the trust and credibility established in this piece of content.
So, what does it actually look like to be a content writer?
Content Writer Job Description
Just like in copy, basically every industry is looking for content writers right now because of the recent explosion in content marketing. As we move to a more relationship- and trust-based form of marketing, content is only going to become more important for brands.
However, some of the more popular industries for content writers right now are:
Real estate

E-commerce

Personal finance

Healthcare

Law
But like I said, more and more companies in all types of industries are starting to put out content for their marketing plans.
Some of the work that you can expect to do for companies will be:
Blog posts

Website content

Whitepapers

eBooks

Instructional videos

Infographics
Basically, content writers may be responsible for creating any type of content that serves to educate, instruct, or entertain a company's audience.
Some responsibilities outside of content creation for content writers could be:
Interpreting analytics on content

Meeting with creative directors

Managing freelancers

Pitching ideas

Editing content

Running webinars
In terms of your work environment, most content writers work a standard 40-hour week in an office setting. However, more and more companies are starting to offer content creation positions to remote workers.
The type of work that you do as a content writer varies day-to-day and week-to-week significantly since companies are continuously thinking up new content ideas and strategies to stay fresh and relevant.
Many content writers also work as freelancers.
In terms of how much you can expect to earn as a copywriter in the United States, the average salary is $48,729 according to Glassdoor.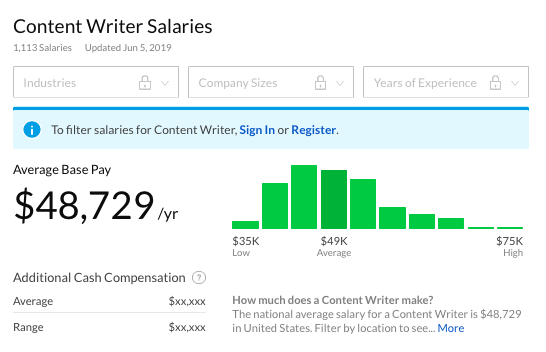 Freelance content writers can earn more than that, particularly if they end up building a content agency.
Skills, Interests, And How To Get Into Copywriting
If you're interested in getting into copywriting, you'll need to know the right skills to pick up, what interests are relevant, and the right knowledge.
As far as important skills go for a content writer, you'll need:
Strong writing skills

Creativity

Editing skills

Knowledge of SEO

Understanding of Google Analytics

Knowledge of content management systems (CMS) like WordPress

Headline writing

Social media
In terms of what you should be interested in if you want to be a content writer, you should be interested in:
Teaching

Helping

Explaining

Entertaining

Designing

Being detail-oriented
If you tick off those boxes and want to become a content writer, some great sources of information for learning the necessary skills are:
Lurn

HubSpot

Content writing blogs like ProBlogger

Writing and editing books
With no experience, your best bet may to start freelancing on the side of your full-time job to get some experience.
Copywriting Vs. Content Writing: Which Is Better For You?
While there is some overlap, and many writers do both content writing and copywriting, you may not necessarily love both types.
For many content writers, the transition to writing copy is a bit awkward because many content writers aren't that comfortable with sales.
For others, they love the satisfaction of writing copy with high conversion rates.
One important factor to note is the difference in salary between content writers and copywriters:
$60,296 for copywriters

$48,729 for content writers
If money is an important factor for you, you can expect to earn roughly $11,567 per year if you're employed by a company as a copywriter vs. a content writer.
That's a fairly significant difference.
However, you may decide that content is for you because you enjoy educating and entertaining people more than you enjoy writing for sales.
Copywriter Vs. Content Writer: Which Do You Want To Be?
The difference in copy vs. content is pretty clear:
Copy is for persuasion

Content is for education and entertainment
Both are valuable for companies across all industries, but you'll be doing slightly different work for each type of job. However, some writers do both copywriting and content writing for companies, so you can get the best of both worlds.
No matter what type of writer you want to be, we have content and courses here to help you out on your journey.
(Note: Want even MORE info about how to use copywriting to grow your business? Grab your spot in this FREE course to learn about the tools and strategies you (and your business) have been missing out on.)