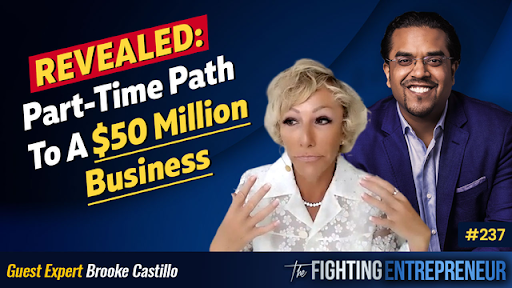 Today's episode of The Fighting Entrepreneur is an ALL-TIMER. Anik even described it as one of his favorites since he began the podcast. 
Anik spoke with Brooke Castillo, who was the keynote speaker during Anik's recent Copy & Funnels Summit. 
Brooke is the founder of The Life Coach School, which is now in its 14th year of business.  She's coached thousands of clients individually and in groups to improve their lives, their weight, their businesses, and their careers. 
And while she has all the credentials in the book, Brooke runs a VERY SIMPLE business model.
Here's how it works…
Brooke's SIMPLE $50 Million Business Model 
Essentially, Brooke's business model is certifying other life coaches. 
And the key to her success is having just TWO core products. 
First, she sells life coaching services to many of her clients. This is for people looking to better their own personal lives.
The second half of the business is all about certifying OTHER life coaches. People take courses from Brooke and then start their own life coaching businesses.
That's it. She's kept the business purposefully SIMPLE.
Of course, people approach her all the time and tell her she's leaving money on the table by not expanding to other products. But for Brooke, that's okay!
In fact, that's the key to her success…
By keeping things simple, she's able to focus a lot of the company's attention on marketing and the customer experience. 
She knows she could introduce new programs and products, but she also knows that can complicate things!
To say it has worked is an obvious understatement. In fact, her business is on track for a whopping $50 MILLION in sales in 2021. All during a time when many businesses are struggling to get by.
Now, that was just the beginning of this episode.
During their conversation, Brooke also covered her:
Traffic sources...

Marketing strategies...

Funnel set up...

Product pricing...

Product strategy...
It's no exaggeration - she explained the entire process of how she took her business to $50 million in revenue all while working just 3 days per week.  
You can listen to the entire episode, right here!