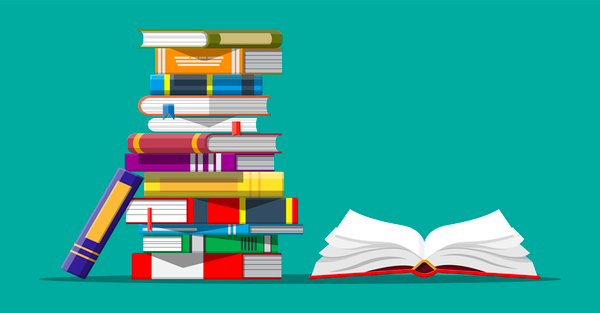 Want even MORE info about how to use copywriting to grow your business? Grab your spot in this FREE course to learn about the tools and strategies you (and your business) have been missing out on.
___________
Look, there are a ton of great books out there in the world, and more and more come out every year.
It's impossible to keep up!
So, instead of putting together a list of a bunch of copywriting books I haven't personally read, I thought I'd show you all how to go out and find the best copywriting books for you, regardless of where you're at in your journey. 
Between these 5 resources, you should be able to create a reading list to last you your entire career as a copywriter. 
#1: Goodreads
I didn't use Goodreads for a long time, but I've recently been playing around with it, and it's an amazing resource. If you've never used Goodreads before, it's basically a social network for people who love to read.
After you've created a profile, you can keep track of the books you've read, what you're currently reading, and what you want to read in the future.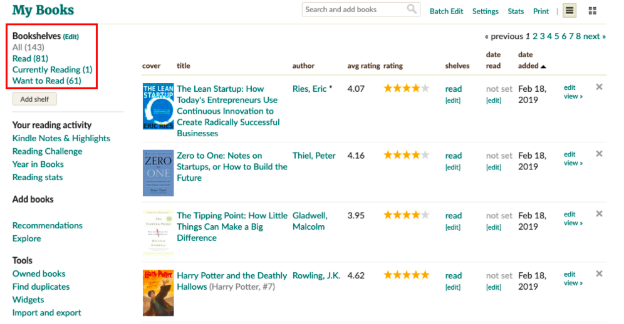 I personally like it most for the feature that allows you to keep track of what you want to read because I tend to forget recommendations and books I come across that I think I want to read.
But it's also cool because you can find people that you know or respect and follow them.

Once you follow them (and even if you aren't following them), you can see what they've read, how they reviewed it, and what they want to read in the future.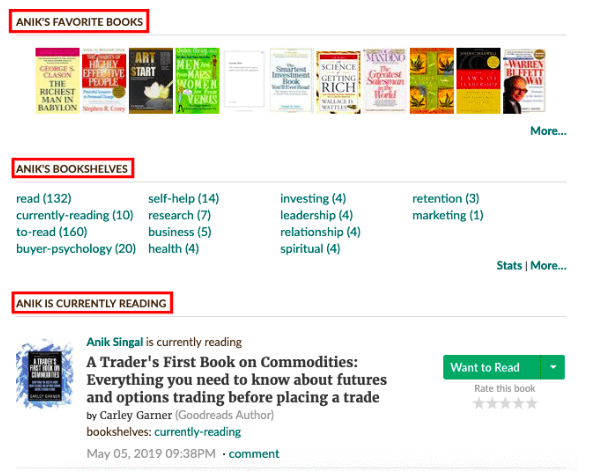 If there's a particular copywriter that you respect and they're on Goodreads, you can follow them to see what books they like to give you ideas of what to read.
Another great thing about Goodreads is that they have a ton of user data in terms of reviews, and they even put together 'Most Popular' lists in all kinds of subjects.
These lists make it easy for you to go in and find what books people like.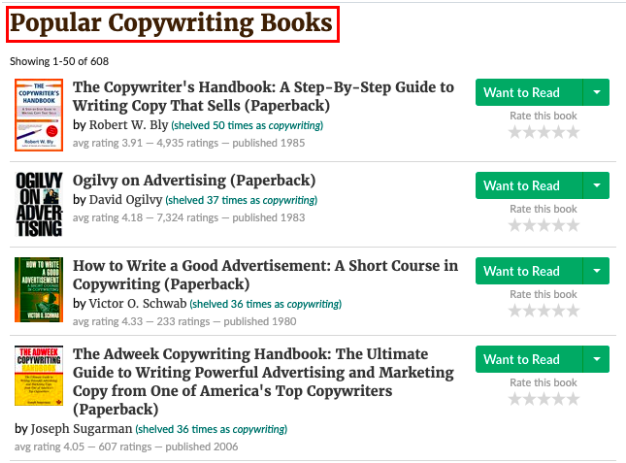 You can then go into the reviews to see what people think about the book, what they liked about, what they didn't like about it, and whether or not they think you should read it.
A lot of people get weirdly detailed in their reviews, which is great if you're trying to decide whether to read a particular book.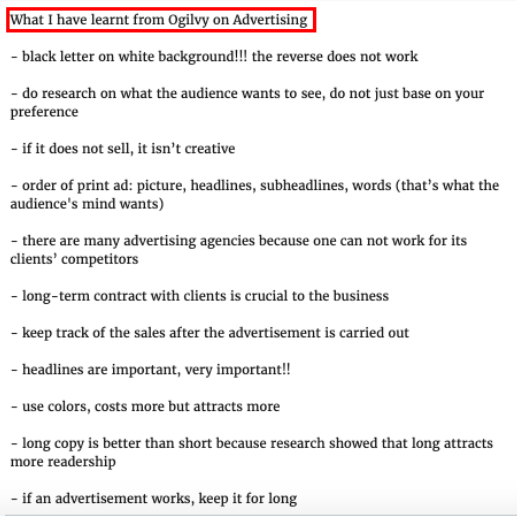 If you're looking for a good copywriting book, or any book for that matter, I recommend creating an account on Goodreads.
Note: You don't actually read books through Goodreads. It's only a place to connect with people and keep track of your books.
#2: Amazon
It's obvious. I get it.
Everyone knows about Amazon at this point, but I feel compelled to include it in this list because:
It's the easiest place to buy books

Amazon owns Goodreads
I personally prefer to go through the reviews on Goodreads for my books because they seem to be, on average, more honest and accurate than the reviews on Amazon.
Columbia University put together an entire study to look at bias in review systems across the internet, and I found the results between Goodreads and Amazon to be interesting.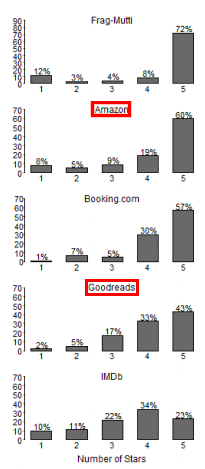 What you're looking at is the distribution of reviews across online platforms. So, for Amazon, you have:
57% of reviews are 5-star

19% of reviews are 4-star

9% of reviews are 3-star

5% of reviews are 2-star

8% of reviews are 1-star
On Goodreads, you have:
43% of reviews are 5-star

33% of reviews are 4-star

17% of reviews are 3-star

5% of reviews are 2-star

2% of reviews are 1-star
To have 57% of reviews as 5-star doesn't make much sense because that's the highest possible rating a product can receive, and there are plenty of bad products on Amazon.
So, I like to look in the 2-4 range to get a more honest opinion.
In the 2-4 range, which is more in the middle, Amazon has 24% of its reviews, while Goodreads has 55% of its reviews.
I tend to trust platforms that lean closer to the normal distribution rather than platforms that lean heavily toward five-star reviews.
With that said, finding copywriting books (or any type of book) on Amazon is easy:

I then like to sort by 'Most reviews' because a lot of the books at the top of Avg. Customer Review have just a few reviews that often seem to be fake to get their books at the top of the list.

You should also find some good ones if you leave that set to 'Featured'. I find that Amazon usually does a decent job of filtering good books into the 'Featured' section.
Once you click into a book to read more about it, read the reviews first.
Because of the bias involved in online reviews (and, at times, nefarious methods of achieving reviews), it's important to analyze the reviews to get a better idea of what to expect in the book you choose.
The first thing I like to look for is the distribution of the reviews. If the reviews are overwhelmingly five-star or one-star, that raises a flag for me.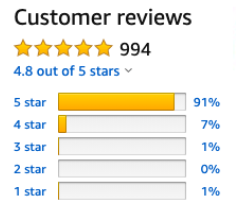 When I see a book with 91% of reviews in the five-star category, my first thought is that they're looking for a boost in Amazon's algorithm by getting people to leave 5-star reviews.
So, what I like to do is sort the reviews by 2-star, 3-star, and 4-star reviews. If you only read the 1-star or 5-star reviews, you only get overwhelmingly negative or positive feedback on the book.

Note here how there are criticisms of the book rather than saying that everything is amazing or everything is awful.
Looking at these reviews gives you a clearer picture of what to expect.
(RELATED: How To Become A Copywriter In 10 Easy Steps)
#3: Libby
Once you've found a couple of books you want to read, check out this next resource: Libby.
While Libby is for people in the United States, check with the libraries in your country to see if they have anything similar.
Libby, by OverDrive, is a freeware application that enables users to access audiobooks, eBooks, periodicals, and videos borrowed from libraries and schools - or purchased from booksellers - on their phones, tablets, and Kindle devices.
It's one of the best resources I've ever come across.
If you have a library card, you can borrow any book in the app for 21 days for free. If you have a Kindle, you can get the book delivered to you instantly.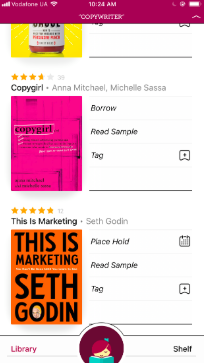 One little hack you can use to keep the book longer is to turn off your wi-fi. With the wi-fi turned off, your book will remain on your device until you connect to the internet again.
While you won't always be able to get every book you want, it's the best resource I've come across to access a vast library of books for free.
Check it out.
#4: Freelance To Win
If you Google something like, "best copywriting books", you'll come across a few different lists that are basically the same.
They mention the same 20-30 books and don't offer too much insight into them.
However, one site that does offer unique insight into some of these books is over at Freelance To Win.
"It's easy to google "best copywriting books," copy and paste them (along with stock Amazon descriptions) into WordPress, hit publish, and call it a day."
Instead of publishing the same list that everyone else had, Danny Margulies goes through 15 books that he's actually read, talks about what he liked about them, and recommends who should read them.
If you want insight from a real copywriter rather than some reviews on Amazon, head over to that post to see what he has to say.
#5: What Should I Read Next?
I hesitated to include this one because it doesn't have a ton of great recommendations for copywriting books, but it's a powerful resource. 
'What Should I Read Next?' is a recommendation engine where you enter the title of a book you like to get recommendations for books that are similar to that. 
For example, say that we enter the title Influence: The Psychology of Persuasion by Robert B. Cialdini: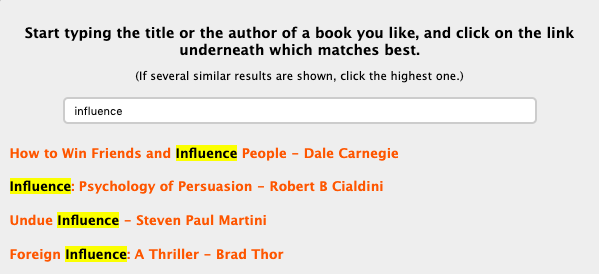 After entering the title or author into the search engine, you receive a list of books or authors similar to whatever you entered: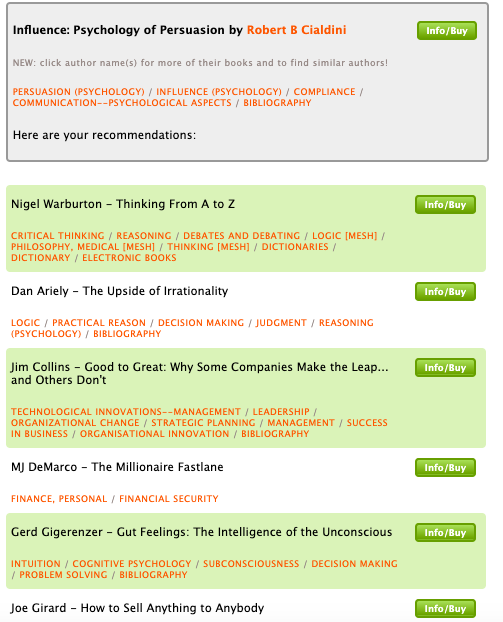 You can then scroll through the options and use some of the other resources I mentioned to read reviews to see which copywriting book you should read next.
Don't Just Read The Best Copywriting Books
As an aspiring copywriter, you need to read.
And you need to read a lot.
The best way to get better at writing is by reading as promiscuous as possible. Read the good stuff, the bad stuff, and everything in between.
You'll get a better idea of what will work for you and what won't.
If you use the resources I just went through, you'll have a list of books for the rest of your life.
(Note: Want even MORE info about how to use copywriting to grow your business? Grab your spot in this FREE course to learn about the tools and strategies you (and your business) have been missing out on.)