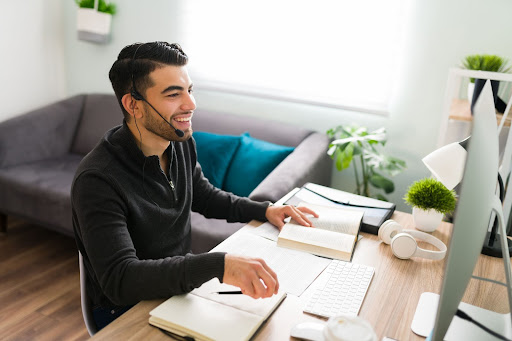 With millions of Americans quitting their jobs and starting their own businesses, there's really no better time for YOU to do the same. 
The pandemic has given many people the opportunity to reimagine their lives and more specifically, their careers. 
In fact, one-third of working Americans who quit their jobs started their OWN businesses, according to a July survey by Digital.com.
If this sounds like something you've always wanted to do, then what are you waiting for? 
Sure, A LOT goes into starting your own business, but if you do it right and have a good idea of where to begin, success won't be a long way off. 
That's exactly why we're sharing 3 of the best online businesses of 2022 to start at home in order to help you get on the road to career success based on your OWN terms…
Home Business #1: eCommerce
It's no secret that the eCommerce industry is exploding. 
According to eMarketer, global retail eCommerce sales have been projected to reach $6.8 trillion in 2023 – a 385% growth since 2014.
This makes eCommerce one of the best online businesses to get into. Not only is the timing perfect, but it's easy to get started from home. 
You just need to have the right game plan in place. A few key steps to follow include… 
Researching eCommerce business models

Deciding which model best fits your business goals

Considering the right products for your business

Registering your business and brand name

Finalizing your business plan

Creating an online store that attracts customers 
The GREAT NEWS is, you can take all this a step further by discovering the breakthrough 3-step system that made an extraordinary $35,239 in 24 hours…
Lurn's undisputed "kings" of eCom, Steve Clayton and Aidan Booth, are joining Anik on a for a workshop to show how it's done.
They'll be revealing a new 3-step system for building an eCom "superstore" and showing you how they poured ROCKET FUEL on their sales using a completely untapped source they discovered in 2021. 
It's a huge source of hyper-targeted, FREE traffic, that anyone in the world can take full advantage of in 2022 & beyond.
There's a limited number of seats for this training and they're likely to fill up FAST. 
If you want to master this 3-step system and discover a new, untapped & highly profitable online marketplace, make sure to guarantee your place by clicking here now.
Home Business #2: Affiliate Marketing 
Affiliate marketing is another online business that's gained a lot of momentum recently.
As an affiliate marketer, your job is to promote another company's product or service online in return for a commission on the sales you generate. 
It's such a popular business concept that 81% of brands and 84% of publishers use the power of affiliate marketing – and those numbers are only set to rise each year.
Indeed, there's a 10.1% increase in affiliate marketing spending in the U.S. each year, meaning that it's due to reach $8.2 billion this year. 
In addition to working from home, there are a lot of benefits to becoming an affiliate marketer. Let's take a look…
Passive income – By investing an initial amount of time into a campaign, you'll see continuous returns on that time as consumers purchase the product over the following weeks. 

Zero customer support – The entire job of the affiliate marketer is to connect the seller with the consumer. The seller deals with any consumer complaints after you receive your commission from the sale.

Cost-effective – Affiliate marketing is low-cost, meaning you can get started quickly and without much hassle. You don't have to worry about any affiliate program fees or the need to create a product.

Convenient – As a freelancer, you'll do business on your terms. Set your own goals, choose products that interest you, and determine your own hours. 
Most importantly, here are a few tips for becoming a successful affiliate marketer…
Build rapport – Cater to a niche audience, so you'll be able to market to the people most likely to buy the product.

Make it personal – You'll be able to pick and choose products that you personally believe in, so make sure your campaigns center around truly valuable products that consumers will enjoy. 

Review products and services – Review the products and services that fall within your niche, then tell your readers why they'd benefit from purchasing the product or service you're promoting.

Use several sources – In addition to email campaigns, use blogs, social media, and even cross-channel promotions. 

Choose campaigns carefully – Take time to research the demand for a product before promoting it. Your time is valuable, and you want to be sure you're spending it on a product that's profitable and a seller you can trust.

Stay current with trends – With all the competition in the affiliate marketing sector, stay on top of any new trends and marketing techniques to ensure you keep your competitive edge. 
Home Business #3: Freelance Copywriting or Content Writing 
Having marketing knowledge plus the ability to write is a powerful combination. 
Establishing yourself as a freelance copywriter or content writer gives you the opportunity to not only work from home, but to also tap into several sectors that pique your interest. 
Whether you write web content, blogs, or press releases, plenty of companies will pay for your valuable writing skills and services. 
Most freelance copywriters charge $40 to $50 per hour, but those with more experience and expertise could charge even more.
One important tip to keep in mind is that you can further increase your value by sharpening your SEO knowledge to help your clients craft a strategy around specific keywords that their target audience is already using in their online searches. 
In today's fast-paced business climate, where most companies are adjusting to hybrid-working or conducting business fully remotely, it's now more critical than ever that they communicate clearly with their clients. 
That's why copywriters and their special set of skills are going to be in such high demand moving forward.
That also means that as a copywriter, you have to keep up with the competition. On top of ample SEO knowledge, here are a few ways you can keep your edge…
Focus and Awareness – Be aware of the context in which you're writing, who you're writing to, and all the talking points covered by others in the past. 

Consistent Motivation – Always be on the lookout for creative inspiration, even from unlikely sources. Keep an eye out for new ways of writing, or a new type of content you can adapt to keep things fresh.

Positivity and Excitement – Always exude a tone of positivity and excitement in your writing. Put yourself in the shoes of your audience and think, "Is this something I'd want to read?" Does this make me feel positive and excited?" 
According to the Census Bureau's Business Formation Statistics dataset, from January through November, just under 5 million new business applications were submitted.
YOU could be one of those millions of people who decided to take advantage of this incredible opportunity…
Rather than stay at a job they were unhappy with, they took charge of their career and future and started their own business. 
Now that you know which online home businesses are going to be huge in 2022 and beyond, you've got that additional push you need to take that first step towards a successful career based on YOUR terms.