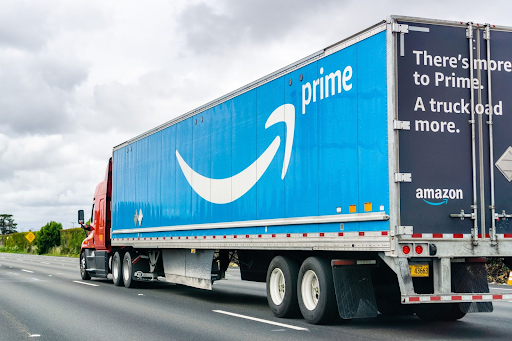 Amazon's usage stats are truly incredible. 
In 2020, more than $386 BILLION was spent on the site. Every single month, more than 213 million people visit Amazon.com. And a whopping 150 million people pay for Amazon Prime memberships.
It's the most well-known eCommerce site globally, and one of the most valuable brands in the world.
But it isn't just Amazon.com that brings in all the profit. There are numerous Amazon businesses anyone can set up from home to start earning income from this huge audience.
Today, we're listing our 3 favorites…
Amazon Business #3: Dropshipping
Dropshipping is one of the fastest eCommerce businesses you can set up. 
With dropshipping, you'll basically be the middleman between the customer and the supplier. The supplier handles all of the inventory, so you never have to worry about buying large quantities of products.
That also means you can start with little-to-no upfront costs. A monthly fee to the supplier is usually your biggest cost.
When the customer makes a purchase through your dropshipping store, the supplier handles the production and shipping. 
You collect a portion of the sale for facilitating the purchase. 
Margins can be slim when it comes to dropshipping. But because you don't handle the inventory, there is also less risk.
Amazon Business #2: Private Labelling
If you use Amazon regularly, you've probably bought a "private label" item. Maybe without even knowing it. 
This happens when you buy something created by Amazon but sold under a different brand name. 
Maybe you bought something from Amazon Basic. Or something from Presto. Maybe something from Good Threads. These are all private label brands built out by Amazon.
With private labeling, you find a manufacturer to produce a product and then put your brand on it. The product is not made by the seller, but the seller has to sell rights to that product.
It's a great way to build your own brand.
The best way to do this is to look for products on Amazon that are selling well but have pretty bad reviews. The gap there represents a hole in the market that you can fill with your own private label product. 
You then source a factory to create the product for you. By selling private label products, you use the best parts of other business models while also building your own brand and assets.
Amazon Business #1: Print on Demand (POD)
Print on demand (POD) is another business you can start with little (or no) cost, and without having to buy inventory.
That makes it perfect for beginners.
With the POD model, you sell custom designs on products like clothes, books, coffee mugs, or anything else people want a design on. 
Like dropshipping, you don't purchase or warehouse any of the products. Instead, the manufacturer does the prints for you and then sends out the products. It's low-risk. If your products don't sell, you aren't left with a bunch of unsold inventory sitting around your house.
This is another one where margins can be low. But that's offset by the low risk.
If you want to learn more about getting into Print-on-Demand, Dave Kettner is hosting a free workshop where he explains the entire business and how to get started!