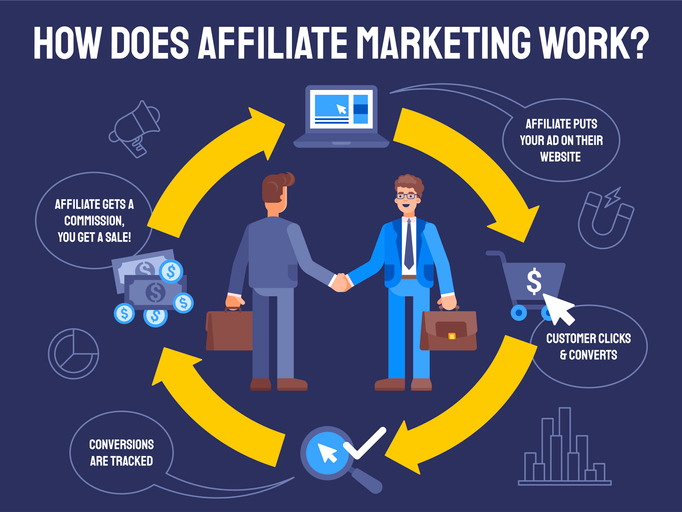 Ready to learn more about how to make money with affiliate marketing? Check out our FREE Digital Bootcamp on #LurnNation to access our exclusive content that simplifies the process of making money through affiliate marketing. 
___________
Here's some really good news for anyone who wants to earn a living online.
It IS possible to make money online selling someone else's products as long as you know the best affiliate programs for your situation.
I know this because affiliate marketing is how I got my start in online business.
And I made good money doing it.
First thing's first.
What Is Affiliate Marketing & How Do Afffiliate Offers Work?
Affiliate marketing is a really simple concept.
It involves one person selling a product for someone else and receiving a commission for that sale.
That's it. 
And today's internet technology makes it possible to easily track referrals.
Affiliate offers are run on such a simple system.
Once someone signs up as an affiliate, they're assigned their own unique tracking link or affiliate link.
This link is the key to making commissions.
The tracking link can be placed in emails, blogs and websites.
Whenever someone clicks on the link, they're taken to the product's landing page. If that customer buys the product, it gets traced back to the affiliate and that affiliate gets the commission.
For example, if I sign up as an affiliate for a weight loss product, I will receive an affiliate link. I can then put that link on my blog. Every time someone clicks on the link and buys the product, I will make a commission.
This commission can be as high as 60% to 80% of the sale!
Affiliate Marketing As A Business Model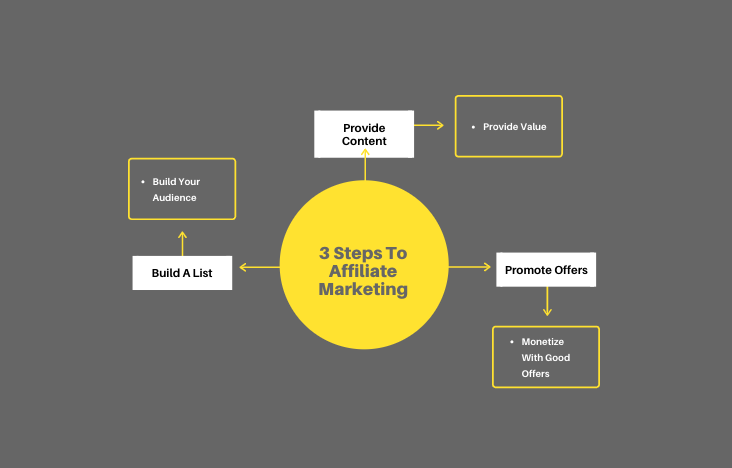 Affiliate marketing offers amazing flexibility.
It's possible to run an affiliate marketing business on its own with great success.
I've done it, so I know from firsthand experience.
However, affiliate marketing can also supplement an existing business. It offers a great way to provide offers to subscribers and customers aside from the central offerings of a business.
And here's the best part.
Affiliate marketing can go hand-in-hand with email marketing.
I personally believe that email is the best medium for affiliate marketing. To run a successful affiliate marketing business, it's really just three steps:
I've been doing this for over a decade.
In fact, I started out as an affiliate marketer long before I got into digital publishing. I studied the best marketing strategies out there and brought them together to build my own business.
And I did it all through email.
As I started to generate revenue, I started creating my own digital products to scale my business further.
I already had the email lists built, so I turned those lists from my affiliate products to my own products.
Eventually, I founded Lurn, which is the culmination of all of it.
But to have a successful affiliate marketing business, it's important to truly understand affiliate marketing and how to find good offers to promote.
(RELATED: What Are Solo Ads (+32 Tips To Drive Unlimited Traffic From Them)
What To Look For In An Affiliate Offer
There are thousands upon thousands of affiliate products out there spread out across dozens of niches.
When deciding what to promote, it's necessary to narrow this down.
Before seeking out the best affiliate programs for you, it's important to choose a profitable niche. Some niches perform better than others, and the key to success is to choose a winning niche.
The big three niche categories are:
Health

Wealth

Relationships
But there are certainly other niche categories as well. Once you have a niche, it's time to choose an affiliate offer.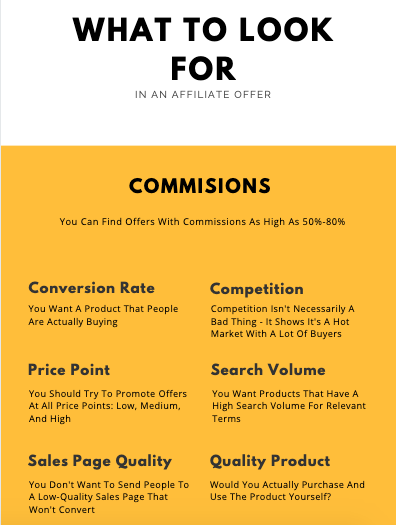 But, how do you know if an offer is a good one?
The first thing to consider is the price point of the offer:
Low-ticket - Between $1 and $97

Mid-ticket - Between $97 and $700

High-ticket – Over $700
Different strategies are required to sell each type of offer.
The more expensive the product, the more that has to go into the sales process: more time, more value provided and more relationship building with potential customers.
For example, with low-ticket offers, simply sending out a promotional email can be effective.
With a higher ticket offer, a lot more has to be done.
For example, you may need to run webinar campaigns in addition to your email campaigns to sell more expensive products.
When looking for the best affiliate offers, you need to look at a few things:
Conversion rate—How well the product is selling
Commission—Should be at least 60%
Quality of the sales page—Length/quality of copy and how it compares to competitors
It 's also important to assess the market:
Is there competition? Competition is a signal of a hot market with a lot of customers

Is there high search volume for relevant terms?

Are there good product reviews and testimonials?

Would you actually purchase and use the product yourself?
A good affiliate offer touches on all of these points.
Once you're ready to find your own affiliate offer, there are a bunch of places to go.
(RELATED: 32 Tips To Make Money On Instagram With Free Traffic)
The 31 Best Affiliate Programs For 2019
Finding the best affiliate programs really isn't difficult.
There are so many sources out there for affiliate offers that it's just a matter of taking some time to search through them to find the right offers for you and your business.
ClickBank is one of the largest and oldest online retailers and affiliate programs. Affiliates can promote physical and digital offers in a wide range of niches. And with over 6 million product offers and 200 million customers, the affiliate opportunities are incredible.
JV Zoo is another popular affiliate platform with a focus on information products. They offer detailed data, making it easy to choose good products. This includes when the product was launched, the price, how many sold, the commission, and the percentage of sales that were refunded.
CJ Affiliate used to be Commission Junction. This is considered to be the largest affiliate platform around. Most major retailers use CJ Affiliate and they reach millions of consumers.
OfferVault is a free service that provides over 61,000 CPA (Cost Per Action) and CPC (Cost Per Click) offer in one place. These offers can be searched and sorted based on a number of filters, such as category, payout, and when the offer was last updated.
This is a digital and physical product retailer and affiliate platform that is easy to use. It's a relatively small network, so the range of products to promote is limited. However, the signup process is quick and easy and commissions are as high as 95%.
CommissionSoup is an affiliate network that has been around since 2000. They offer great tracking features and reporting for CPA, CPS (Cost Per Sale), and CPL (Cost Per Lead).
For 15 years, ShareASale has operated strictly as an affiliate marketing platform. They have a great reputation and their technology is renowned. They also have 4,000 merchants, of which more than 1,000 are exclusive to ShareASale.
FlexOffers is another dedicated affiliate platform that has been around for over 10 years. They are focused on the digital publishing industry. So this is ideal for affiliates that want to promote information products.
Avangate is a digital commerce retailer that has a great affiliate program. Their service is cloud-based and is centered on SaaS, software, and service companies.
This is a CPA marketing platform. They have their own affiliate technology that allows affiliates to create customized ad campaigns.
AffiBank is a third-party affiliate platform that offers numerous product categories. The majority of the offers pay 75% on commissions. Plus, they have their own in-house affiliate tracking system.
AvantLink is an affiliate platform dedicated to technology products. They bring developers together with merchants and affiliates. And since their focus is on technology they are leading the way in affiliate technology.
MaxBounty is an industry-leading performance marketing network connecting trusted and skilled affiliate marketers with vetted high paying advertisers on a cost-per-action basis.
Tradedoubler delivers performance marketing and technology solutions powering a unique network of connections with over 2,000 global brands and 180,000 active publishers.
Awin is a global affiliate marketing network that empowers advertisers and publishers of all sizes to grow their businesses online.
Rakuten used to be Buy.com. It has landed in the top three eCommerce companies with more than 90,000 products and over 18 million customers. And Rakuten offers the ability to effectively optimize and customize offers.
Amazon handles its own affiliate program. And since Amazon is the largest online retailer, the affiliate opportunities are amazing. Affiliates can choose from over 1.5 million products to promote. However, the commissions—at 4% to 9%—aren't nearly as good as some other affiliate programs.
eBay has been around for more than 20 years. It is one of the largest online retailers and has a great affiliate program. This program includes the ability to easily track and report affiliate sales.
Shopify is one of the most trusted eCommerce platforms, and it should come as no surprise that they have an affiliate program. Essentially, the affiliate program for Shopify works off of referrals. By referring more people to Shopify, you can make upwards of $2,000 per referral…making it a worthwhile affiliate to promote.
Shopify is also a trusted brand, so you can feel comfortable with referring others.
The Leadpages Partner Program is another referral-based affiliate program that allows Leadpages members to make additional money supporting the brand. Leadpages affiliates make a 30% commission on what the referral spends—which can be pretty lucrative if enough quality leads are provided.
Bluehost is a top WordPress hosting platform, and their affiliate program allows affiliates to take a major cut out of any referrals that are made to the platform. The best part is, the affiliate makes money no matter which package the referral signs up for!
If you have an audience that needs web hosting services, this is an excellent choice for an affiliate.
If your customers are in need of WordPress hosting and themes, the StudioPress affiliate program is an excellent choice.StudioPress is highly customizable and simple to use—making it a great choice for people building WordPress pages (including your customers).
The StudioPress affiliate program also has an amazing payout system, which includes 35% per theme sale and more.
When people think of affiliates for big brands, they often think of Amazon—but Amazon isn't the only company with an affiliate program! Target has an affiliate program that allows companies to sell physical products from Target's website.
Peerfly is a cost-per-action affiliate network that has been growing massively. Although Peerfly doesn't have as many affiliates to choose from as some of its competitors, it is growing fast. Peerfly also has a focus on high-quality products—which is part of the reason why they don't have as many products in their marketplace just yet.
Proof is a business development software that helps to increase conversions for companies and save money on acquisitions. Their affiliate program is very easy to join, and they offer as much as 30% recurring commissions for every customer that is referred.
If sales and/or marketing is an aspect of your niche, this tool is perfect for your customers.
The Six Figure Mentors is an excellent training tool for digital entrepreneurs and is a wonderful tool for anyone looking to grow their online business.
The affiliate program is very lucrative, and you can make a lot of money by referring customers to their platform. The commissions include a $20 sales commission on "introductory" sales, as well as a $200 commission on "essential" sales.
On top of that is $20/month on active membership subscriptions!
eToro is a "social investment network," which allows you to trade and invest. Their "partners" program is an affiliate program that is bursting with opportunities and has a payout of $160 for every customer that actually completes a deposit.
While a lot of their partner information isn't immediately available, it's interesting to note that they've paid out over $87million to their affiliates so far!
FATJOE is a content creation and link building company that has had a large amount of growth recently. Their affiliate program is great for those selling SEO and internet marketing educational programs.
FATJOE pays out a 10% commission on all sales and offers lifetime commissions. They also have monthly payouts through PayPal.
Instapage is a landing page building platform that helps with page building and advertising solutions.
With Instapage, you can make a significant amount of money, as you get 50% of revenue share on the first payment, then 30% lifetime revenue on self-serve plans! It's also free and easy to join their affiliate program.
Hubspot is a sales and marketing software company that helps users to build websites, drive traffic and more. Hubspot's affiliate program allows affiliates to earn up to $1,000 for each purchase, which depends on the product tier. With their strong reputation and quality products, you'll find that Hubspot can be an easy sell.
Ninja Outreach is a lead generating business that helps to connect clients with potential business and influencer leads. The affiliate program for Ninja Outreach allows affiliates to earn 20% recurring monthly commissions for each customer they refer, which can add up to a lot of money.
(RELATED: Email Copywriting Tips That Boost Opens & Conversions)
4 More Ways To Find Affiliate Offers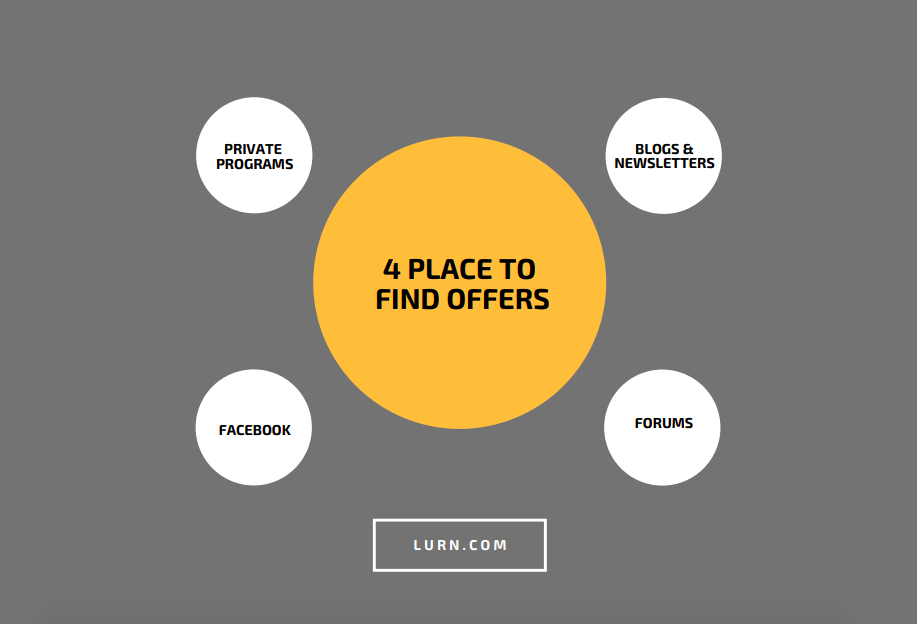 The above list of the best affiliate programs offers an impressive selection of niches and affiliate offers. But there are a few other great ways to find good affiliate offers too!
#1: Private Affiliate Programs
Some businesses or online marketers have private affiliate programs.
To find these, simply go to Google and search for "Your Niche + Affiliate Programs." Then go through the search results and contact the ones that look good.
Many of the top products in every niche have their own affiliate programs. 
#2: Blogs & Newsletters
Another good way to find some of the best affiliate programs is to browse through blogs and email newsletters to see what they're promoting. If respected blogs and newsletters are promoting it, it's probably worthwhile.
This is especially the case if the same ones pop up in more than one place.
Remember, other people promoting offers is a good sign!
#3: Facebook
Affiliate groups can be found on Facebook! These are great sources for affiliate offers. Join those groups and find out what they are promoting.
#4: Forums
There are forums, such as the Warrior Forum, that are specifically dedicated to affiliate programs and offers. Check them out, ask questions, and find offers and ideas.
There's no need to completely reinvent the wheel.
Once you've identified solid offers, the next step is to promote them and start earning commissions.
4 Ways To Promote Affiliate Offers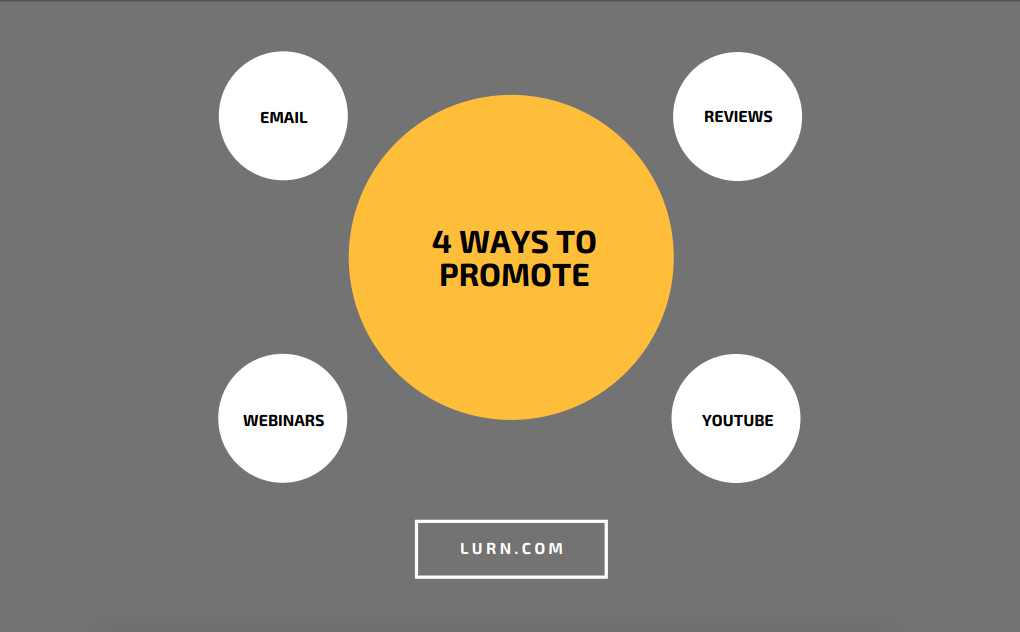 Finding the best affiliate programs for you is just the beginning.
Next comes promoting them.
There are actually quite a few ways to promote affiliate offers.
Let's take a look.
#1: Email Marketing
Promoting to a list of email subscribers is one of the most effective ways to promote affiliate offers. This is a highly-targeted audience who found the email list and subscribed to it because they were looking for something specific.
Plus, these people are on the list because they chose to be.
There is no better audience. 
Email marketing allows marketers to communicate directly with people who are already interested.
Does it get any better than that?
#2: Webinars
As I said before, promoting high-end products requires going the extra mile.
People are being asked to part with a lot of money, which means the offer must be valuable and the connection with the audience must be deep.
To gain their trust and provide value, market via video or webinars.
This will accomplish the following:
It makes the connection with the audience much more personal

It helps build a relationship with the audience

It makes the audience more trusting
Offer bonuses with the product to increase the value of what the consumer is paying for.
Examples of bonuses include free reports, an extended guarantee, or another product that compliments the product being promoted.
#3: Reviews
Write a review of the product and attach the affiliate link.
A review blog is ideal for this.
As time goes by, the blog will gather a following. When a review is posted, along with the affiliate link, people will buy.
Just make sure the review is an honest one.
The good thing about reviews is that they can be both valuable content and an endorsement.
This is a good recipe for affiliate sales.
#4: YouTube Videos
People love videos.
This is such an effective way to engage with consumers and create a personal connection.
Videos can be used in a couple of ways:
A video is a great way to do a product demo

A video is also a great way to promote an offer by presenting information on something related to the product
Get creative.
There is an infinite number of ways to promote affiliate products, and you should definitely use more than one method. 
With different avenues of promotion, sales will increase.
(RELATED: 40 Tips To Get Free YouTube Views)
Now That You Know How To Start Affiliate Marketing
Selling someone else's product has never been easier, and this list of the best affiliate programs for 2019 should help you get started.
The key is to find the best products in the most profitable niches.
Then, search out the best affiliate programs and find other creative ways to promote those offers. There's no limit to the success that can be achieved through affiliate marketing. And we want to help!
(NOTE: Ready to learn more about how to make money with affiliate marketing? Check out our FREE Digital Bootcamp on #LurnNation to access our exclusive content that simplifies the process of making money through affiliate marketing.)