Want to get ALL the tips that John shared with us on the go? Check out the entire podcast episode to learn the secret to 7-figure webinars.
___________
A great webinar can mean a massive boost in sales.
That's why I wanted to go over all the details you'll need to create a webinar funnel that's been shown to work well.
I had the opportunity to speak with Jon Penberthy—a genius when it comes to webinar marketing. Jon has generated millions of dollars through webinars—including around $4 million with automated webinars in the past few years.
He's averaging about $200,000 in automated webinar sales a month, with an average cost of about $200 a month, or $1,500 a year.
He also charges around $25,000 or more for a consultation.
So, let's take a look at how to create your own 7-figure webinar marketing business using the tweaks and optimizations that Jon Penberthy uses.
9 Tips For Your Funnel 
Your funnel is the bread and butter of your marketing strategy, so it's important that you nail it. Jon's been working on his funnels for years and has learned quite a bit along the way that you can use in your own funnels.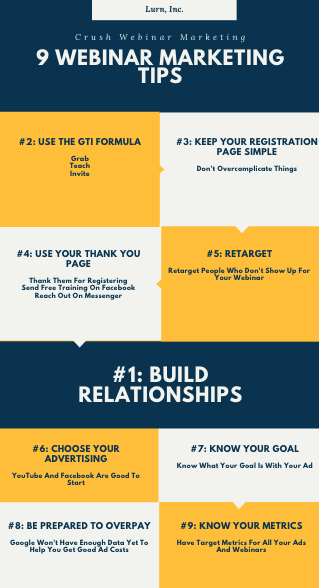 Let's look at what he thinks are some of the most important tips.
Tip #1: Build Relationships
A lot of people are looking at funnels the wrong way. 
When they put up their ad on Facebook, they think the only goal is to get the click. 
Instead of begging for the click, focus on building a relationship.
During your videos, you should educate people and build trust. That way—by the time they click—they're clicking with intention and are ready to move forward.
They've already been indoctrinated, so the click becomes a lot more natural.
Tip #2: Use The GTI Formula To Build Relationships
When it comes to relationship building, use the GTI formula.
GTI stands for:
With this formula, Jon's been able to drive thousands of dollars worth of sales.
Let's break that formula down a little further.
Grab
First, you need to grab people's attention and give them a reason to stick around.
When you show up on their YouTube or Facebook, you only have a few seconds to get their attention.
To grab their attention and keep it, discuss the pain points and desired outcomes that your customers are looking for.
(RELATED: What Is A Hook In Writing? How To Capture Attention)
Teach
Once you have their attention, give them some information and "teach" them.
This should go on for around 2 minutes.
Now, teaching doesn't mean giving away your entire program for free! Instead, give your audience the "wow" and not the "how." Pick around three points you want to go over and give your potential customers a few lightbulb moments.
If you give them everything you know, why would they click to your page and register for your program?
Teach them enough to provide value and keep them engaged.
Invite
This is extremely important.
After the first two steps, you need to invite people to check your webinar out without coming off as being too pushy. 
Don't sound desperate.
If you've done a good job building trust, you'll simply need to give them an invitation.
They'll likely take that invitation and move forward down the funnel.
Tip #3:
Simple Registration Page
Once you've invited people to your offer, they'll click over to your registration page if they're interested.
You need to keep that page SIMPLE.
Jon has found that videos don't work as well on registration pages, especially if your lead is coming from a paid ad.
So, he doesn't use videos on registration pages anymore.
Instead, stick with:
A headline

A few bullet points

Images  

A button to register
That's it.
You don't want the page to look too busy or messy, and you don't want to have a bunch of superfluous copy.
Keep it simple and clean and you'll get more registrations.
Tip #4: The Thank You Page
After someone opts in to your offer, they land on your thank you page.
This is the ONLY page of your funnel that 100% of your leads will land on, so you need to capitalize on it.
Here's the magic formula:
A video thanking them for registering

A button to receive free training via Facebook

Reach out to them on Facebook messenger!
The reason for the free training via Facebook is that it's a way to provide more value and lead your customer further down the funnel.
Jon likes to use video content here.
In this video, he condenses the content of the webinar into a 15-20 minute free training course. However, he delivers it in a different style in case they also decide to join the webinar.
At the end of the free training course, pitch the product.
There's always a percentage of people that want to skip the webinar and go straight to the top. These people don't feel that they need the full webinar because they already trust you.
Tip #5:
Retargeting
Once your lead watches the webinar, they may decide to purchase your product or not.
If they decide that they don't want to purchase the product that day, keep retargeting them.
If they don't show up, you'll also want to reach out through retargeting.
Jon generally only does a 48-hour replay. From there, Jon sends two or three emails directing them to the sales page.
Tip #6:
Decide Where To Advertise
First, you need to decide what advertising platforms you're going to use.
Jon splits this ad budget between YouTube and Facebook, with YouTube getting around 60% of the split. His goal is to pay $5 for a webinar registration lead, and he's been spending around $1,000 to $4,000 per day on advertising.
Once you have a winning ad, you can scale by upping the budget. You can even convert cold traffic with the right ad.
Tip #7: Know Your Goal
When you're building an ad, know what your goal is for the ad.
From there, you can start building your Google ad.
To build your Google marketing ad campaign, you DON'T want to start off using the campaign objectives that Google offers you! They won't have the data necessary to find you the right customers when you're first getting started.
Instead, start with "No Objective."
From there, you can put together a "Cost Per View" bidding strategy. Consider how much you're willing to pay for a view on your video. For context, Jon often shoots for $0.10 per view.
Your keyword and placement targeting are the keys to success when you're getting started.
This is going to get you the best initial traffic.
If you aren't aware of what placement is, it's essentially targeting on specific videos.
Tip #8: Be Prepared To Overpay
Unfortunately, you're going to need to overpay for your leads at the beginning.
You'll simply need to deal with it until you've gotten enough conversions to keep moving forward.
Once you've gotten 30 conversions, you can start looking at creating a new ad campaign leveraging what Google has learned about your client base and the type of people that opt-in.
You're essentially training Google Ads at the beginning.
Once you have your 30 conversions, relaunch your ad from scratch. When you do, choose "Website Traffic" as your objective.
Your bidding strategy will change to "Target CPA."
So, instead of paying per view, you'll be paying per conversion.
YouTube can take the data you collected and find the right customers, and you'll see that your impressions go through the roof when you do this.
Tip #9: Use These Metrics As Guidelines
As someone new to webinars, you're likely looking for some numbers you can use as guidelines when you first start out. 
Jon shared some of his data with us to help guide you in your process.
A few of the important metrics are:
A registration rate around 30%-35% on cold traffic

A good show rate for the webinar is over 40%

Around a 10% conversion rate on live webinars

Around 4%-5% conversion rate on automated webinars
As a beginner, you may not experience these exact metrics, but they're something to at least guide you in the beginning. 
Now, let's get into a few of the specific tweaks and optimizations Jon uses to get the most out of his webinars.
3 Specific Tweaks and Optimizations
The last thing I wanted to go over with Jon was some specific tweaks and optimizations that he uses to improve his results.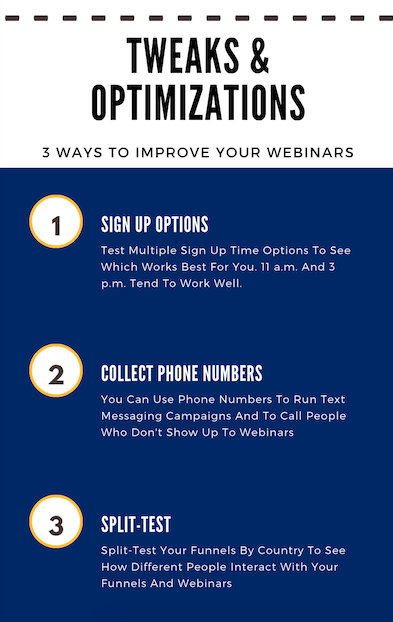 These are pretty simple, but they're also powerful.
#1: Sign Up Options
There are different signup times you can set for your leads to view your webinar, and there are four specific options per day that Jon finds to be successful:
11:00 a.m.

3:00 p.m.

7:00 p.m.

9:00 p.m.
This, of course, is set up for the user's own time zone.
In Jon's experience, the most popular times for webinar signups were for the 11:00 a.m. and 3:00 p.m. webinars.
#2: Texting
I've always been concerned about seeing a massive drop-off in signups by asking people for their phone numbers.
But Jon assured me that this simply isn't the case.
Sure, Jon had a small drop in signups when he started asking for a phone number, but he's also been able to turn this into a lot of revenue. As long as you craft the right message, you can run a successful text message marketing campaign. 
And Jon even takes it a step further.
If people don't show up for the webinar, he calls them and has a friendly conversation about why they didn't show up.
He then asks if they want to sign up for another one.
#3: Split-Test Your Funnels
You should be split-testing just about every aspect of your business.
For those who don't know a split-test is a method of testing multiple versions of a product (or element of a product) to see which version performs better.
And it's especially important to do in your funnels.
One of the best tips he gave me is to run separate webinar funnels for different countries. This way, you're able to see where sales come from and how people in different countries interact with your funnels.
4 Tools For An Automated Webinar Business
To succeed in an online business, you need the right tools to help you streamline the process.
So, before we finish up here, let's look at some tools you can use to help you out.
Some of the most important tools Jon uses are:
With these tools in place, you're ready to create your funnel.
Start Crushing Webinar Marketing Today With These Tips & Tweaks
I was able to get A LOT of information from Jon, so I knew I had to share it with you.
Remember, Jon is an expert at webinar funnels.
You definitely want to take the tips he's provided and implement them in your own webinar funnel. I'm also a huge fan of funnel hacking, and Jon is completely fine with you hacking his funnels.
Don't let all of this amazing information go to waste!
Start implementing these killer tweaks and create a 7-figure evergreen webinar business!
(Note: Want to get ALL the tips that John shared with us on the go? Check out the entire podcast episode to learn the secret to 7-figure webinars.)