Since the beginning of commerce, businesses have faced challenges.
The biggest challenge? Making sales.
It's really hard to get people to buy something, especially in the beginning when they don't have a relationship with you.
But there's always a way.
Traditional businesses developed strategies to convince people to make that initial purchase. They found ways to convert prospects into paying customers. These methods of conversion were almost always done face-to-face, and they worked.
But today, businesses face these challenges in a new way.
Introducing Tripwire Offers
Physical tripwires are usually booby-traps, motion detectors and all that. Basically, they're meant to keep people out.
But when it comes to online marketing, a tripwire offer is actually a way to entice people to enter a sales funnel. Just like the tripwire most people think about sets an alarm into motion, tripwire offers set the sales cycle in motion.
So, what is it? A tripwire offer is actually very simple.
It's a low-ticket offer.
Something that costs very little money and requires very little commitment. Because the offer is low-risk high reward, people can't help but give it a try. The worst that happens for them is they don't like the product and are only out a few dollars, but the upside for you is huge. 
The upside for you is that you've convinced someone to pull out their wallet for you, which gives you the opportunity to start building a trusting relationship with them. 
Once the customer purchases the tripwire offer, they're in your marketing funnel. Once they're in your funnel, you have several more opportunities to prove your value to the customer through bigger, better product.
Those bigger, better products typically cost more money and allow you to generate significant revenue for your business.
Tripwire offers are basically a win-win situation for both you and the customer.
Different Types of Tripwire Offers
There are many different types of tripwire offers to create, but you don't have to make it complicated or fancy.
In fact, it's better to keep it simple.
Your tripwire offer can be either physical or digital, but it's typically easier for newer online businesses to make their offer digital.
However, as long as the offer suits the niche and provides value, it'll be effective.
So, let's take a look at the two types of tripwire offers in more detail.
#1 Physical Products
Physical products include anything that can ship to the customer.
It doesn't have to be extravagant. Just something small and inexpensive, such as a book or a product that fits with the niche and the brand.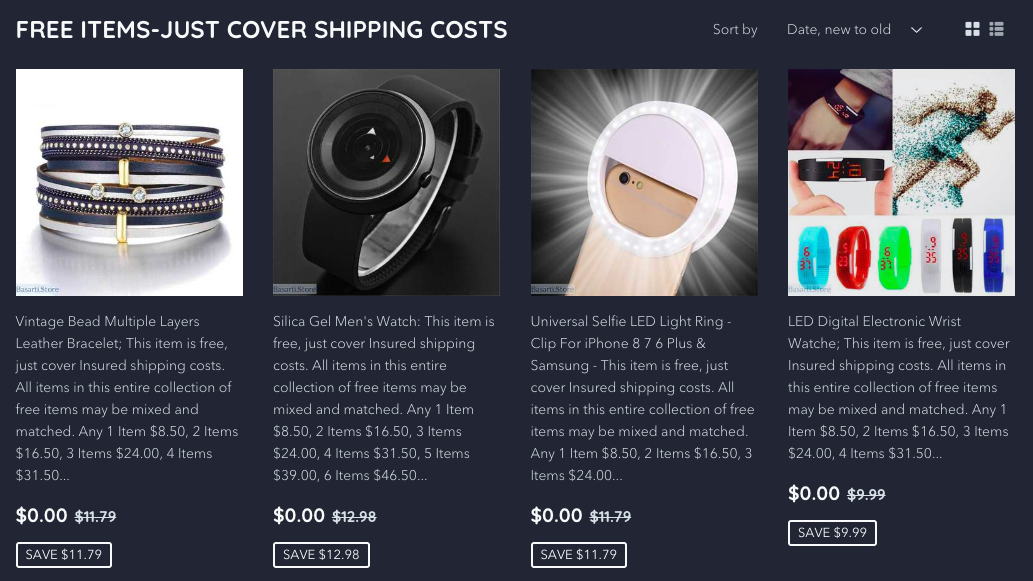 For example, say an eCommerce business is in the dog niche.
A great tripwire offer could be an inexpensive dog leash. This is something that costs less than $10 and could even be offered for free plus shipping.
It's easy to find products like this to sell on sites like AliExpress.com.
And even when offering free plus shipping, it's still possible to make money - or at least not lose it. In fact, running an eCommerce business is a great supplement to any online business.
#2 Digital Products
Digital products are the other option for a tripwire offer.
And they are a great option because they fit any type of business, both online and offline. There are so many digital products that can be offered for very little money, such as:
Here's an example in the design niche.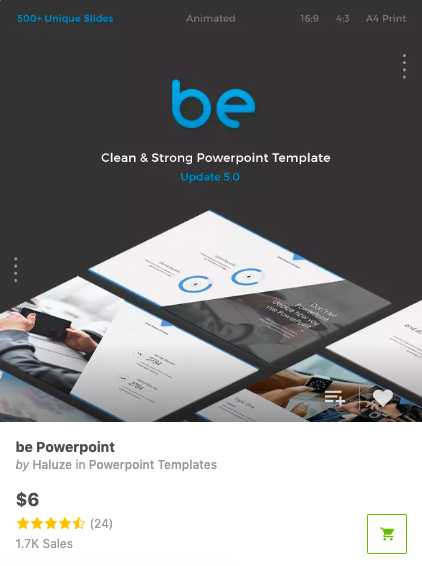 This company is offering a set of professionally designed PowerPoints for just $6.
If you think about it, that's pretty low-risk. 
Once you purchase that set of PowerPoints (assuming you find them to be valuable), you're more likely to go back to the company the next time you need a set of designs. That company will likely have more high-end designs, more expensive packages and maybe even design services. 
The point is, that one small set of designs gets the person thinking about the brand and interacting with the products.
And the truth is that creating digital products is easier than it might appear and are lucrative. 
Once they're made, they can keep making money with no extra effort!
So, what does this look like in the real world? Once you see some more examples, you'll start seeing tripwire offers everywhere you go.
5 Real World Examples Of Tripwire Marketing
Below are five excellent examples of tripwire offers:
Vistaprint 
Vistaprint does an excellent job of getting people in the door for an extremely low price. When people see that they can get 100 business cards for as low as $3.99, their interest is piqued.
From there, though, Vistaprint offers add-ons to the initial business cards (such as different finishes, graphics and so on).

On top of that, Vistaprint offers other branded products and marketing materials.
By the time customers end up at checkout, they may have business cards that are significantly more expensive, as well as mugs, mouse pads and more.
Expert Secrets (Russell Brunson) 
Russell Brunson is a one of the kings of internet marketing, and he uses a tactic that has become very popular over the years - the "free" book.
While the book itself may be free, the shipping and handling is not - and that small payment for shipping and handling gets the sales process going.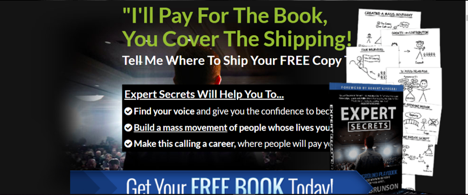 The thing is, making money on the "free" book isn't the goal.
He knows that capturing the information of customers is much more important, and offering them products after they sign up is where the real money is made.
Squarespace 
Squarespace has become a giant in the web-hosting and web design industry by offering a low-entry cost, as well as a platform that makes it easy for users with little-to-no experience to built a great looking website.
Squarespace has also found a way to get the customer's foot in the door by offering free web hosting. They even offer free initial domain registry - which is a big deal for new users.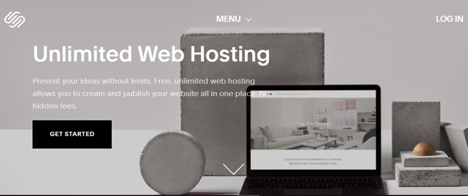 From there, though, Squarespace begins to offer paid services.
Their subscription services start with a personal page and extend to a higher-priced business account. There are also online store accounts available.
Canva 
Canva is an extremely powerful design tool that allows users to create logos, banners, flyers and so much more. Many companies have used Canva for their branding.
Once you start using Canva, though, you will realize that there are certain designs that are low-price - maybe a dollar or two to access.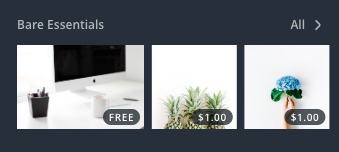 This gets the sales cycle going.
Companies that enjoy Canva will want access to premium features, such as instant resizing, animation and more. These features, of course, come at a higher cost.
Wordpress 
While WordPress is often used for blogging, it has also become an industry standard for overall website creation. WordPress users will find that creating a website or blog is initially free but, like Squarespace, additional features end up costing additional money.
One example is paid themes.
While there are some basic, free themes, for a more customized experience customers will want to opt for paid themes.

The entry fee for WordPress is extremely cheap, but for a more personalized and high-end experience, users will need to pay more.
The subscription is also billed yearly, instead of monthly.
Depending on the needs of the user, they may end up purchasing more expensive plans as time goes - but it all starts with that free web design.
Benefits of Tripwire Offers
#1 Micro-Commitments Build Trust
The key to bringing people into the sales funnel is to give them the opportunity to make small commitments - micro-commitments. Through these micro-commitments, they'll interact with the brand and the person behind that brand.
And this interaction will draw them into the sales funnel.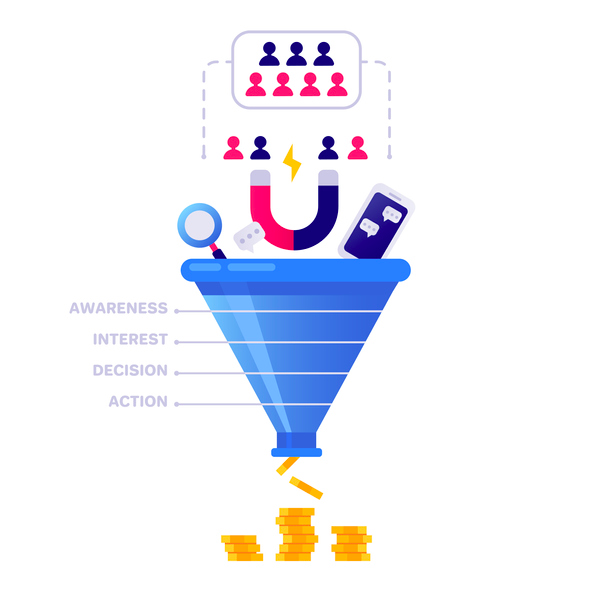 It's important to understand that getting people to spend money is the most challenging aspect of business. Getting them to buy is even harder than just getting them through the door.
But getting them to buy AGAIN is much easier.
Once they've purchased once, they're warm. They've achieved a level of trust. They bought something and it all worked out just fine. They liked the product. They're interested in what else is available.
The key is that people have to take that first step. That is what the tripwire is for. And that is the greatest benefit it offers - getting that first sale.
But the tripwire offers a couple of other amazing benefits:
#2 Tripwire Offers Help Offset Traffic Costs 
It's common to run paid ads when generating leads.
While leads will turn into profit down the road, they don't make any money upfront. With a tripwire offer, it's easy to make some of that advertising money back right away.
Just put the tripwire offer on the thank you page. When people subscribe and become a lead, they're directed to that thank you page.
Then they can take advantage of the tripwire offer.
This works so well on thank you pages because it's inexpensive, simple, and enticing. And it gets people into the funnel.
#3 Tripwire Offers Increase Conversion Rates 
Since the tripwire gets people into the funnel, it actually increases the conversion rate of higher-end products. This happens because people are taken through a series of micro-commitments, each one bigger than the one before it.
This makes them repeat customers.
And over time, it turns them from a cold audience to a hot audience.
Ultimately, it takes time for any business to make big money. But one of the fastest ways to make money quickly, while generating an email list, is to use a tripwire offer.
Tripwire Offer Sales Page
Any tripwire offer needs a sales page. This can be a simple written sales letter (WSL). Because it's a low-ticket offer, a WSL will get the job done.
But when it comes to a WSL, writing good copy is key to its success. It's critical that the copy:
Gives the "what," not the "how"
Provides value
In fact, the thank you page and the WSL can be the same page. Simply thank the subscriber, then follow into a great WSL.
With the right headline and an audience that has already made a micro-commitment, they will read. Their interest will be peaked. And they will buy.
Using Tripwire Marketing In Your Business
There's no greater challenge for a business than monetizing the online consumer and getting them to buy.
People want to buy, but they don't want to spend money.
To get them to spend, there needs to be a relationship and trust. And when the business owner can't see the customer face-to-face, building that relationship and trust is more challenging. That's why it is so important to draw them into the sales funnel slowly.
Get them to make micro-commitments. That's what a tripwire offer does.  
So, how are you going to implement tripwire offers into your marketing plan?
(NOTE: Ready to learn more about starting your own digital marketing business? Check out our FREE Digital Bootcamp on #LurnNation to find out what it takes to start your very own digital marketing business. Learn more here.)