Want to get ALL the tips that Mike shared with us on the go? Check out the entire podcast episode to learn how to scale your business to over 25 clients.
___________
Scaling a business and getting to 25 clients is a daunting task for a beginner—especially if you only have a couple right now. That's why I sat down with Mike Buontempo to discuss how he was able to go from zero to 25 clients in such a short period of time.
I previously discussed how Mike got his first 5 clients, but I wanted to go a step beyond that.
As a refresher, Mike started his agency in June of 2018, and he grew it into a $100,000 a month business in less than a year. He's also running at a 45% margin, which means $45,000 a month of that is going into his pocket.
That's insane!
Let's take a look at what Mike has been doing to get him to this point and how YOU can scale your business to 25 clients in no time.
Organic Marketing
Mike is a big proponent of organic marketing because it basically costs you nothing, but it yields some amazing results.
One way Mike started to build his business was by posting on Facebook around 2-3 times per week, for example. He did this for the first four or five months and doing so helped him generate a steady flow of leads.
Actually, Mike told me that he wants to be more active since he's slowed down a bit since then. 
That's just one strategy that he uses, but we're going to look at several more that have worked well.
Strategy #1: Share Case Studies On Facebook
One thing that Mike is big on posting when it comes to Facebook is case studies.
Case studies tend to get a lot of attention because they provide a ton of value and actionable information.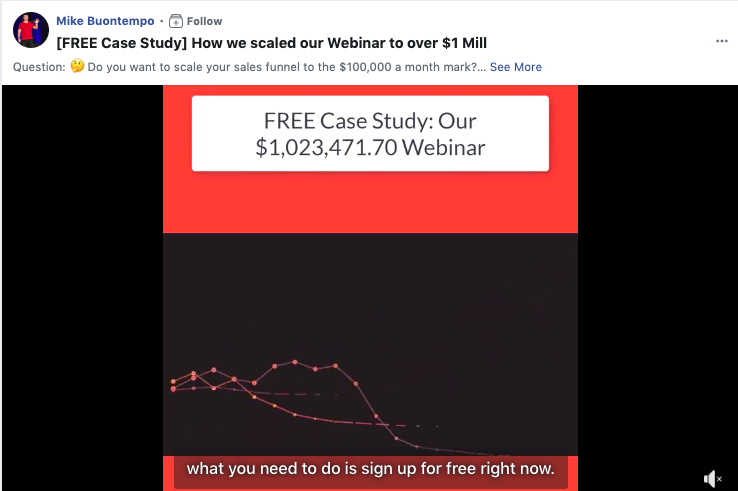 When Mike first started posting case studies, he noticed that people started commenting on his posts, which led to more people seeing the posts and asking questions.
So, figured out a way to capture that interest and turn it into something.
He started messaging the people who liked and commented on the post to talk about their ads and what he could do to help—which led to acquiring paying clients. So, start creating your own case studies and then use them to start conversations with potential clients.
Strategy #2: Create Audiobooks To Generate Leads
I'm a huge proponent of using books as lead magnets, and Mike definitely understands this thought process.
However, he likes to do audiobooks instead.

The first time he offered an audiobook, he posted it at an upfront cost of $1.99 and got great results. He used his audiobook to lead prospects to his $47 bump offer, and then from there, he took them through a series of upsells.
These included:
A $197 "done-for-you ads" upsell

A $79.95 a month funnel walkthrough (or $297 for the whole year)

A "cover the internet" package for retargeting across YouTube and Google
Mike is selling around 50-60 books per day now as of this writing, which has led to around $20,000 on the front end and another $20,000 on the back end. So, his book funnel's made him good money, and he also has a whole host of great new leads as well.
Strategy #3: Engage Your Email List
Mike's audiobook has also helped drive more traffic to his email list, which has led to him closing more clients.
He likes to email his list about his coaching program and his agency, and he frequently sends out even more case studies and stories to help his audience take action on their own projects.
It's important to keep in mind that not all clients will purchase upfront.
By getting them on your email list and building a relationship, you can stay in front of your clients and potentially make a sale down the line once they get to know and trust you more. 
Strategy #4: Keep Your YouTube Active
Many marketers out there KILL IT with YouTube.
YouTube videos are an excellent way both to build organic traffic, trust and expertise. When people watch YouTube videos, they often save them, share them and follow links provided by the channel.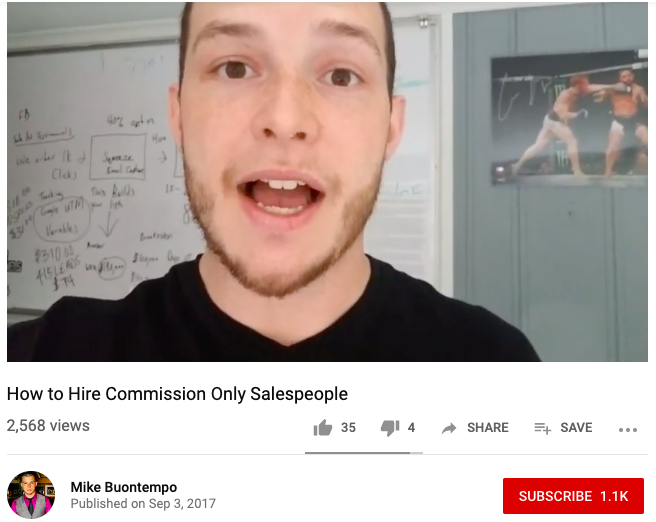 All of that gives your videos even more exposure.
So, he finds that he's able to get about 4-5 subscribers a day at this point with little effort, and often times he will simply take his videos from Facebook and post them on YouTube.
It's good to have a presence on YouTube to not only drive traffic but also to show that you're legitimate. Many high-ticket clients will check out your YouTube to see what you're all about, so you should have a good presence on the platform.
Strategy #5: Build Out Facebook Groups And Keep Them Active
Another excellent way to drive free, organic traffic is through Facebook Groups.
Mike's Facebook Group is called "Paid Traffic Vault." I would HIGHLY suggest that you go and join this group right now It's a great way to learn more about driving traffic and to meet likeminded people.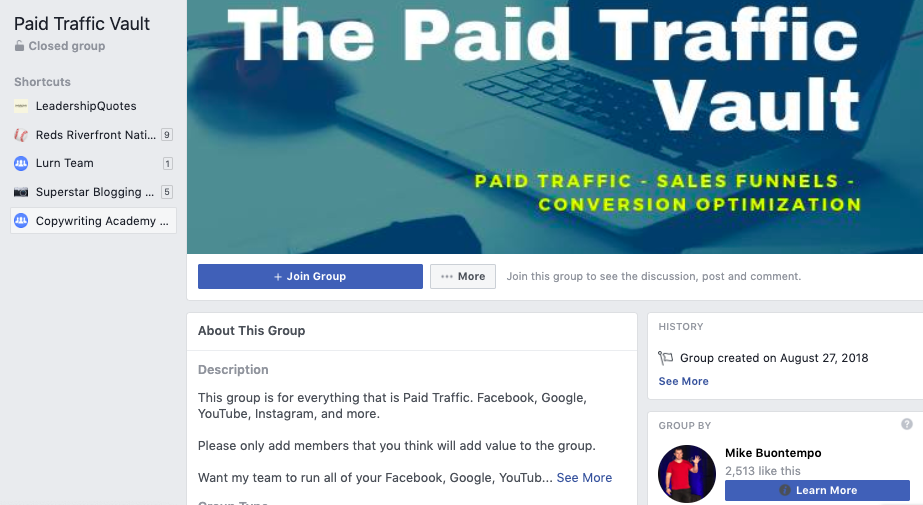 Mike initially created his Facebook Group because he wanted another touchpoint with his audiobook listeners. This group keeps him top of mind, and it allows him to engage clients and potential clients directly.
With his Facebook Group, he's also able to continuously pre-sell his clients.
There's an entire audience there to share case studies and other pieces of valuable content with.
And Facebook rewards interaction.
When you post in your Facebook group and people like and comment on your posts, it increases the chances of other members seeing the post. From there, you can continue to reach potential clients and build interest.
Strategy #6: Use Your Facebook Group To Open Conversations
Remember, you're using Facebook Groups to open conversations. 
So, as people engage in your group, start working out how you're going to turn that interest into revenue. The goal is to get people on the phone, and the goal of getting people on the phone is to make a sale. 
Starting out with these six strategies will give you plenty to work with if you're just starting out and trying to build up your clientele.
(RELATED: 40 Tips To Get Free YouTube Views Like YouTube Master Dan Lok)
Questions For Mike
I wanted to try something new with the discussion I had with Mike, so I invited a couple of people to ask him a few questions.
The answers that he gave were insightful and valuable, so I wanted to share some of the Q&A session with you here since you likely have some of the same questions.
Question #1: What if a client doesn't know anything about funnels?
It's important for potential clients to already know what funnels are before you take them on as clients. 
It's also good for the client to already have a solid funnel in place.
In fact, Mike often won't take on a client if they don't already have a solid funnel in place. Instead, he may encourage them to join an 8-week coaching program to get them to where they need to be to take them on as a client.
The problem is that no amount of paid traffic will fix a bad offer or funnel.
No matter how good you are at your job, you won't get the results you want for your clients if you don't have anything to work with. To determine if the client is a good fit,  look at metrics like:
Costs-per-acquisition

Average cart value

Lifetime value.
If the client doesn't know these numbers, reconsider taking them on.
Whether they understand funnels or not, it's important for clients to understand that it may take time to make their funnel profitable. If a client doesn't have the patience or the money to allow for time for the funnel to grow, don't work with them.
Question #2: What is Mike's sales process?
If you subscribe to the Mike Buontempo method of sales, you should aim to close on the first call.
This is EXTREMELY important!
If you allow for too much time between getting a client on a call and the client making a decision, the chances of the sale closing become smaller and smaller. Therefore, the sooner you can get the sale, the better.
In terms of what the process looks like, Mike likes to ask a lot of questions both to vet the client and to keep the sales process moving along.
A few of the questions that Mike likes to ask include:
What is your cost-per-acquisition?

What is your average cart value?

What is your lifetime value?

What are you spending monthly on ads?

What are your goals?

What is your current monthly revenue?
These questions help determine whether or not the lead will make a good client or not. For instance, if a client isn't spending enough on ads monthly, they may not be a good fit.
You should also make sure they're making enough money in revenue to afford your services.
It doesn't matter how much your potential client wants your help; you can't spend too much time on them if they aren't making enough money to maintain an ongoing business relationship.
Once you've determined the client is a good fit, go through the following steps:
Ask when they want to get started

Go through the packages you have available

Get their information

Put together the contract
And you want to do all of this on the same call to make sure you close the sale on THAT call and not sometime down the road. In fact, you should have your client sign the contract while they're on the phone with you.
You can then get them the onboarding form and schedule an onboarding call from there.
Mike is able to do this because he assumes the sale.
If you know you have a great offer, there's no reason to question the sale. So, don't waste a bunch of time chasing down potential clients. Instead, close your clients on the first call—and get the contract signed.
This will allow you to move forward with the onboarding process and get started working with your new client.
Question #3: Is Mike monitoring his Facebook Group?
For now, Mike is monitoring his own Facebook Group. So, why hasn't he assigned that task to someone else?
He's doing it himself for now because he wants to ensure that he maintains a certain level of quality in his posts and that they stay on message. That's why—at least for now—he wants to make sure that he controls the content.
With that said, he's open to the idea of finding a moderator in the future to ensure that the group stays on topic and provides value.
Question #4: How is Mike qualifying media buyers to join his team?
Mike makes sure he only has the best media buyers on his team. So, to qualify them, he provides them with a cognitive aptitude test.
That's right—he literally tests them.
The cognitive aptitude test assesses their ability to solve problems, which is something he thinks is important. By controlling the quality of media buyers on his team, he believes that will help him and his company grow in the future.
Question #5: How many clients did Mike have before hiring media buyers?
Mike waited until he had 7 clients before he started hiring media buyers. However, it only took him 2 months to get to the point where he knew he had to start hiring!
Question #6: How much do Mike's media buyers actually do?
He likes to keep his media buyers pretty active, and they have a lot of responsibilities.
With that said, he takes care of the high-level strategy and planning. 
So, Mike's media buyers help him by pulling the stats for accounts, submitting creative ideas, writing copy and doing their own creative work.
But he likes to give them a degree of freedom in their work.
A big part of why he puts them through the cognitive test is to ensure he doesn't have to spend a bunch of time babysitting them.
(RELATED: LinkedIn B2B Lead Generation For Complete Beginners)
Are You Ready To Start Scaling A Business?
In my previous discussion with Mike Buontempo, we discussed how to get to five clients. I suggest you go back and check that discussion out, as we went over a lot that wasn't covered in here.
In this discussion, Mike gave you tips on how you can scale your business to 25 clients. These tips are extremely powerful and will help you to reach your client goals.
Start working on your organic presence and get clients on calls. Then, make sure you close them on the same call!
Before you know it, you'll be at 25 clients—and more from there!
(NOTE: Want to get ALL the tips that Mike shared with us on the go? Check out the entire podcast episode to learn how to scale your business to over 25 clients.)