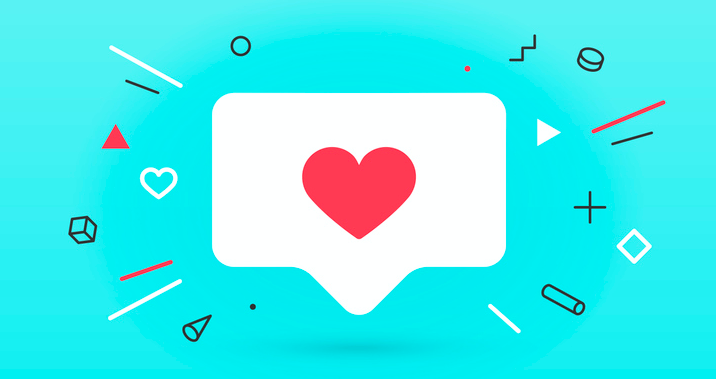 Want to go more in-depth with this content? Check out The Fighting Entrepreneur podcast episode with Alex Lombard here, and don't forget to subscribe!
I recently got the chance to have an amazing discussion with Instagram genius Alex Lombard about how to grow an Instagram following…and I want to share what we went over with YOU. 
But before we get into these 25 amazing tips, I want to give you a little background on Alex Lombard.
How I initially met Alex Lombard was through a DM he sent offering me help with my Instagram. Honestly, I was a little bit skeptical at first since I get these kinds of messages frequently. But when I looked into him and his business, it was clear that the guy is legit. 
After getting into Instagram marketing six years ago, he's worked with massive brands and big names,  has over 600 clients and helps other build their following on Instagram.
All at just 27-years old.
Now that you know who Alex is, let's get into the 25 phenomenal tips to help you grow Instagram followers organically and increase your reach.
#1. Evaluate Your Page
Before jumping into growing your page, you should first take a look at your page and see if it's any good to begin with.
Look at your engagement for your posts, stories and videos.
Is it there?
If not, start thinking about why it isn't performing well. Do you have a great headshot? Do you have a well-written bio? Is the content that you're posting quality? Are you posting regularly?
Start there and start making adjustments.
#2. Look For About 2% Engagement
Your engagement rate is one of the most important metrics to track as an influencer. You should be looking for an engagement rate of about 2%, which includes your:
Impressions
Views
Comments
Likes
Stories (ESPECIALLY Your Stories!)
Keep in mind that if you have hundreds of thousands or even millions of followers, your engagement rate may be a little lower.
To give you an idea of how to calculate engagement rate, you would take the amount of likes you get on a post, for example, and divide it by the number of followers that you have.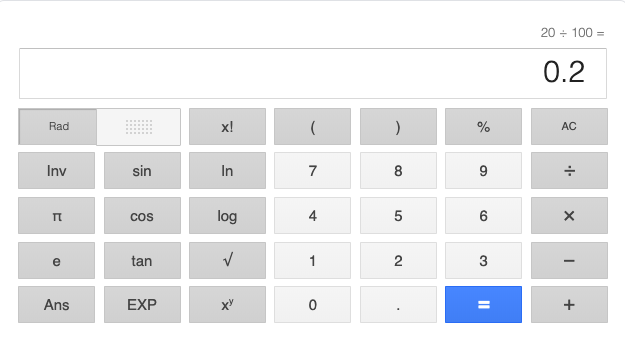 If you have 100 followers and get 20 likes on your post, that's a 20% engagement rate. If you create a story and 50 out of your 100 followers watch it, that's a 50% engagement rate.
To turn that decimal into a percentage, you just multiple it by 100.
#3. Realize Every Brand Is Different
Different brands are going to have different engagement rates, numbers of followers and so on. Your niche may not be the same size as other niches, so your engagement and follower count also may not be the same as other brands.
A rough guide to engagement rates across niches and industries is:
Less than 1% = low engagement
1% - 3% = average/good engagement
3.5% - 6% = high engagement rate
Above 6% = very high engagement rate
One way to get a feel for what you should be aiming for would be to go to your competitor's pages and calculate their engagement rates to see where you stack up.
#4. Have a CLEAR Message
When people visit your account, they need to know within one to two seconds what your brand is all about.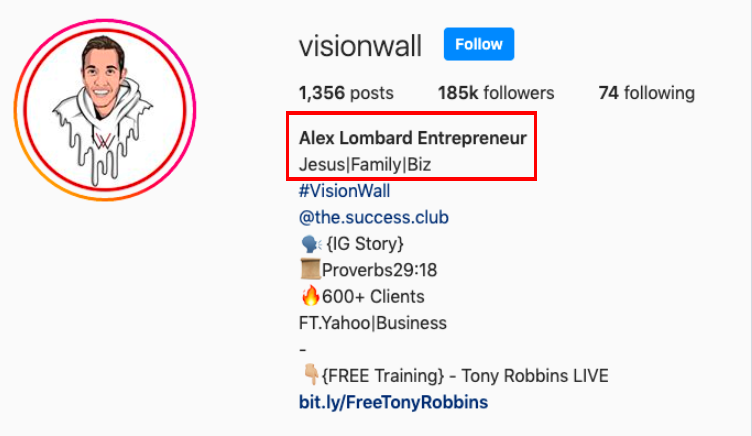 Notice how, on Alex's account, it's pretty clear what he values and what he's going to be posting about. Your audience needs to understand what sort of value they'll be getting from your company right from the moment they land on your page.
Then keep your content on brand with your values. Use your content to convey a clear message to your potential followers.
#5. Engage Back
Like the old adage says, "you get what you give."
If you're getting engagement but aren't returning any of that engagement, people will be less likely to want to follow you.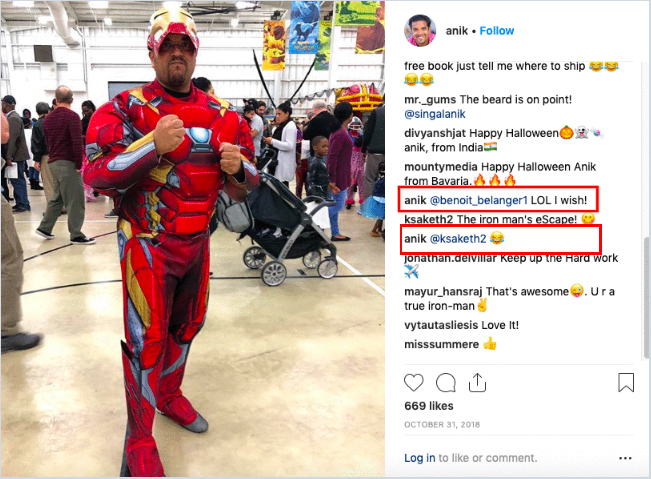 It honestly doesn't take much - just something to show people that you're real and that you care. Make sure you're responding to comments, commenting on other pages, liking posts and liking other pages.
#6. Be ACTIVE 
If you aren't active on your account, no one will want to follow you—let alone be able to find you! Make sure you're consistently posting and putting up stories.
Do this as often as you can.



These are the time stamps from another one of Alex's successful IG accounts, the.success.club. It all comes down to consistency with these accounts.
Remember, Instagram rewards people that are active.
#7. Look at Instagram as a Digital Billboard
When you think of a billboard, you think of an ad with a call-to-action. Your Instagram should resemble a billboard in this way.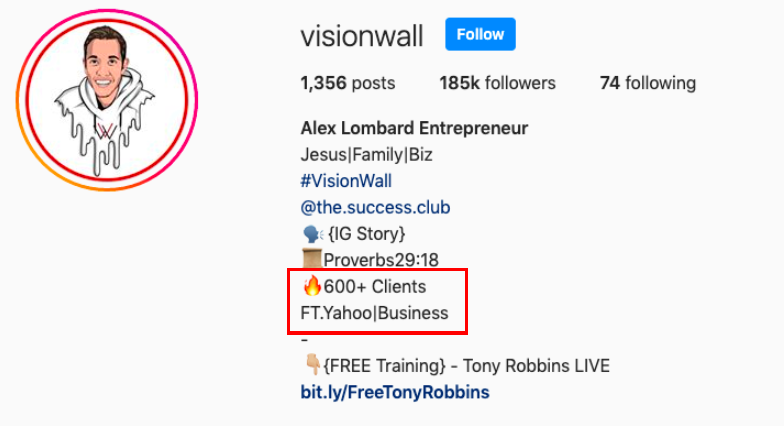 Unlike a traditional billboard, with Instagram you can build a brand and an identity. This makes it even more powerful than a traditional billboard.
#8. Build a Culture of People 
You'll want to cultivate an audience of people that love what you do. This culture of people will help your Instagram and your business to grow.
When you have a culture of people following you, you'll have a built-in audience of people that are ready to purchase whatever offer you put out.
#9. Have a "Gateway"
Having an Instagram isn't enough—you need to actually provide customers with a way to get to your product or service. That's why you need to have a GATEWAY.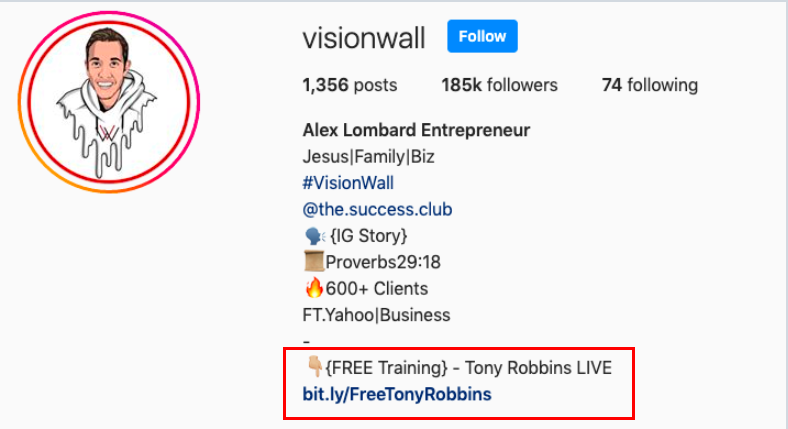 A great way to do this is to have a link in your bio that leads the customer to a store or funnel.
#10. Have a Compelling Offer
This is marketing 101, but you need to have an excellent offer that your customers will want to jump on. Instagram is a crowded, noisy environment, so you have to figure out a way to stand out from the crowd.
You'll also want to make sure that your offer actually relates to your brand. If you are in the fitness industry, you shouldn't be selling music lessons.
#11. Influencer Marketing
Influencer marketing is one of the biggest tools you can use to build your audience. Some of the other tips will revolve in some way or another around influencer marketing, but here's a quick overview.
You'll want to find people that are big in your niche and pay them to promote your brand and drive traffic.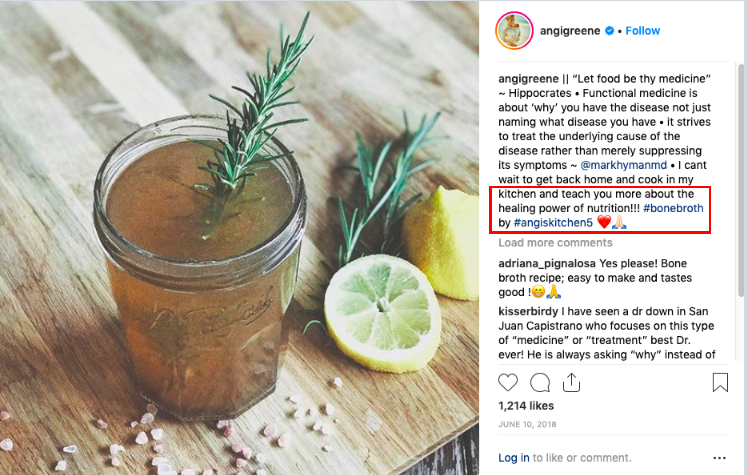 Notice the shoutout here from this Instagram account? That can be a big boost for you or your business' account. 
It can get a bit pricy, but you'll see great results with the right influencers. If you have friends in the space, they may be willing to shout you out for free. 
Consider doing "burst" campaigns with multiple influencers at a time if you want to increase growth rapidly.
#12. Do Giveaways to Build a Base
Doing giveaways will give you a bigger base, which will in turn help your credibility.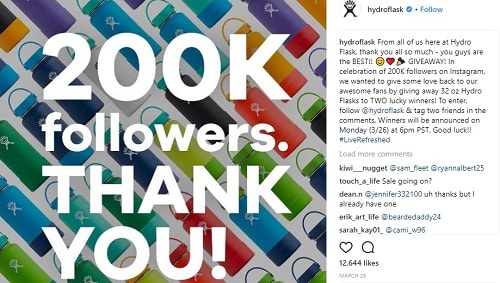 While you can certainly do paid giveaways, you could think of giveaways that you could do that don't cost you any money to keep it all organic.
Maybe you offer a free consultation or trial of a digital product.
Just keep in mind that not everyone will stick around after a giveaway. Still, with enough traffic, you'll start to build a quality base.
#13. Viral Giveaway Loops
With a traditional giveaway, the account owner typically asks people to comment, tag a friend, or tag a couple of friends to enter the giveaway.
Viral giveaway loops are a little bit different.
Viral giveaway loops are usually done with a collection of accounts where everyone splits the cost of the prize. With viral giveaway loops, customers have to follow all of the pages in a post in order to win a prize.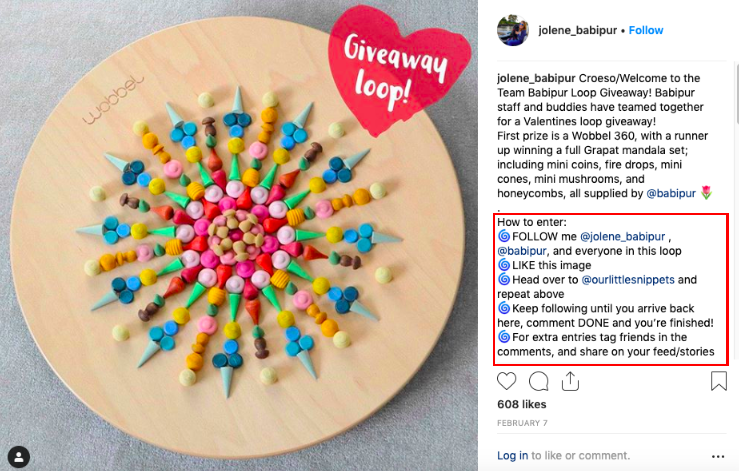 This prize may be cash, a laptop or whatever else your audience may be interested in. Getting in one of these giveaway loops will get you a massive amount of traffic, especially if the giveaway goes viral.
#14. Expect To Pay For Brands, NOT Followers
It can be difficult to put a price amount on followers because follower count can be misleading, and some people with less followers can actually be more influential than those with a ton of followers.
This is because there are a lot of factors involved, including niche, how the person got their followers, engagement, etc. That's why if you do decide to pay for exposure, pay for exposure to the right brands (and engagement), not the amount of followers.
#15. Run Ads Giving Value
If you do decide you want to go a less organic route and pay for some ads, make sure your ads are providing value for people rather than just clogging up their feeds.
This may include ads that give away a free gift or provides some other form of value that the customers will find irresistible.
Notice how the ad above is providing a discount rather than just advertising their service. People like brands that provide value when they're advertising rather than just going for the sale.
#16. Put Out Content
Content helps in a variety of ways, including:
Boosting your ranking in Instagram's algorithm
Giving you more exposure
Creating faster organic growth
Make sure you are always putting out quality content, whether it's adding posts every day, adding multiple stories a day or both. You may even be able to repurpose other content that you're using in your business on IG to make your life a little bit easier.
#17. Post AT LEAST Once A Day
Posting at least once a day will help you to get solid, organic growth. If you don't post regularly, or you post a lot one week and then not at all the next week, those who are interested in your account may end up forgetting about you. 
Also, don't forget that Instagram's algorithm prioritizes active accounts. I can't emphasize that point enough.
For faster growth, consider posting two to three times per day.
#18. Use Your Story To Create Value
Use your story to create real value by doing things like giving tips and posting quotes. Also, make sure your posts are in your stories.
Stories only last 24 hours, so get people used to checking your stories! Instagram has even added a cool feature where you can permanently pin stories to your account so that people can watch them whenever they land on your account.

Stories are a really fun way to engage people in a different way, give them a look into your life behind the scenes of your IG account and add value.
#19. Post Videos 
Instagram is slowly moving towards a more video driven platform. This is one major reason you should start posting more videos.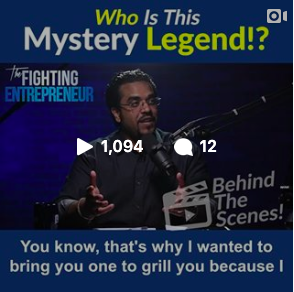 Videos also help customers to get to know you better because you can really show off your personality in videos.
#20. Use Hashtags
Hashtags are extremely important to your growth!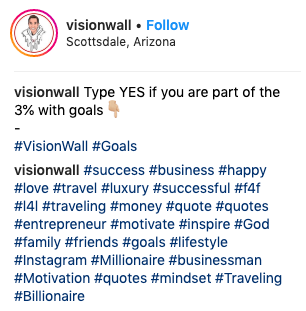 Use 30 hashtags per post (that's the Instagram limit). Also, make sure to post your hashtags in the comments - it makes your posts look cleaner.
#22. Videos With Scrollbars
Videos with scrollbars have become very popular.
Have a catchy title in the video, as well as captions that provide value for the customer.
#23. Research Hashtags
You'll want to start with bigger hashtags in your niche, and then find out which hashtags are popular.
Finding popular, relevant hashtags is pretty simple.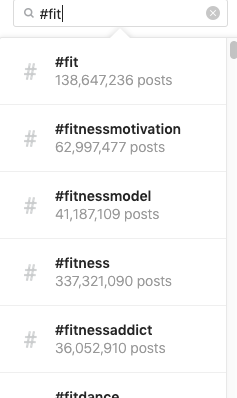 All you have to do is type in a keyword relevant to your niche, or a popular hashtag, and Instagram will suggest other relevant hashtags for you. 
Pick those and use them.
#24. Use the 1/3 Rule
Once you've researched hashtags, use the 1/3 rule.
What this means is taking 30 hashtags and breaking them down into degrees of popularity on Instagram.
Alex suggests:
10 Hashtags with 10,000-100,000 tags
10 Hashtags with 125,000 to 1 million tags
5 Hashtags with 1-5 million
5 specific Hashtags (like your company name)
That will help you get into the big hashtags, as well as some of the smaller, more niche-specific hashtags.
#25. Get to 100,000 Followers ASAP
As they say, perception is reality.
A big part of succeeding on Instagram is making sure that you LOOK successful. Having a lot of followers is a big part of that.
By having a lot of followers, you are more likely to get more followers! It acts as social proof.
Now That You Know How To Grow Instagram Followers Organically
There's a lot of ways you can go out there and buy followers or use bots to grow your Instagram account quick, but I promise you you'll regret it if you do. 
Those types of followers don't engage with you, and it's pointless to have people on your account who don't actually engage with you, consume your content and buy your products.
But I do want to thank Alex Lombard again for these 25 AMAZING tips!
Use these tips to grow your Instagram following to 100,000—no wait, 1 MILLION—followers!
(Note: Want to go more in-depth with this content? Check out The Fighting Entrepreneur podcast episode with Alex Lombard here, and don't forget to subscribe!)