Want to get ALL the tips that Pat shared with us on the go? Check out the entire podcast episode to learn why every entrepreneur needs an exit strategy.
___________
There comes a point in every business where the business needs to be sold, passed on or liquidated. While I know a lot of people think they'll stick with their business forever, that often isn't the case.
Which is why it's important to have an exit plan. 
If you have a new business (or even if you don't), this may be one of the last things on your mind. 
But if you don't take some time to think about your exit strategy, it'll come back and bite you in the butt later on down the road.
I recently sat down with Pat Ennis of Ennis Legacy Partners to discuss why you need an exit strategy and what you should think about when putting your strategy together. Pat is involved with the business community in the Maryland area, and his passion is exit planning.
He helps business owners think through how they'll eventually exit their business the way they want to—and in a way that allows them to make or keep as much money as possible.
Before we get too far into it, let's answer a question you may have.
What Is Exit Planning?
If you don't know what exit planning is, you aren't alone.
A lot of people haven't heard of exit planning, but it's something every entrepreneur needs to understand. You need a strategy that allows you to exit your business the way that you want to exit.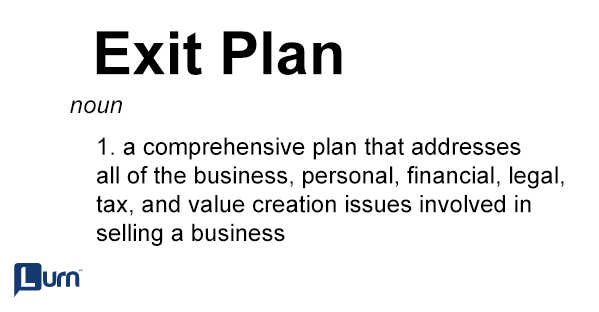 So, to answer a question with a question:
What does exit planning mean to you?
An "exit plan" can mean different things to different people. Your idea of the perfect exit plan may not be the same as another business owner's idea.
A few popular examples of what an exit plan may mean include: 
You should consider what you want to do way before you exit.
Whether you want to sell your business or pass it along to your child, you should know early on.
Because you ARE going to exit.
The question is, how much control do you want to have over your exit?
I want you to start thinking about that NOW. 
It's also a good idea to think about what role you want to take on once you exit: 
Do you want to be a shareholder?

A lender?

Do you simply want to walk away?
Once you know how you want to exit, you can start planning.
(RELATED: 10 Legal Things You Need To Know To Protect Your Business)
What To Know About A Busines Exit
As you're planning, there are some things to keep in mind that will help guide the decisions you make.
These are three of the big things to consider while planning.
#1. Exit Planning Is NOT All About The Future
This may sound weird, but exit planning really isn't about the future.
It's actually about the present.
If you want to eventually exit your business, you first need to build a sellable business.
If you build a sellable business NOW, you'll have a lot more options when it comes time to exit down the road.
#2. Someone Is Buying Your Cash Flow
Keep in mind, if you plan on selling your business, you're selling your cash flow.
That's why your financial performance is important.
If a potential buyer looks at your sales, your past sales and your projected sales and they aren't good, why would the buyer want to purchase your business?
A buyer is buying the reliability and predictability of future cash flow.
Some of the things they'll consider are:
Customer satisfaction

Dependence on certain suppliers, vendors, employees, etc.

Recurring revenue

Reliance on the owner
The more of that you can get sorted out now, the better off you'll be.
#3. You Can't Get Started Too Soon
You need to plan strategically for the future so you have all your plans in place when you're ready to sell. While you're planning your business and financial plans—make sure you're also planning out your exit strategy.
Here's an example of how this can be done:
Phase One: The business is run through the owner.
Phase Two: Transition to the point where the owner can step away for a while and the business runs smoothly.
Phase Three: The business can run independent of the owner.
Take a step back to think about your exit strategy and what your business should look like when you plan to exit.
Then, see where you are along that journey.
Goals And Objectives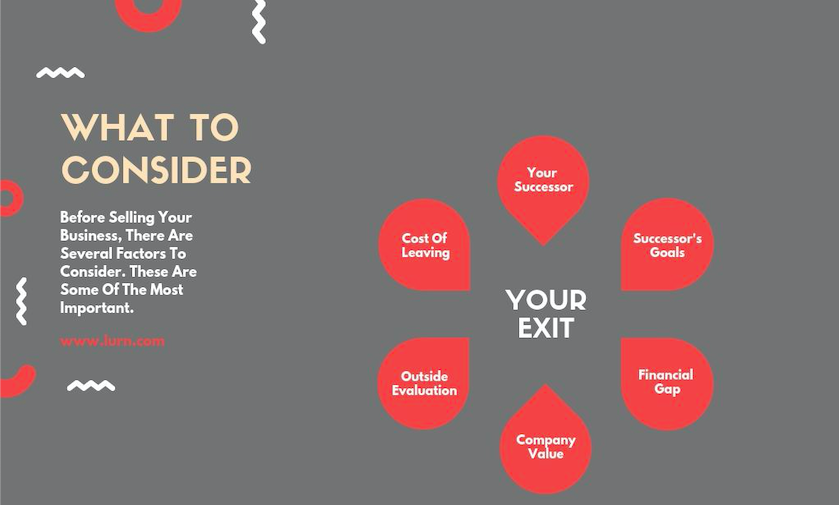 Just like with anything else in your business, you need to have exit strategy goals and objectives. You also need to know what your key motivators are for exiting (such as financial or value-based goals).
Overall, you need clarity around your exit strategy goals and objectives so you can make decisions early on that will allow you to reach these goals and objectives.
I know you're busy.
Because of this, it's tempting to put your exit strategy on the backburner.
Instead, take a step back and think about the big picture.
Let's take a look at some important things to consider when setting your exit strategy goals and objectives.
#1. Will Your Successor Be A Good Owner?
Let's say your goal is to pass your business along to one of your kids, a family member or even one of your best employees. Before you get this down in writing, consider whether they can actually run the business.
While you may love your child, they may not know anything about business.
You may also have an excellent employee that's great at being an employee but may have no skills with management.
You can't just pass your business down to someone you like and expect it to go well.
You need to make sure the person you're passing the business to knows what they're doing.
#2. Does Your Successor Even WANT Your Business?
You may really want your son or daughter to own your business, but they may not want to.
Maybe they want to be a doctor or a police officer.
Before you make the decision to build a strategy around leaving someone your business, make sure it's something they're interested in.
#3. Financial Gap Analysis
Your exit strategy doesn't make sense if you don't have a plan for what you're going to do after you've stepped down.
You need to consider what you want to do once you've stepped down, and then you need to consider how much that will cost.
If you decide you want to move on to another venture, make sure that selling your business won't put you in the hole. So, consider how much everything you have is worth and whether there'll be a financial gap when you leave your business.
#4. What Is It All Worth?
What are your current assets?
It's likely your business is your biggest asset right now, but how much is your business actually worth?
You may be surprised to find that you're over-inflating the worth of your assets and your business. You need to find out what your assets are actually worth before you plan to sell.
#5. Get An Outside Evaluation
For planning purposes, make sure you get an outside evaluation of the worth of your business and your other assets.
You don't necessarily need to get a certified valuation from a specialist, but you'll need someone with expertise to give you an estimated value.  
#6. What Will Leaving Cost, What's Everything Worth And What's the Gap?
These are the questions to consider when you're contemplating your financial gap.
Your financial gap will come down to subtracting how much you have from how much you need when you exit.
Here's an example:
Let's say you want to exit in 5 years, and you need $5 million to do what you want to do next. You have $1 million in personal assets, and your business is worth $1 million.
This means you have a gap of $3 million that you need to make up in 5 years.
How will this be made up? By growing the business.
Building A SELLABLE Business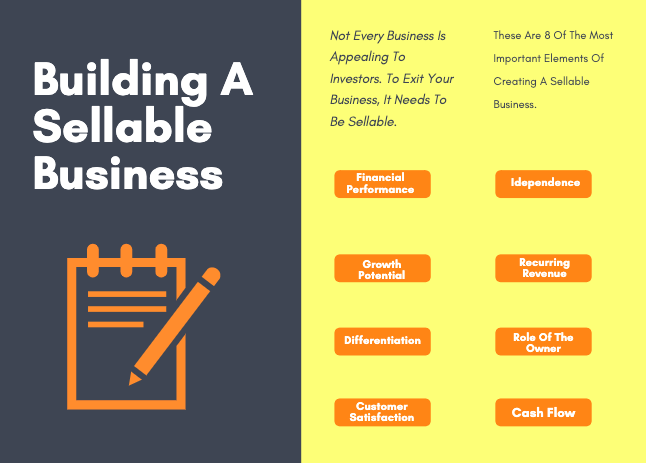 If you want to sell your business at some point down the road, you need a sellable business.
Below are 8 value drivers we discussed that'll ensure you have a business that buyers will be willing to purchase.
#1. Financial Performance
This is your revenue and profitability.
If your business isn't making good money and it isn't profitable, it's unlikely anyone will want to buy it.
#2. Growth Potential
People want to buy a business they know will continue to grow. This means consistent revenue growth historically and the ability to scale.
Think about how predictable growth will be moving forward.
#3. Differentiation
What differentiates your products and services from your competitors?
If you're selling the same thing as everyone else and you're selling it the same way, it's unlikely you'll stay profitable in the long run.
#4. Customer Satisfaction
This one should seem like a no-brainer, but it isn't for a lot of people.
You need to have high customer satisfaction for someone to want to purchase your business. It's a big risk buying a business with customers that aren't currently satisfied with the business.
#5. Independence
Consider how independent your business is.
For instance, what would happen if an important employee walked away? What about if you lost one of your vendors?
The less dependent your business is on specific entities, the better off your business is.
#6. Recurring Revenue
Obviously, your revenue needs to keep coming in, but you also needs to build streams of recurring revenue.
Recurring revenue is something like revenue from subscriptions, money you know will be coming in every month.
#7. The Role Of The Owner
This goes back to independence.
How important is the owner (you) to the success of the business?
If you're critical to its success, you may need to negotiate a deal where you stay on until you're able to be replaced.
#8. Cash Flow
If your cash flow is tight or negative, it increases the risk and decreases the amount that someone wants to pay for your business.
Putting Together Your Team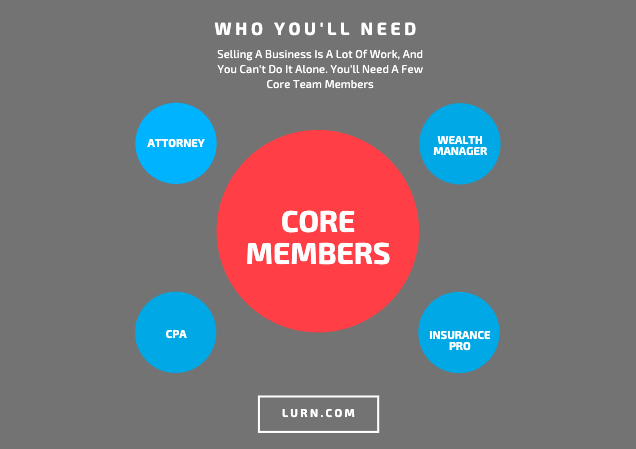 Before you're ready to sell, put together a great team that will help you to get prepared. Some of these team members you'll want to consider adding to your team earlier on.
The people you need on your team include:
Attorney

CPA

Wealth manager

Insurance professional
You also may need:
Banker

Transaction mediary

Business consultant
When you put together your team, comprise it of people that have experience in exit strategy. You'll also want to have someone who's able to coordinate this team—which may be a specialist.
However, understand that getting the best specialists may not be the cheapest route, but there's too much at stake for you to NOT get the best. You don't want to lose a bunch of money when you're ready to exit because you didn't want to spend the extra money for people that are good at their jobs.
Make sure you exit well to save yourself money and to ensure your exit isn't destructive to your employees, your business and yourself.
(RELATED: How To Start An Online Business (+50 Prfitable Online Businesses)
Common Pitfalls
There are some common mistakes that people make that get in the way of them properly exiting their businesses.
Here are some common pitfalls.
#1. Owner Wants Too Much Control
I understand wanting to have some control over the way your business is running. Too much control, though, can make it difficult to sell a business.
If the business needs you to run successfully, it will be harder to sell.
#2. Financials Not Properly Prepared
It's crazy how often people don't understand their own finances and don't have them prepared! When potential buyers look at your business, they want the numbers in black and white.
Make sure your finances are in order.
#3. Not Putting People In The Right Roles
This like what we discussed earlier with handing your business over to someone that isn't qualified to run it. 
While an employee may put in the time with your company and be good at their job, they still may not be qualified for certain roles.
You need to put the right people in the right roles to ensure the overall success of your business.
#4. NOT PLANNING AHEAD
Obviously, the biggest pitfall is not planning out an exit strategy.
Plan ahead!
Don't just worry about building your business in the present.
Start Thinking About YOUR Exit Plan
If you're within 10 years of exiting, you need to start planning your exit strategy.
Even if you aren't, it's a good idea to start thinking through what your exit strategy will look like. The sooner you get started, the better you'll be able to budget the time and money it will take to put together an exit plan.
By starting early, you'll be able to better diagnose your business and find out if you're weak in your value drivers.
Keep in mind that—if you ARE weak in your value drivers—it's going to take some time for you to improve. So, don't wait until you're looking to sell your business to start thinking about how you're going to get out.
Often times, you'll already be too late!
The earlier you know how you are going to exit your business when the time is right, the easier it will be to walk away when it's time to leave.
(NOTE: Want to get ALL the tips that Pat shared with us on the go? Check out the entire podcast episode to learn why every entrepreneur needs an exit strategy.)