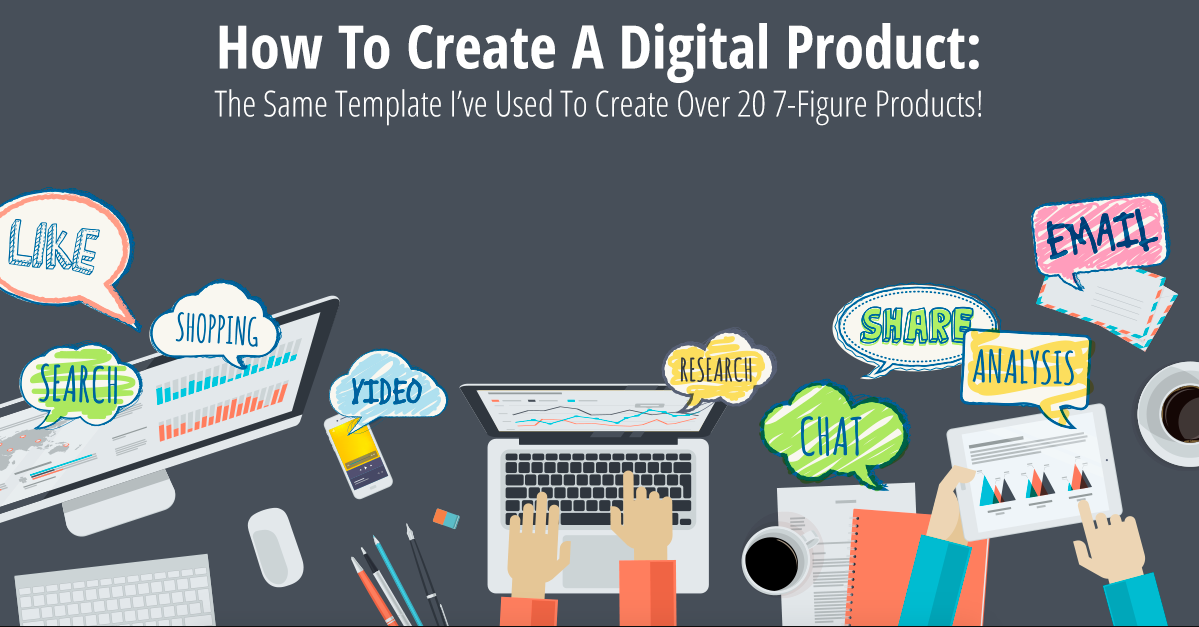 Want to learn more about digital publishing? Check out the FREE Digital Publishing Bootcamp to learn more bout how this business model works.
___________
It's no secret.
Digital publishing has a special place in my heart; I love it and rave about it all the time.
Why?
There's so much opportunity with digital products right now, and the benefits are incredible.
With digital publishing, you get:
100% profit and ownership

Easy distribution

A product that's easy to update

Location independence
With a little bit of work and the template I'm going to share in this post, we can get information of all kinds out to the masses. 
Creating digital products is far easier than most people think! 
It comes in three distinct forms, and the best one depends on the creator and the message they want to convey. If you've ever wondered how to create digital products, you've finally come to the right place.
Three Forms Of Digital Publishing
When talking about digital publishing, you essentially have three options. 
All are viable options for your business, but the right one for you depends a lot on your personality and goals.
#1 Written
This is the most common form of digital information product, and it's a great option for people who don't know how to create digital products.
They're easy to create and full of value.
Written products include things such as eBooks, blogs, reports, newsletters, and worksheets. The best part is that people who want to create a written digital product do NOT have to be a good writer.
Really!
There are other ways to create them, such as transcription or outsourcing.
#2 Audio
This kind of digital information product is becoming more and more popular every year.
It includes formats such as audio courses, music, guided meditation, and podcasts. People can listen to audio while doing other things, like driving or working out.
That's what makes it so appealing.
It's possible to purchase a special "podcast microphone" off Amazon for less than $200 and download an audio software like Audacity for free. 
With these inexpensive startup costs, audio content can be created for next to nothing.
#3 Video
While it's common to think video is difficult to create, it really isn't!
Things like presentations and video courses have a high perceived value, and all that's required is a computer and a good microphone.
A camera isn't even necessary!
You can create a nice PowerPoint presentation and use screen recording software to record yourself talking through the points. 
And for those who aren't an expert in their niche? No problem.
Simply interview experts and let them provide the content!
(RELATED: How To Start An Online Business (+50 Profitable Niches)
How To Create Digital Products
Step 1: Choose a Profitable Niche
Before you even learn the ins and outs of how to create digital products, you need to decide what product to create.
That begins with choosing a profitable niche.
Even if you learn how to create digital products that are beautiful and valuable, they'll be difficult to sell if you aren't in the right niche.  
So, begin with choosing a category — ideally a profitable category.
The most profitable categories include:
Health

Wealth 

Relationships
Having said this, the most important thing to do is to conduct market research. In other words, ask questions!
There are some very critical questions to ask about any niche under consideration, including:
Is it digital friendly?

Are there other digital publishers in this niche?

How big is the audience?

Are people searching online for information in this niche?

Could you create and sell multiple products to this audience?
There are no limits to what can be created.
(RELATED: The Ultimate Guide To Choosing A Niche (+900 Niche Ideas))
Step 2: Brainstorm A Winning Product
Ultimately, the key to any successful product, digital or physical, is that it solves a problem. To determine potential problems to be solved, more research is needed.
This research consists of 3 incredibly important questions:
What are the potential customers' biggest challenges?

What circumstances cause people to seek out information in your niche?

What changes would people like to see in their lives?
Answering these questions will help nail down the opportunities that lie within a niche.
This is the ultimate goal.
After all, if the product solves a problem, it will be a product that customers want.
And finding the answers to these three questions isn't difficult.
Here are three research tips:
Research Tip #1: Model Successful Products
There's no need to reinvent the wheel.
There are many people out there who already know how to create digital products successfully - it's easy to benefit from their success.
They've determined what people want - what challenges are they addressing?

They've created a product geared toward those wants - what benefits are they promising to deliver?

They've created sales material to accompany the product - what's the price, upsells, etc? 
Study these example, but NEVER copy them. Take what someone else has done and spin it to make it unique.
Research Tip #2: Use Forums
Forums are virtual communities that are focused on a specific interest or niche. People will ask questions, talk about their problems and look for solutions.
Find these forums and oin them!
There's no better place to learn what potential customers want.
Just Google the "name of the niche" + "forum" and then pick and choose the best ones. Facebook Groups can be good options as well. 
Go there to become part of the community.
The rest will fall into place.
Research Tip #3: Ask!
Whether connection with potential customers is via social media, forums, or an email list, it's easy to simply ask people what they want. People love to tell others what they want!
They love to talk about their problems.
And when people speak — LISTEN. There's always something to learn from customers.
Once the problem has been defined, the benefits of the product can be outlined. Once this has been accomplished, it's time to create the actual product.
Step 3: Create The Actual Product
Again, the three types of digital products are:
And you essentially have three ways to create these products:
Option #1: DIY
If you decide to go with the DIY method, there are essentially three ways to do it.
#1 Written Products
A written product is a great choice for anyone who can write well. It's also the simplest type of product to create. All that's needed is a computer with Microsoft Word and the ability to create a PDF file.
That's it!
With these simple tools, anyone can create:
eBooks

Reports

Written course
#2 Audio Products
Creating an audio product DIY style is also easy. 
With a good, clear speaking voice and some very basic tools, an audio file can be used to create:
Audio courses

Guided meditations

Music

Podcasts
And it's not just limited to that.
Use your imagination to think up any other way to leverage audio in your products. 
#3 Video Products
DIY video products are probably the most intimidating.
But they don't have to be.
There isn't even a need for a video camera! Camera options include something as simple as the camera on a smartphone or a webcam.
All that's needed is good lighting.
But without a camera, great video content can be created.
There is some fantastic screen-capture software out there, including Camtasia, Screenflow and Screencast-O-Matic.
With these, it's simple to create:
Video courses

Presentations

Slideshow
Fortunately, if DIY is too daunting, there are other options.
Option #2: Outsourcing Your Product
Outsourcing simply means paying someone else to create the product.
This option takes less time and effort, but it costs more money. The key is to find an expert who already understands how to create digital products.
When looking for someone to create a product, hiring a freelancer is the best route to take.
They're highly experienced in their field and are easy to find.
There are so many great platforms through which to connect with freelancers, such as:
But it's important to understand how to work with a freelancer. Hiring someone who is qualified and can get the job done is important.
Here are some important tips for working with freelancers:
Establish a budget before posting a job

Be detailed when writing the project description

Engage with the freelancer

Create an outline and provide examples of related products for reference

Review and give feedback quickly 
Of the first two options for creating a digital product, one took a lot of time and little money. 
The third way requires a little of both time and money, but it's POWERFUL.
Let's take a look.
Option #3: Partner With An Expert
This is an incredibly powerful and secret way to create a digital information product!
There are plenty of niche experts out there, and they are generally happy to share their knowledge. 
Find the experts in the chosen niche and interview them:
Record the interview for an audio product 

Transcribe it for a written product

Make a screen-capture video for a video product
For example, if the product is a fitness course, find a personal trainer. Interview that personal trainer, pay them up front and use their interview as a digital product.
(RELATED: How (Good) Sales Copywriters Create Irrestible Offers)
5 Companies Killing It With Digital Publishing
1. DataCamp
DataCamp is an online learning platform that teaches customers how to better understand data science, and they make it as easy as possible to access their materials and get started.
While they have a paid service, customers can also jump in to learning about data science by reading their official blog, checking out their very long and in-depth YouTube videos and even starting their courses for FREE.
With such a wide array of different ways for students to learn and engage, DataCamp has become a strong digital publisher in their field.
2. Making Sense Of Cents
Making Sense of Cents is a personal finance blog that's both sleek and informative. The website design makes it easy to navigate and reach the exact content that you are looking for.
The actual blog itself is FULL of useful information, and there's a wide range of topics that are covered. The blogs are easy for people of all levels to read, while still providing the type of insight that people need to save money, grow a business and much more.
If you want an example of bulk, quality content when it comes to blogging, Making Sense of Cents is definitely a blog you'll want to check out.
3. Smart Passive Income
Smart Passive Income is a perfect example of a content creator that has it all.
The core objective Smart Passive Income is to teach business owners how to optimize their passive income and how to use tools like blogging, podcasts, affiliate marketing and more to do just that. 
On his website, you'll find easy access to the Smart Passive Income blog, podcast and courses—all of which are filled with quality information.
4. Netflix
Netflix has become a leader in their field, and a lot of this has to do with three things:
Quality

Quantity

Innovation
Netflix was the first big company to rent DVDs through the mail and was an early adopter of streaming.
This allowed them to decimate their competition. 
From there, the focus became building up their library, which again rivaled their competition. At this point, the focus is on original content—and they're really putting it out!
Netflix puts out a staggering amount of original content with a LOT of hits.
The main lesson here is quality + quantity + innovation = DOMINATING the competition!
5. Medium
Medium is a blog that is filled with excellent information on a wide variety of different topics.  
What sets Medium apart is their focus on creating an atmosphere of quality content—with an emphasis on fresh ideas.
Medium has also made it easier than ever to read their blogs and articles by allowing users to not only view information about the author, title and subject, but also the approximate read time.
These small differences and innovations, partnered with their branding, has made Medium a unique blogging platform.
Tap Into The Power of Digital Products
Once you understand how to create digital products effectively, you have one of the simplest ways to make passive income. The whole process of creating a digital product consists of three main steps:
Choose a niche

Brainstorming a product

Creating the product
It doesn't matter if it's a written, audio, or video product. Once the product is made and released, it just comes down to marketing.
With the training and tools available in #LurnNation, that shouldn't be a problem!
(NOTE: Want to learn more about digital publishing? Check out the FREE Digital Publishing Bootcamp to learn more bout how this business model works.)