Want to take this content with you on the go? Check out The Fighting Entrepreneur podcast episode here, and don't forget to subscribe!
I am a HUGE fan of live events and in-person networking.
Believe it or not, attending live events and leveraging in-person networking, not the actual products that I create, are what has really made me most of my money.
Don't believe me?
I believe in the power of networking so much that I built an entire $3.6 million facility in Maryland just so I can host my own events so that people from around the world can tap into the power of networking and experience it in the way that I have over my career.
That facility is called the Lurn Center, and it's like Disney World for entrepreneurs.
 We have a lecture hall, meeting rooms, audio equipment, video equipment, huddle rooms, an arcade, a gym and even a nap room!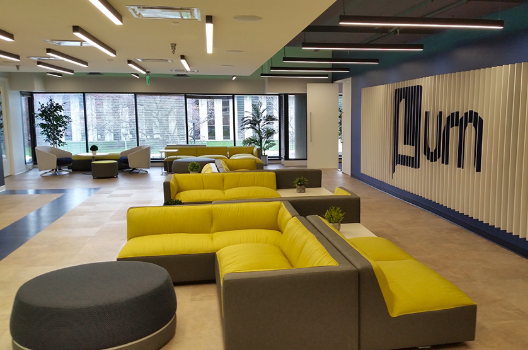 I wouldn't be here today if it weren't for the connections that I've made—and I wanted to pass that along in the physical space because there's something important missing in this awesome digital world that we live and work in.
That thing that's missing is physical connections.
Listen, you just cannot discredit the important of meeting people in the physical world. There's real power that comes from shaking someone's hand, looking them in the eye and actually engaging with them in the real world.
If there's nothing else that you take away from this post, take away take away this - you need to get up and get out of your house if you want to be successful. Go somewhere. Get off your butt. Go attend an event and MEET people.
I can already here people saying, "But Anik, there aren't any events in my area!"
Bull crap.
I don't care if you're in Paris or small-town India, there are ALWAYS places you can go to meet up with other people who are interested in the same things you're interested in. 
I'll even show you resources later on for how to find those people.
If you take some time out of your schedule to discover the benefits of attending networking events, I promise you it will change your life.
I know it's changed mine.
How I Started Networking
Let me give you a really cool example of how I got started when I had absolutely no idea what I was doing.
Back when I was still getting started in the internet marketing world, before I had any real connections in the industry, I had an amazing mentor that told me I needed to learn copywriting if I wanted to make money in business.
At the time I didn't get why. I actually thought copywriting sounded stupid. I thought that it was a waste of my time to focus on copywriting when I had so many other things I needed to get done to make money. 
Luckily, my mentor, his name is Justin Ford, didn't give up on me. In fact, he offered to buy me a ticket to a copywriting event in Delray, Florida. 
I agreed to go because, if nothing else, it was a FREE VACATION. Little did I know that my entire world was about to change.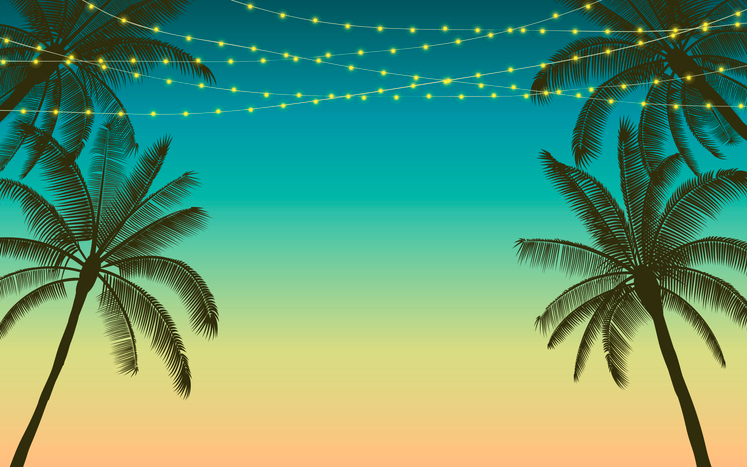 At the event there were so many cool people—and so many normal people. These weren't people sitting there with their pinkies out on their wine glasses - these were bikers, stay-at-home moms and doctors who were all learning more about copywriting. 
I couldn't believe that all of these people were copywriters! It was really exciting to see.
So, I was sitting in the front row trying to show Justin that I was taking his investment in me seriously - even though I was actually zoning out a bit.
Then Michael Masterson took the stage. 
Listen, I wasn't a copywriter at that time but I knew what it meant to see and listen to Michael Masterson, arguably the world's #1 copywriter, talk about his skill. For those who don't know who Michael Masterson is, he's the author of:
The guy is an absolute legend. 
Anyway, when they announced him to go on stage, the emcee said, "And now Michael Masterson! Also known as Mark Ford." 
Bells immediately went off in my head because my mentor's name was Justin Ford. 
After he finished speaking, I ran up to Justin and pointed out what I'd noticed.  As it turned it out, Mark Ford was his brother! Later that night, Justin took me out for drinks and guess who was there? Michael Masterson and a few other amazing copywriters. 
I can tell you that that moment sparked decisions in my life that are 100% responsible for getting me to where I am today. If I hadn't attended that event, I probably would've stayed on the path that I was on to becoming a doctor. 
I definitely wouldn't have become a copywriter.
How I Continued My Momentum
From that point, I started attending more and more events.
I'd started experiencing some success after that event and making a little bit of money, so I wanted to impress my parents. I was attending a live event out in Los Angeles, and I decided to fly them out with me to have a good time out in California.
During the event, I got a text message from someone who everyone knows at this point, Russel Brunson. This was before ClickFunnels and all the success he's had since then. He said he really wanted to see me, so I ended up skipping the event that I was at, told my parents I'd be back by the evening and jumped on a plane and flew to Phoenix to meet with him.
I did that because I knew how important meeting people face-to-face is.
When I got to the event that Russell was at, I say Mike Filsaime, a marketing legend. I was at the event for FOUR HOURS without introducing myself to him because I was so nervous. Russell finally came up to me and asked me why the heck I hadn't introduced myself yet.
He then took me over to Mike and introduced me. That was it. That was all I had time for. I hopped back on a plane after that and flew back to Los Angeles.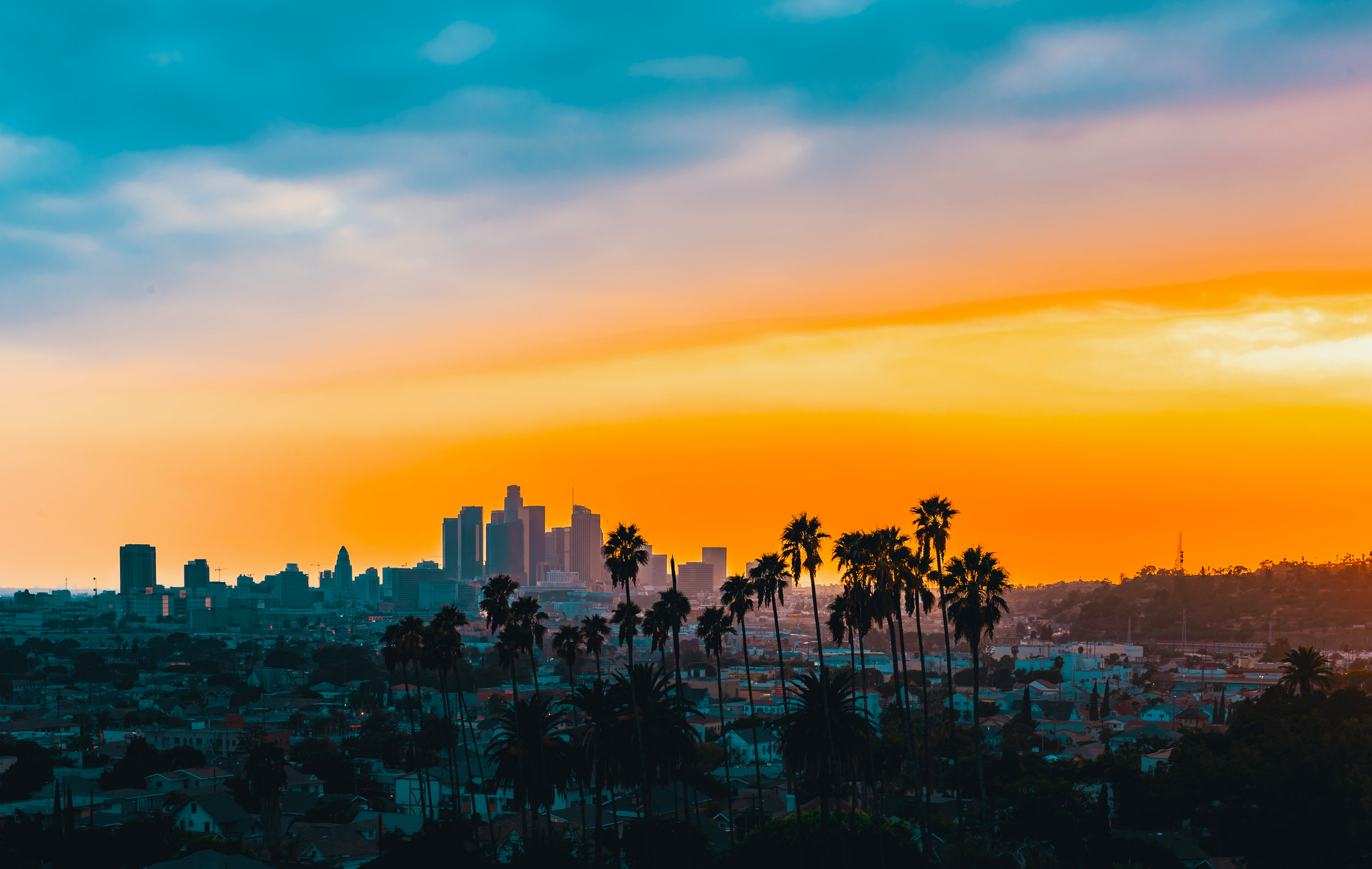 You know what happened?
Three months later I ran into Mike at another event. He recognized me because Russell had told him I'd got on that plane and come to Phoenix just so I could shake Mike's hand, which obviously impressed him. He told me he appreciated the hustle I was showing and that he wanted to get to know me more.
We actually ended up working on a launch together, Launch Tree (this video is seriously old school), that did $3 million.
I mean, I can't make this stuff up. If it was just one or two example, maybe you call it luck. 
But I could literally go on and on with these types of stories.
Remember how I was $1.7 million in debt? I was so stressed out during that time, but I found a way to get down to Mexico for a vacation to get my mind off things. 
While I was there, I decided to go to an event called Awesomeness Fest with my friend Jimmy Kim (yes, Jimmy Kim from Sendlane). One of the nights, after all the speakers and workshops, we were at the buffet at the resort we were staying at. 
I was looking around for someone I knew because I didn't really recognize anyone and I finally found a friend of mine named Sonia who I'd met at other events I'd attended.
After sitting down with her, she looked over at me and said, "Hey, Anik. Meet my friend, Brian. Brian Proctor." In my head, I was like - no way this is happening again. I looked over at Brian asked him if he had any relation to Bob Proctor.
And guess what? Brian was Bob Proctor's son!
Needless to say, I moved in a little bit closer and struck up a conversation with him. A month later I was sitting in the home of Bob Proctor, talking business with Bob because I'd hit it off so much with his son at the event I was at.
Next thing I knew, Bob was endorsing my first comeback product, Future of Wealth, which in turn did $1 million in sales due to the support that Bob Proctor gave to it. Bob also introduced me to a bunch of other big names in the industry, and those big names introduced me to other people in the industry.
He even has a free course with us here inside of #LurnNation called The Wealthy Mind.
And it all started with an introduction and a handshake!
Getting Off Your Butt & Out To Events
Guys, this is the power of networking and I don't think that I can overstate how important it all is.
I don't want you to think that you have to be some smooth talker to make all this happen either. I still, to this day, don't even have business cards. I simply go to events and look for a person that I know so that I can strike up a conversation and then meet other people who are at the event.
While there, and everyone around me knows this, I have a rule that I followed called The 3 Rule.
Every event that I go to, I walk away with three takeaways. That's it. If I meet one person I'm going to talk to later or do business with, that's one. If I exchange numbers with another person, that's two. If I learn a new strategy, that's three. 
That's all I allow myself to do.
I can take notes throughout the entire event, but at the end I have to have just three takeaways that I can take action on. I've been using that rule for about 15 years now, and it's changed my life and the way I do business.
So, let's talk actionable steps you can take. 
Are you getting out and going to an event once a month? Are you finding people in your area who are interested in the same things as you and meeting up with them? Are you getting on a flight to attend an event in your industry?
I don't want to hear that you don't have the money. You have to FIND the money because one handshake could be the difference between where you're at now and the next step that you want to take. 
Your Next Steps
So, where can you find these events?
Go to eventbrite.com.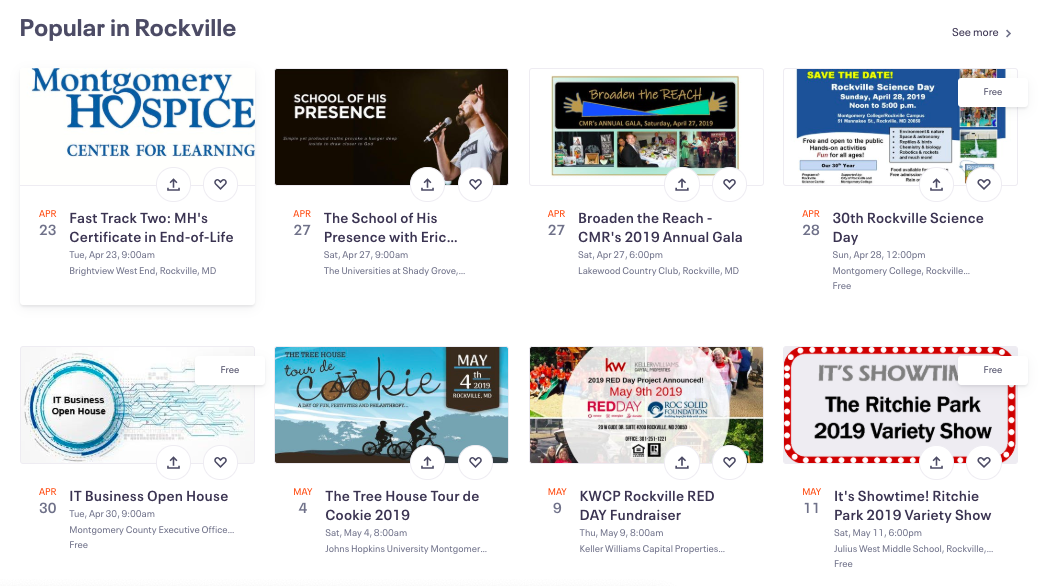 Go to meetup.com.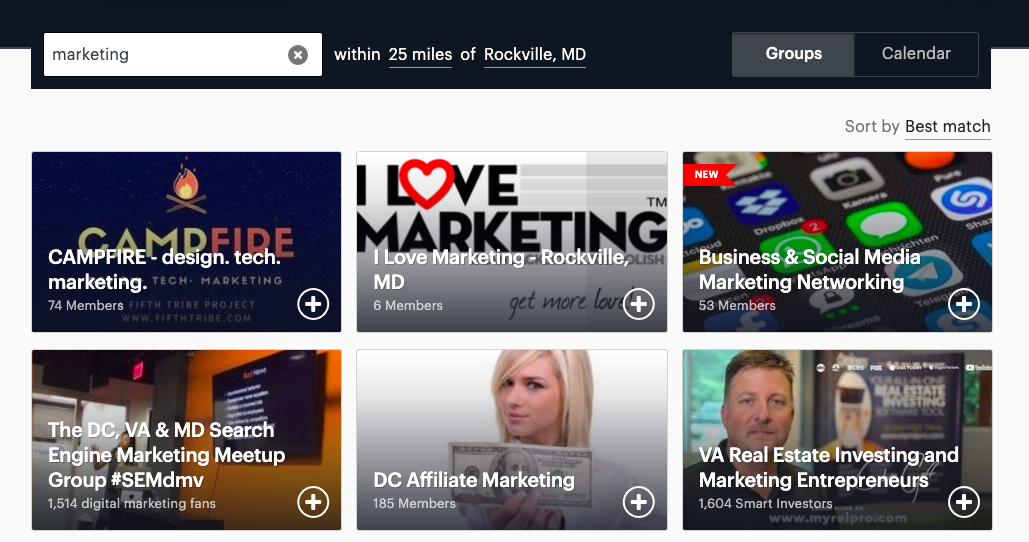 Go to Google and search for events near you or events related to your industry. Go to your local chamber of commerce website. See if your area has an economic development department.

Go to LinkedIn and check out LinkedIn Local.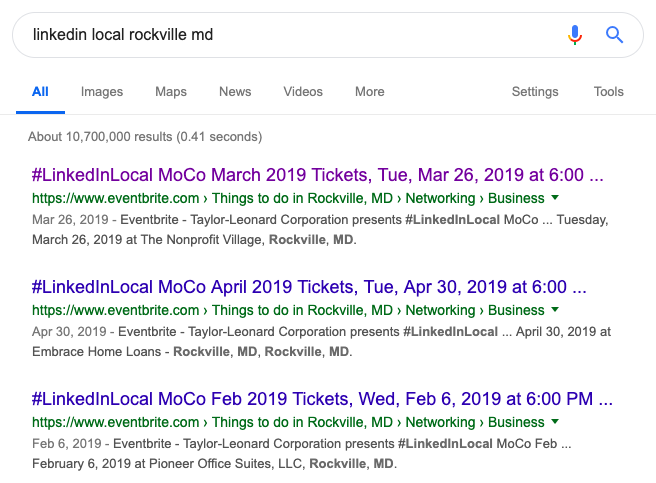 Remember, it takes just one person in your life to change the way you do business.
If you can't find anything directly relevant, just go to any event in your area and talk to people. Ask them questions and see where that leads you. 
Unlocking The Benefits Of Attending Networking Events
To end things here, I have a challenge for you. 
Find one event related to your area of interest that you have to travel to. You have to buy a plane ticket, book a room and actually travel to the event. 
Doing that makes you put skin in the game. It's an investment. 
At that event, set a goal for yourself. For example, tell yourself you aren't leaving with 20 phone numbers or email addresses. 
Get out there and do it. 
I promise you it will change your life.