(Note: Want to learn more about how to build a business on Amazon AND get access to a free course by Amazon expert Dave Kettner? Sign up for our free webinar here.)
What if I told you there's a million-dollar opportunity right in front of you that anyone can access with nothing more than an internet connection and $2,000?
On the surface, this may seem too good to be true. After all, starting up a business that generates seven figures in revenue requires thinking of a disruptive idea, finding a venture capitalist, asking friends and family for money, and taking on loans from banks.
Right...? Actually, no. 
I've been an entrepreneur for over 15 years, and I've seen people build successful businesses in every type of way. I know people who have taken on six figures of debt to build their business. I know people who have bootstrapped their way to success. I know people who have disrupted industries. I know people who have quietly worked their way up to seven figures. 
And guess what? If you're someone who doesn't have a ton of capital but wants to build a seven-figure business, Amazon is one of the best options out there for you right now. 
While many people think it's too late for them to jump on the Amazon bandwagon, that couldn't be further from the truth. Just think about all of the areas in which Amazon is expanding and you'll see that the potential to make money with them is limitless.
Amazon's Incredible Growth
As many people may know, Jeff Bezos started Amazon back in 1994 as a way to sell books online. Just three years later, in 1997, the company went public. Although the business didn't take off immediately (stocks were valued at just $18 at one point!), what the company has accomplished since then is nothing short of incredible.
For reference, check out this graph from Statista that shows how much Amazon's revenue has increased since 2002 (and where it's project it to go by 2022).
That level of exponential growth is unprecedented, and the interesting thing about it is that they've helped a lot of people make a lot of money along the way as well. There are now over five million marketplace sellers on Amazon today, with a little less than two million of those sellers being active.
In the last quarter of 2018 alone, 52% of paid units were sold by third-party sellers, and Amazon generated $42.75 billion in third-party seller service revenues over the course of the year. Those numbers are only going to continue to grow as Amazon expands through different markets. Currently, they're in 14 countries and are looking to expand further:
United States

United Kingdom

Germany

France

Canada

Japan

India

Italy

Spain

Mexico

Brazil

China

Australia

Singapore
In addition, Amazon ships to several other countries around the world. What that means for people selling on Amazon is that they have the closest thing to a global market at their fingertips as possible. Those who decide to start a business on Amazon have several advantages available to them:
Extra income

Financial independence

Lifestyle freedom

A legacy
At the rate both Amazon and demand for products on Amazon is growing, there's still a ton of opportunity available for people who are just getting started this year. While it may seem overwhelming, there are actually several ways to get started on Amazon.
While some are a bit more complex, others are just a few clicks away.
Ways To Start Your Amazon Business
If you've ever dreamt about starting your own business, Amazon is probably the easiest way to get one off the ground.
There are essentially five ways that you can get started:
Retail Arbitrage
Wholesaling
POD (Print on Demand)
Dropshipping
Private Labeling
These options each have their own advantages and disadvantages, but there's an option in here for you no matter what level experience you're at.
(Note: Want to learn more about how to build a business on Amazon AND get access to a free course by Amazon expert Dave Kettner? Sign up for our free webinar here.)
Retail Arbitrage
The idea behind retail arbitrage is pretty simple, and it's not a bad way for someone to get started if they don't want to invest a ton of money in products. The idea behind retail arbitrage is that you find underpriced products and then sell them at a higher price to turn a profit.
For example, say that you're at your local Walmart and see a certain toy that's 50% off. You would check Amazon and see whether it's selling well. If it is, you'd purchase the entire stock of the product and then mark it up on Amazon.
You can also take that same idea and apply it to online stores.
However, retail arbitrage isn't easy.
The primary challenge with retail arbitrage is that it takes quite a bit of time to actually find the products to sell. You have to be diligent in your research, continuously finding low-priced products that will actually sell on Amazon. Also, at the end of the day you aren't actually building a business because you don't have any products. Once you stop finding products to flip, your revenue stops as well.
Retail arbitrage is for people who are ready to hustle because it's often the people who are willing to work the hardest who find success in this area.
Wholesaling
The idea behind wholesaling is that you purchase products directly from the manufacturer and then sell them on Amazon. With wholesaling, you aren't creating a new brand or new listings. Instead, you're purchasing from established companies and selling them as a reseller on Amazon.
The idea here is that you don't own or create a product, so you aren't really creating your own brand. The manufacturer owns the brand and the product, and you're piggybacking off of their work. However, it's actually a highly scalable business model for people new to eCom, and you don't have to spend so much time sourcing products like you do with retail arbitrage.
While plenty of people have built successful wholesale businesses on Amazon, there are some unique challenges that come along with wholesaling. For one, it's difficult to find reliable manufacturers to buy from. In a sea of companies producing and selling junk, you have to put in the work to find the ones selling quality products at a fair price.
Not only that, but once you do find them, you'll likely be working with relatively low margins.
Print-On-Demand (POD)
Whether you're an artist, writer, designer, or entrepreneur, the print-on-demand model is a way for you to capitalize on your creativity.
The idea behind the print-on-demand (POD) model is that you sell custom designs on products such as clothes, books, mugs, and anything else you can find. What's so great about this model is that you don't have to actually purchase or warehouse any of the products. Instead, the manufacturer does the prints for you and then sends out the products so that you aren't left with a bunch of unsold inventory sitting around your house.
However, the POD model isn't without its own set of unique challenges. Because someone else is storing the product for you, margins are relatively low. You also don't own the shipping process, so you're putting a lot of trust in the company storing your product. In addition, because the model is easy to start, there's a lot of competition.
You also need to regularly product nice designs for this to work.
Dropshipping
If you're a new business owner looking to get up and running in the quickest, easiest way possible, dropshipping could be a good option for you. Dropshipping is one of the easiest models to build because you don't have to do anything other than sell.
The way that dropshipping works is that manufacturers, usually overseas, store all products for you and only make shipments to customers when you make a sale. Thus, you don't have to invest anything in purchasing products or warehousing - you typically just pay a monthly fee to the company storing and shipping your products.

Like the print-on-demand model, margins are low and competition is high in drop shipping since it's so easy to start. In addition, finding reliable manufacturers with quality products is a huge pain since you never actually meet the manufacturer or see the products before they ship. You're also completely reliant on the customer service that they offer, which is a problem is their shipping times are slow or they send out damaged products on your behalf.
However, the biggest issue in all the models that we've discussed up until this point is that you're actually building someone else's brand, not your own. When you stop selling, that income disappears and you never have a brand to fall back on.
So, how can you build your own brand?
Private Labelling
Have you every purchased a product on Amazon that was created by Amazon but sold under a different brand name? Maybe you bought something from Amazon Basic. Or something from Presto. Maybe something from Good Threads. These are all private label brands built out by Amazon.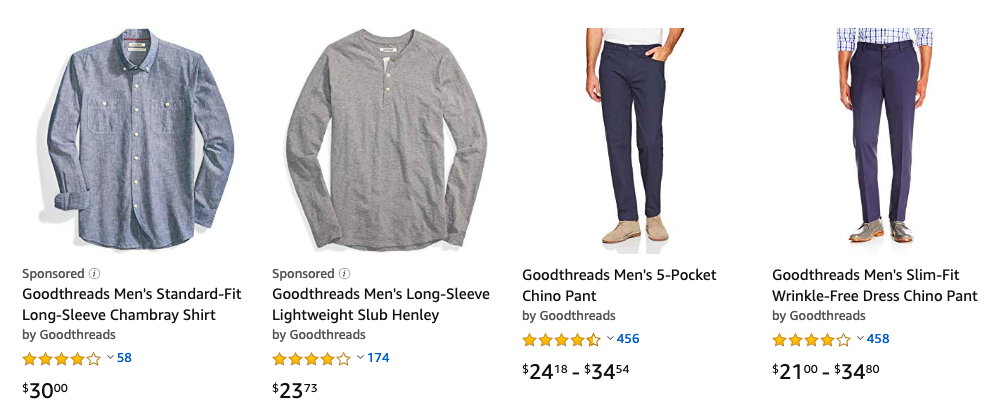 See, what a private label product is is when you find a manufacturer to produce a product and then put your brand on that product. The product is not made by the seller, but the seller has selling rights to that product. 
And it's the best option here to actually build your own brand.
The basic idea is that you look for products on Amazon that are selling well but have pretty bad reviews. The gap there represents a hole in the market that you can fill with your own private label product. You then source a factory to create the product for you that you then sell under your own brand. By selling private label product, you get many of the good parts of other business models while also building your own brand and assets.
It's a proven business model that gives you a lot of product opportunities and control over your business.
Why You Should Take Advantage Of The Amazon Opportunity Now
The possibilities for you on Amazon are endless. It doesn't matter whether you're young, old, new to business, or a business professional, you can start a business on Amazon and...
Earn extra income

Build a 6- or 7-figure business

Build a legacy

Build a dream lifestyle
Anyone can do this.
All you need is an internet connection, $2,000, the right mindset, and a proven system with the tools to get you to the next level.
(Note: Want to learn more about how to build a business on Amazon AND get access to a free course by Amazon expert Dave Kettner? Sign up for our free webinar here.)