Want to get ALL the tips that Josh shared with us on the go? Check out the entire podcast episode to learn how to get high-quality, high-paying clients on LinkedIn.
___________
Over the last year or so, we've played around with a lot of ideas here at Lurn in terms of what we want to do with the Lurn Center.
One of idea we had to monetize the center was to rent office space out to people. 
After playing around with that for a couple of months, we decided it wasn't worth it. Then we got to talking with a local marketing agency owner who needed training for his employees. 
At that moment, I realized there was potential there for us to bring experts into our center every month to train employees from all over the region.
Guess what the owner's response was.
"I would pay a lot of money for that."
But the problem is that this business model is new to me since I've always sold to individuals, not businesses.
When it comes to B2C, I've got it covered.
B2B, on the other hand, is a bit more foreign to me.
That's why I took some time to chat with LinkedIn marketing strategy expert Josh Turner about my B2B LinkedIn strategy. 
Josh loves using LinkedIn to connect with new clients, and he's built an entire company based around that skill. 
A big part of what Josh likes about LinkedIn is the ability to pinpoint and market to exact people (as opposed to platforms like Facebook, where you are blanketing your marketing messages to a larger audience).
He regularly uses LinkedIn for generating appointments, and he's found massive success with the platform.
So, let's take a look at how Josh uses LinkedIn to reach out to potential clients and close sales with an incredible conversion rate.
LinkedIn Groups 
One of the best ways to reach potential clients on LinkedIn is through LinkedIn groups.
By creating a professional LinkedIn group, you can reach out to clients more effectively, establish your credibility and start a dialogue. You'll also be able to grow a thriving community of business professionals that are looking to share tips and connect with each other.
And starting a group is simple.
To start, navigate to the 'Work' section in the top right corner of your screen.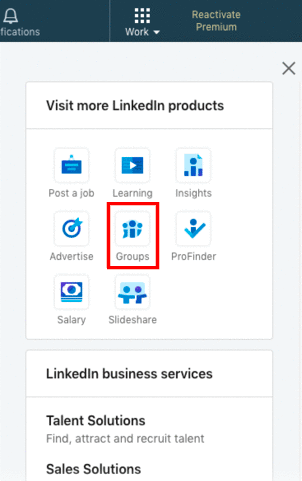 You then click into 'Create a new group'.

You then enter your information to complete the process.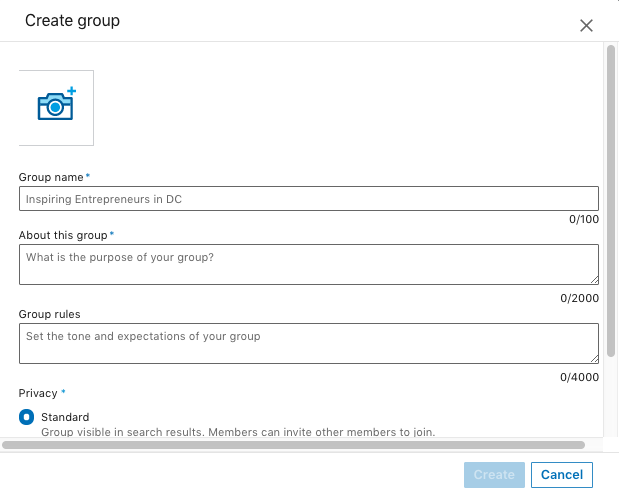 From there, you can edit your group, post, invite people, etc.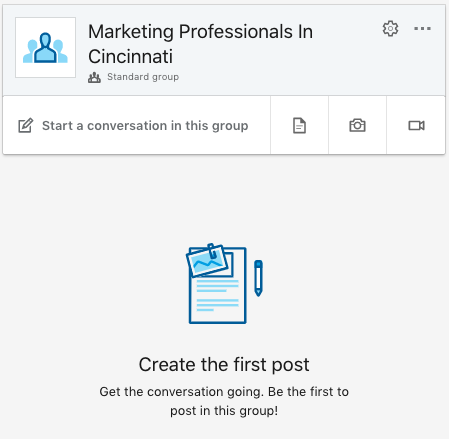 Now, Josh did have some great tips in terms of creating a group that actually grows and turns into leads and clients.
Tip #1: Choose A Professional Name For Your Group
The first thing that Josh suggests doing is starting a LinkedIn Group with a name that looks and sounds professional.
When you reach out to people on LinkedIn, it shows that you're the founder of a group/network. With a professional name, you'll have more credibility, and the interaction will come off as more natural.
By a professional name, we mean something along the lines of "MD, DC Marketing Leaders Network".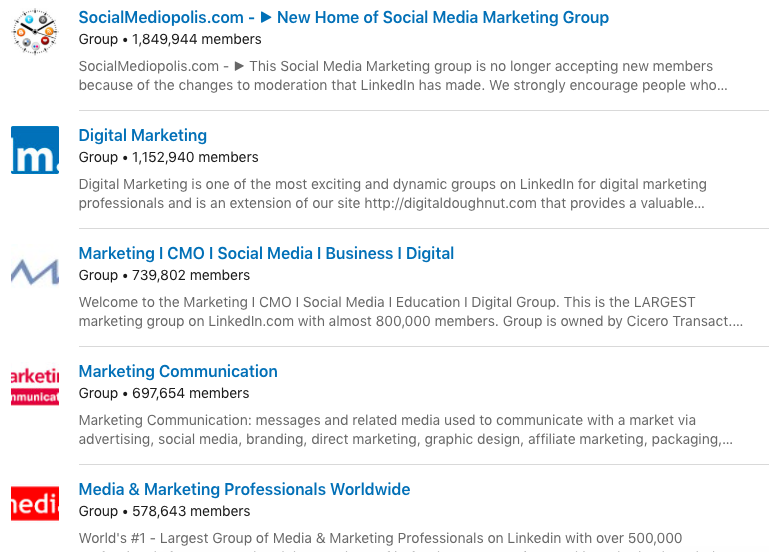 Notice how these groups (the biggest groups under the term 'marketing') all have names that sound professional. 
Remember, LinkedIn is NOT Facebook.
When potential clients see that you're the founder of a group that looks and sounds legit, it allows for peer-to-peer exchange, as opposed to a sales exchange. Once you've reached out, you can invite them to your professional group and encourage them to connect with others in the group.
Tip #2: Offer Free Events
If your group is based locally, you can put on free events that allow the people in your group to meet and network. Even if your group isn't local, you can think of ways to bring people together digitally.
You could host a webinar, a digital meetup, a feedback session or anything else you can think of that would interest your target audience
Once you get the people in your group to your free event, you can sell them your products or services in a lower-pressure environment.
Tip #3: Grow Your Group
Before you start your group, you need to have enough connections to ensure that people actually join the group.
You probably won't be able to start much of a group with only five or six connections.
Once you have a good amount of connections, you can start your group and begin inviting people to join.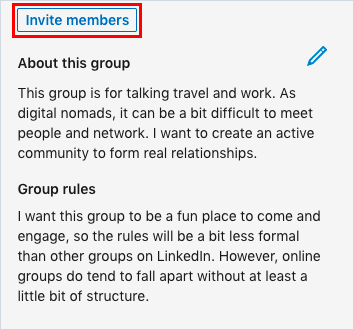 LinkedIn actually allows you to do an auto-invitation to all of your connections, which makes adding people a very simple process.
Don't stop there, though!
Keep prospecting, connecting with people and inviting people to your group.
Tip #4: Create And Curate Content For Your Group
When people start groups, they often post a lot of their own content.
This actually is not the best content strategy.
Instead, you should post other people's content to build credibility and value for the group. A general rule of thumb to follow is to have 10% of the content you post be your own content, with 90% being content from other experts in your field.
If you need help finding experts, don't worry! We'll go over that in a bit.
Your content strategy should consist of about 1-2 posts per day—and make sure to focus on quality over quantity.
As the group grows in size and engagement, people in the group will begin posting content as well, which will create a rich resource of content that attracts people to the group and keeps them engaged.
(RELATED: The Benefits Of LinkedIn Groups)
Advertising 
After creating your group and getting your initial bump in members and engagement, you'll likely hit a point where it seems like you're no longer growing.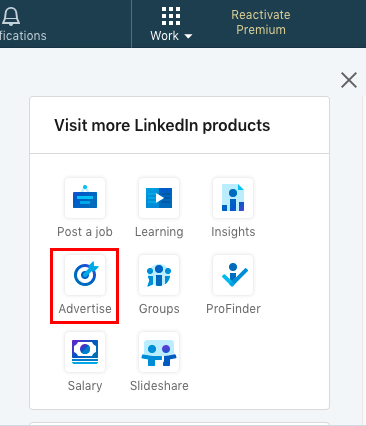 One way to get over the hump is through advertising.
Option #1: Paid Advertising
While paid advertising can be effective on LinkedIn, it's important to realize it will often be more expensive than Facebook—especially when it comes to getting people to connect with your LinkedIn group
It isn't uncommon to pay up to $15-$20 per new group member.
However, it's a viable option if you have the budget and understand how to target the right people for your group. 
That $15-$20 can easily turn into more money than that if you have the right people and are able to convert them with your plan.
Option #2: Organic Advertising
A far cheaper alternative that's also extremely effective is to reach out to people and make organic connections. From there, you can invite them to your group and get the ball rolling.
To do this, you need to use the right message sequence.
The right message sequence allows you to lean on the group for a higher success rate and an increased chance of engagement.
Here's an example of a message sequence:
Message 1: An introduction…i.e. "Hi, I'm Anik Signal, founder of (group name). I wanted to invite you to the group. We post great content and it's a great place to connect with other people in the industry…"
Message 2: Follow up and further introduce yourself
Message 3: Send a message after something was posted in the group…i.e. "Check out this new post…leave a comment…"
Message 4 or 5: Start prospecting them for an appointment
Message 6: Follow up. Don't quit!
By message 9, you'll have a great chance of closing the sale.
Bonus Tip: Retargeting
Using dynamic retargeting, you can drop tracking pixels for LinkedIn on your webpages and then use that to send InMail messages on the platform.
InMail messages are messages that you can send to people on LinkedIn who you aren't connected with. How many of these messages you get per month depends on your subscription. 
Without a paid subscription, users aren't able to use InMail.
InMail messages are relatively cheap, and they often get good open rates.
(RELATED: Using LinkedIn Dynamic Ads To Boost Conversions)
Tools 
Just like with any other social platform, people have developed great tools for LinkedIn to help you market more effectively.
While this list is not exhaustive, some of the best tools to use are:
#1. Sales Navigator
Sales Navigator is a tool developed by LinkedIn that serves as their advanced sales tool to help sales teams, organizations, and individuals build and nurture relationships on LinkedIn.
However, the tool is not free; it's around $100 per month.
Some of what you get with Sales Navigator is:
InMail Messages

Who's Viewed Your Profile

Advanced Lead And Company Search

Lead Recommendations

CRM Integration

Real-Time Sales Updates

Notes And Tags

PointDrive Presentations

TeamLink

Invoicing

Single Sign-On

Seat Management

 
While Sales Navigator may not be great (or even necessary) for beginners, it's definitely a tool to keep in mind as you grow and scale on LinkedIn.
#2. GetProspect
GetProspect is a tool that allows you to scan your connections on LinkedIn and pull out their contact information and email address.
It will provide you with:
Names 

Corporate emails

Positions

LinkedIn profile URL

Company name

Industry

Website
GetProspect has a free version with a limited amount of emails if you want to try it out without spending any money.
#3. Feedly
Struggling with coming up with content ideas to share with your group?
Feedly is a content aggregator that allows you to find cool content to post in your group. It pulls together news feeds from a variety of online sources, and you can customize it and share it with other people.
You'll never run out of content ideas again with Feedly.
(RELATED: Social Media 101: LinkedIn)
Start Getting Your B2B Lead Generation Today
The biggest thing to note about getting leads and clients on LinkedIn is that it doesn't happen overnight. 
There's no shortcut to making it happen. 
To grow and build authority on LinkedIn, it takes time and authentic interaction to gain the trust that you need to turn your cold audience into clients.
But the best thing about LinkedIn is that most people are still ignoring it. 
They think that it's just a place for a digital resume, but there's so much more to it than that.
Don't miss out on the opportunity.
(NOTE: Want to get ALL the tips that Josh shared with us on the go? Check out the entire podcast episode to learn how to get high-quality, high-paying clients on LinkedIn.)