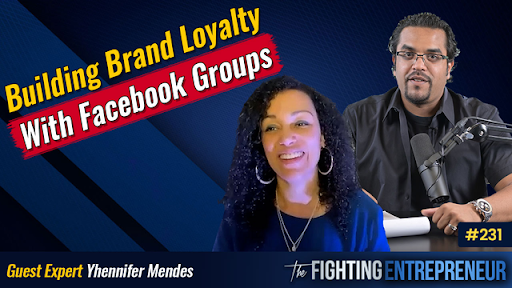 In last week's podcast episode, Anik spoke openly about how he's been taking a break from his personal Facebook account. 
And that's left him in a very interesting place. He has multiple Facebook Groups, including his Inside My Head Group, that he loves. It's the best way for him to connect directly with his students and the Lurn community.
Not to mention, Facebook Groups have had a HUGE impact on his business. Anik estimates at least 7 figures…
So it's safe to say that he's at a crossroads with his relationship with Facebook. Especially between his personal accounts and his Groups. 
That's why Anik welcomed Yhennifer Mendes onto this week's episode of The Fighting Entrepreneur. 
During their conversation, she gave Anik a DEEP DIVE on how to best use his Facebook Groups without getting distracted by his personal Facebook issues. 
You see, when it comes to Facebook, Yhennifer is one of the world's biggest experts.
She's been recognized by Facebook as one of the top Facebook Group admins in the world. She's also an Amazon bestselling author. 
Clearly, she knows her stuff. 
Not to mention, Anik and Yhennifer already have a great working relationship. Anik pays her to run many of his professional Facebook Groups. When it comes to this stuff, he trusts her completely.
So when she explained in this episode how people can best use Facebook Groups and build brand loyalty, she detailed the exact process she uses for her clients like Anik.
In the full episode, she explained...
How often to post on Groups

The type of content that gets the HIGHEST engagement

How to best use Facebook LIVE

Why "polls" are your best friend

How to provide value to your audience

And much, much more...
And she explained how ANYONE can use Facebook Groups to grow their own business.
Check out this week's full episode now!